The Snowman: You can now buy an official David Bowie scarf from the Christmas animation
10 November 2023, 11:26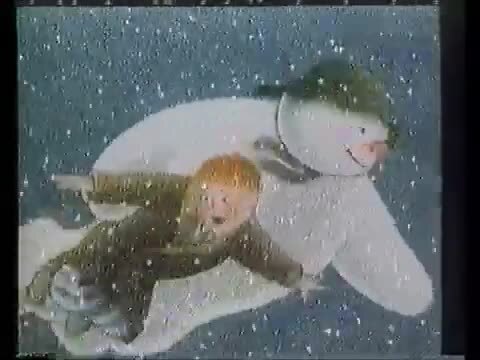 The Snowman – trailer featuring David Bowie
"One winter I made a really big snowman... he got this scarf for me."
Watching The Snowman is one of the ultimate Christmas traditions, and we always opt for the version with David Bowie's beautiful introduction.
In that edition – made for the 1984 US broadcast and first home video release of the 1982 adaptation of Raymond Briggs's story – Bowie is seen in his attic digging out an old Christmas scarf before introducing the story.
"This attic's full of memories for me," a very blond Bowie says.
"We spent all our summers by the seaside, and winters at home by the fire. Frost on the window, and snow, snowballs and making snowmen.
"One winter I made a really big snowman. He got this scarf for me. You see, he was a real snowman."
The Snowman - Bowie Intro - HD
And now, fans of Bowie, Briggs and The Snowman alike can get their hands on an official replica of the scarf in question.
Clothes brand notjust has released The Snowman Collection, and yes, included in the alongside a kids and grown-ups jumper and a knitted blanket is The Scarf.
It can be yours for £19.99, and 50% of the proceeds from each sale, being £2.50 per jumper, £3.00 per blanket, and £1.00 per scarf, will be donated to the Chestnut Tree House Children's Hospice, a charity of which Raymond Briggs was a friend and patron.
The original scarf has become the stuff of legend, especially since it was recently retrieved by Duncan Jones, David Bowie's filmmaker son.
Duncan was given the scarf by his dad after shooting, as Brian Harding, who produced Bowie's introduction revealed years later:
"The Scarf was knitted by the lady in the accounts department of TVC, the production company who made the animation," he said.
"She came onto the set and presented it to David. When filming was over David asked very politely if he could keep the scarf to give to his son, Zowie [as Duncan Jones was then known].
"This was the only fee he charged for the filming and I believe he offered his services for personal reasons. He was charming throughout and totally professional."
Duncan revealed in 2016 that he still had the scarf, and after it briefly went missing it was found once more in some storage boxes in 2020.
And last year, Duncan filmed his own re-creation of his dad's classic Snowman intro – scarf and all.