'Peace on Earth/Little Drummer Boy' by David Bowie and Bing Crosby: The making of the classic duet
1 December 2021, 11:45 | Updated: 14 September 2023, 08:05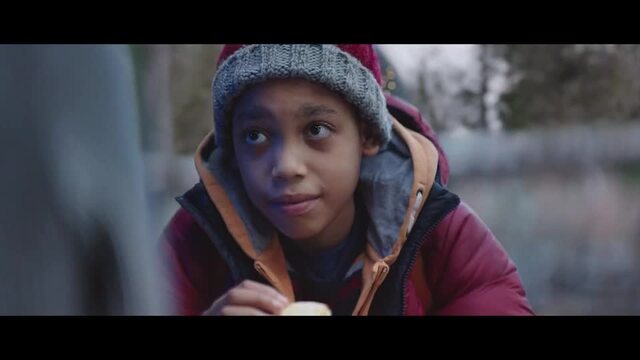 John Lewis launch 2021 'Unexpected Guest' Christmas advert
David Bowie crossed the generations when he collaborated with Bing Crosby on this unusual Christmas duet.
During his 50-year career, David Bowie performed with countless rock and pop superstars.
From Queen, Luther Vandross and Iggy Pop to Tina Turner, Cher and Lulu, he got in the studio with his contemporaries time and time again.
He also wasn't afraid of going toe-to-toe with then-modern stars like Nine Inch Nails, Placebo and Goldie, or icons from before his time, like John Lennon and Mick Jagger.
And in 1977, he crossed the generational divide when he recorded 'Peace on Earth/Little Drummer Boy' with Bing Crosby, Mr White Christmas himself.
But how did the collaboration come together, and how did it become a modern-day seasonal standard. Read on to find out everything there is to know about a Christmas classic.
Who wrote 'Peace on Earth/Little Drummer Boy'
Jack Halloran Singers The Little Drummer Boy
While it feels like it's been around since Jesus's birth, 'Peace on Earth/Little Drummer Boy' is actually much more recent.
The song is actually a mashup. Bing sings 'The Little Drummer Boy', while Bowie sings 'Peace on Earth' in counterpoint.
'Little Drummer Boy' was written with the title 'Carol of the Drum' by American classical music composer and teacher Katherine Kennicott Davis in 1941.
She claimed it was based on an old Czech carol, but it's more likely she was inspired by the French 'Patapan'.
Harry Simeone Chorale "Little Drummer Boy" on The Ed Sullivan Show
In 1957, Jack Holleran tweaked the arrangement for his recording with The Jack Halloran Singers.
The following year, producer Henry Oronati nabbed the song and introduced it to Harry Simeone for a very similar version, with Oronati and Simeone yoinking songwriting credits (but not, to his annoyance, Halloran).
'Peace on Earth' was written in quite a hurry. It was put together in about an hour by musical supervisors Ian Fraser and Larry Grossman and scriptwriter Alan Kohan. Why the rush? Well...
How did David Bowie and Bing Crosby get together for their duet?
Bing Crosby & David Bowie - "The Little Drummer Boy (Peace On Earth)"
It was September 11, 1977. David Bowie had already had quite the year.
He'd released Low on January 14, but also found also finding time to co-write, produce and perform on Iggy Pop's The Idiot (released March 18) and Lust For Life (released September 9)
Oh, and he was also gearing up for the release of "Heroes" on October 14 – his second full studio album of the year.
So to promote the upcoming release of the "Heroes" single, he popped on to Bing Crosby's Merrie Olde Christmas show to sing the track, and also record a duet with the then-74-year-old Mr White Christmas himself.
David Bowie "Heroes" (Bing Crosby Show).
The show had already lined up 'The Little Drummer Boy' as the song in question, but when Bowie rocked up he suddenly decided that he didn't fancy it.
"David came in and said 'I hate this song, is there something else I could sing'," musical producer Ian Fraser recalled.
Clearly fancying the challenge, Fraser got together with fellow producer Larry Grossman and the show's scriptwriter Alan Kohan and wrote 'Peace on Earth' in an hour.
Bowie and Crosby rehearsed in less time than that before they got in front of the cameras and – after an incredible/excruciating/hilarious/ridiculous staged skit, gave that fantastic performance.
White Christmas - Bing Crosby's Merrie Olde Christmas (1977)
So, not quite "my son's favourite" as Bowie cheekily suggested in the intro, but that's showbiz.
"He was fantastic," Bowie said a year after the recording. "That old man knew everything about everything. He knew rock and roll backwards, even if he didn't know the music... I'm glad I met him."
But in 1999 he didn't seem so keen on the experience. "He was not there at all," Bowie said of poor old Bing. "He looked like a little old orange sitting on a stool.
"He'd been made up very heavily and his skin was a bit pitted, and there was just nobody home at all, you know?
"It was the most bizarre experience, I didn't know anything about him. I just knew my mother liked him."
Why was David Bowie worried about his 'TV death curse' after the recording?
David Bowie & Marc Bolan - Marc Show 28.09.77.
Just over one month after the taping on October 14, Bing Crosby collapsed and died of a heart attack after finishing an 18-hole round at the La Moraleja Golf Course near Madrid.
Already recorded, Bing Crosby's Merrie Olde Christmas aired on Christmas Eve that year.
In one of those strange coincidences, David Bowie had recorded a spot on his old glam pal Marc Bolan's Marc TV show a couple of days before his Bing duet.
Bolan died on September 16, when the Mini he was being in being driven by his girlfriend Gloria Jones struck a fence post and a tree.
"I was getting seriously worried about whether I should appear on TV because everyone I was going on with was kicking it the following week," Bowie darkly quipped years later.
How did 'Peace on Earth/Little Drummer Boy' become a hit five years after it was first recorded – and where did it get in the charts?
While 'Peace on Earth/Little Drummer Boy' (if not the skit beforehand) was warmly received on its original 1977 TV airing, everyone involved thought of it as a one off thing.
"We never expected to hear about it again," said scriptwriter and 'Peace on Earth' co-songwriter Kohan.
Don't believe us? The 16-track master tape of the recording was even erased.
So when Bowie's soon to be ex-label RCA looked to finally cash in five years later for Christmas 1982, they had to use the "on-line" mix from the TV recording.
Fans didn't mind though, and with Lodger's 'Fantastic Voyage' on the B-side (no, we don't know why either) the song went all the way to number 3 in the UK singles charts that year.
It's since been re-released a few times and has gone on to be one of David Bowie's biggest selling singles.
The song has popped up on all manner of Christmas compilations (and Bowie compilations, too), while the TV performance has become a standalone Xmas Pop Video favourite.
Who has covered 'Peace on Earth/Little Drummer Boy'?
Terry Wogan & Aled Jones: Little Drummer Boy - BBC Children in Need
Even if we set aside other reworkings of the original 'The Little Drummer Boy', 'Peace on Earth/Little Drummer Boy' itself has been covered more than a few times.
Most memorably, Aled Jones played Bowie and Terry Wogan was Bing for a 2008 Children in Need single, which made it to the same number 3 spot as the original in 2008
Anthony Rapp and Everett Bradley had previously a version for AIDS charity album Broadway Cares: Home for the Holidays in 2001.
Peace on Earth/Little Drummer Boy with Will Ferrell & John C. Reilly
Xmas 2010 saw not one, not two, but THREE major versions vying for attention.
Over in the US, Jack Black and Jason Segel rocked it up for the Blue Star Families charity, while Will Ferrell did a shot-for-shot re-enactment of the original performance for the Funny or Die comedy website (Jimmy Fallon and Ricky Gervais similarly did a segment in 2014 for The Tonight Show Starring Jimmy Fallon).
And back on this side of the Atlantic, The Priests recorded a more straightforward take for their Christmas album Noël, as well as a single version featuring Shane McGowan.