Elvis Presley's incredible performance of 'Unchained Melody' just two months before he died
15 August 2023, 13:11
On June 21, 1977, music history was made when the legendary Elvis Presley took the stage at the Rushmore Plaza Civic Center in Rapid City, South Dakota.
The crowd, a mix of devoted fans and curious onlookers, had no idea they were about to witness a performance that would become etched in their memories forever.
That night, Elvis Presley delivered a soul-stirring rendition of 'Unchained Melody' that showcased his vocal prowess, emotional depth, and undeniable charisma.
Elvis Presley, often referred to as the 'King of Rock 'n' Roll', was not only a musical sensation but also a cultural phenomenon.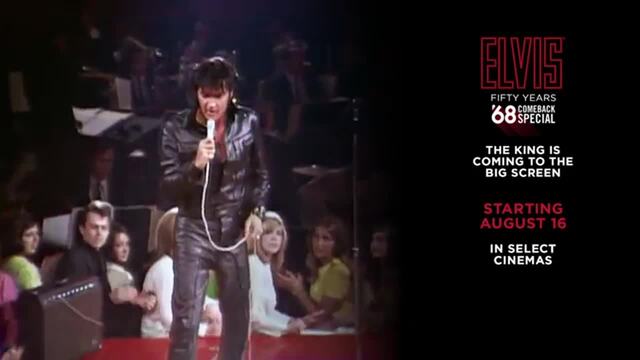 Elvis: '68 Comeback Special - 50th Anniversary
His concerts were more than just music; they were electrifying experiences that united generations. Elvis' distinctive voice and magnetic stage presence allowed him to captivate audiences across the world, making every live performance an unforgettable event.
'Unchained Melody', originally composed by Alex North with lyrics by Hy Zaret, had already achieved fame through various renditions by different artists such as the Righteous Brothers and Jimmy Young. However, Elvis had a unique ability to infuse his own emotions into every song he sang, making each performance an intimate journey for both him and his audience.
The song's haunting melody and poignant lyrics lent themselves perfectly to Elvis' vocal style, providing him with a canvas to express his deepest emotions.
Elvis' concert in Rapid City was a part of his 1977 tour, which would sadly become one of his final tours before his untimely passing in August of the same year.
Despite facing health issues and personal challenges, Elvis remained committed to delivering his best to his fans, and the Rapid City concert was no exception.
As the concert reached its crescendo, Elvis introduced 'Unchained Melody' to the audience. The mood in the arena shifted instantly as his velvety voice reverberated through the venue. Accompanied by his band, Elvis transported the audience into a world of raw emotion and vulnerability.
Elvis' rendition of 'Unchained Melody' that night was nothing short of magical. The depth of his vocals combined with his impeccable phrasing and heartrending delivery left the audience spellbound.
With each note, he bared his soul, allowing the crowd to feel the intensity of the lyrics as if they were experiencing the song's emotions firsthand.
Watch the performance below:
Elvis Presley - Unchained Melody (Rapid City June 21, 1977)
What made this performance particularly poignant was the fact that Elvis' life had been marred by personal struggles. As he sang the line "Time goes by so slowly, and time can do so much," the audience couldn't help but reflect on the passage of time and its impact on the man who had once been a musical dynamo.
Elvis Presley's concert in Rapid City on that fateful June evening in 1977 left an indelible mark on all those who were fortunate enough to be in attendance.
The performance demonstrated his enduring ability to connect with his audience on a profound level and solidified his place as an icon in music history. The rendition of 'Unchained Melody' became a symbol of Elvis' emotional authenticity and his ability to use music as a means of catharsis.
Elvis Presley's rendition of 'Unchained Melody' at the Rapid City concert in 1977 was a poignant reminder of his unparalleled talent and the emotional resonance he could create with his audience.
As fans look back on that performance, they continue to celebrate the legacy of a true musical legend whose impact transcends time and generations.