Paul McCartney opens up about his last ever conversation with John Lennon
12 November 2021, 14:28 | Updated: 25 September 2023, 13:25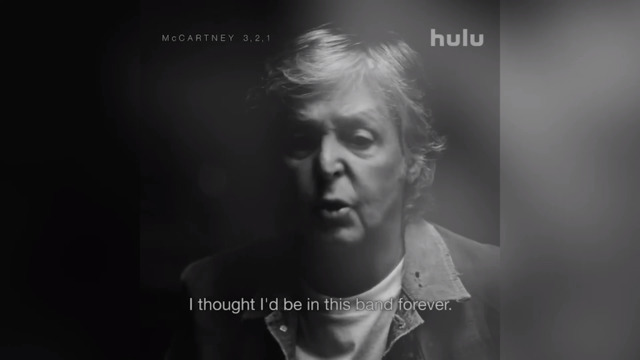 Paul McCartney reveals he thought he'd be in the Beatles forever in Hulu promo to mark release date of documentary 'McCartney 3,2,1'
Paul McCartney says he and John Lennon returned to the spirit of their childhood friendship before John was murdered.
With Peter Jackson's massive Get Back mini-series due to air this month and Paul McCartney releasing his 'lyrics memoir' (not to mention the Let It Be reissue) it's been quite the time recently for Beatles fans.
And while Paul McCartney has sought to set the record straight (again) on how it was John Lennon, rather than him, who split up The Beatles, he's also been talking about how they became friends again.
The pair fell out badly when the Beatles split in acrimony. McCartney's 'Too Many People' from his and Linda's Ram aimed some gentle-ish barbs at John and Yoko, and Lennon responded with interest on Imagine.
The scathing 'How Do You Sleep' pulled no punches ("the only thing you done was yesterday"), with McCartney admitting to being genuinely hurt by the lyrics.
But thankfully Lennon and McCartney rekindled their friendship in the years after the split, and they were on good terms when Lennon was murdered in 1980.
And as he looks back at his life in The Lyrics: 1956 to the Present, McCartney also of course looked back at his changing relationship with John, telling the story of their last conversation which wasn't about making music, but baking bread.
What Paul McCartney and John Lennon Talked About in Their Last Conversation
"It was very special to me that we reached that point, actually, because you had the whole horrible thing of the group breaking up," McCartney told The Howard Stern Show.
"I think we just realised, 'Come on, guys. We love each other. What are we doing? We're messing around'."
He continued: "And I ring John and I was baking bread and got quite good at it.
"So when I heard John was doing it, it was great! We could just talk about something so ordinary.
The Beatles: Get Back | Official Trailer | Disney+
"There's no threat or anything. It was just two guys talking about, 'Well, I don't know. Do you leave it overnight or what do you do?'. And someone says, 'Yeah, I leave it overnight in a hot cupboard' and you'd just be chatting."
McCartney added: "And it was really nice and I was so glad that we got back to that relationship that we'd always had when we were kids.
"We'd lived in each other's pockets for so long that it was great to get back to that."