A Hard Day's Night: 10 amazing facts about The Beatles' classic movie
24 February 2023, 15:51 | Updated: 6 October 2023, 10:10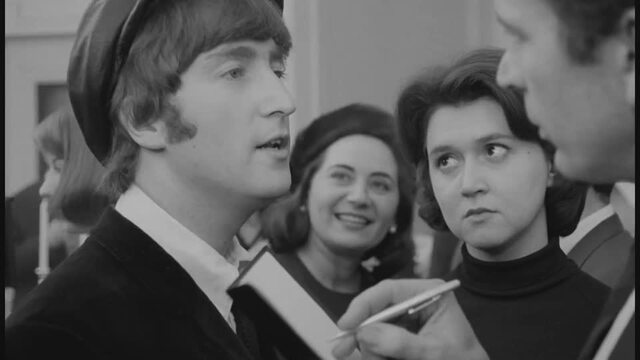 The Beatles - A Hard Day's Night movie trailer
The Beatles' A Hard Day's Night isn't just a great music movie – it's one of the greatest films of all time full stop.
Pop music and movies have been intertwined since the very beginning.
Blackboard Jungle brought Bill Haley to the masses in 1955, while Elvis was as big a movie star as he was a music icon in his early days.
After some initial critical success, pop films seemed to dip massively in quality – Elvis churning out three roles a year probably didn't help – but The Beatles bucked that trend with their debut film A Hard Day's Night in 1964.
Written by Alun Owen and directed by Richard Lester, the film charted 36 fictional hours in the life of John Lennon, Paul McCartney, George Harrison and Ringo Starr at that crucial moment in history when Beatlemania was about to go supernova.
But do you know which Beatle met his future wife on the set of the film, or which future 1970s/'80s pop superstar had his tiny role unceremoniously cut from the film? Read on for ten remarkable facts about A Hard Day's Night.
1. The first Beatles film was very nearly something called The Yellow Teddy Bears without any Beatles songs
The Yellow Teddy Bears | Full HD Movies For Free | Flick Vault
Really.
"We didn't even want to make a movie that was going to be bad, and we insisted on having a real writer to write it," John said.
Paul added: "We were offered one early on called The Yellow Teddy Bears. We were excited but it turned out that the fella involved was going to write all the songs, and we couldn't have that."
They absolutely could not.
Running & Jumping & Standing / Richard Lester
Instead, Brian Epstein suggested experimental filmmaker Richard "Dick" Lester, who had come up with Spike Milligan/Peter Sellers short The Running, Jumping & Standing Still Film, which The Beatles had all loved
"Dick came round to see us and we found that he was also a musician," said Paul. "He could play a bit of jazz piano, which made him even more interesting.
"He was an American but had been working in England; he'd worked with The Goons, that was enough for us."
2. "A Hard Day's Night" was one of Ringo's infamous Ringoisms
The Beatles - Tomorrow Never Knows
The working titles for the film were apparently the less-than-inspiring The Beatles and Beatlemania, but what on earth is "a hard day's night" anyway?
"I had used it in In His Own Write," John said, "but it was an off-the-cuff remark by Ringo, one of those malapropisms – a Ringosm – said not to be funny, just said."
Ringo explained: "Once when we were working all day and then into the night and came out thinking it was still day and said, 'It's been a hard day', and looked around and noticing it was dark, '...'s night!'."
Other classic Ringoisms? "I'll have you back in your safely-beds", "Slight bread" and "Tomorrow Never Knows".
3. John Lennon wrote 'A Hard Day's Night' for the film to order in one evening
The Beatles - A Hard Day's Night
By 1964, John and Paul were getting quite competitive with each other about getting the next big Beatles hit.
Paul had notched up the chart-topping 'Can't By Me Love', so once the film's title was confirmed on April 13, 1964, John raced home to get started the song – which would be the seventh and final track written for the movie.
"Dick Lester said, 'We are going to use that title'," John said, "and the next morning I brought in the song."
Easy.
4. Paul's "very clean" grandfather was a massive Steptoe & Son in-joke
Who's The Little Old Man?
Paul's mischievous grandfather was played by Wilfrid Brambell, who was already well-known to audiences in 1964 as Albert Steptoe in the classic sitcom Steptoe & Son.
The show had been airing since 1962 and would run for four black & white series till 1965, before returning for another four in colour from 1970 to 1974.
You Dirty Old Man - Steptoe and Son
A constant refrain from the younger Harold Steptoe (Harry H Corbett) in the show? "You dirty old man".
In A Hard Day's Night, that well-worn phrase is neatly turned on its head.
"He's a nice old man, isn't he?... He's very clean."
At its peak, Steptoe & Son was attracting a whopping 20 million viewers – around 40% of the population.
This isn't a gag that would have gone over anyone's head... in the UK at least. We can imagine a few Americans scratching their heads at the time.
It's worth noting that Wilfrid Bambell was only about 30 years older than Paul McCartney, making him a remarkably young grandfather.
5. George Harrison coined the word "grotty", which didn't exist before the film.
A Hard Day's Night~Funny George Harrison Scene
Okay, technically it was writer Alun Owen who seemingly invented the word, but it was George who said it on screen in one of the very best scenes in the movie.
After being pounced on by an adman called Simon to endorse some horrible shirts, the fictional George Harrison explains why that just isn't going to happen.
"I wouldn't be seen dead in them," he said as part of a scene that rips up influencer culture nearly half a century before anyone had heard of Instagram. "They're dead grotty."
Think that word has been around forever? It turns out the 1964 novelisation of A Hard Day's Night was the first time the word was ever used in print.
"Alun Owen made that up; I didn't," George said later.
"People have used that word for years now. It was a new expression: grotty – grotesque."
6. John Lennon wrote down something INCREDIBLY cheeky when a reporter asked him what his hobbies were?
A Hard Day's Night, Richard Lester, 1964
Some of A Hard Day's Night's best moments come when The Beatles' are interacting with the press.
The Fab Four were renowned in real life for their witty responses to intrusive, impertinent or just plain weird questions from journalists, and one memorable scene is packed with these quips.
"Tell me, how did you find America?" "Turn left at Greenland." "Has success changed your life?" "Yes." "Are you a mod or a rocker?" "Um, no. I'm a mocker." "What do you call that collar?" "Oh, a collar." "Do you often see your father?" "No, actually we're just good friends."
One moment finds John Lennon being quizzed by a reporter who asks him in perfectly clipped Queen's English "Have you any hobbies?".
John doesn't answer out loud, but just grabs another journalist's pen and notebook to scrawl something down, showing it to the first reporter, who just gawps in response.
The word John wrote? Tits.
7. A young Phil Collins was in the crowd for the band's performance scene – but was cut out of the final edit
PHIL COLLINS INTERVIEW ON CONAN O' BRIEN
You may have heard that a 13-year-old Phil Collins is in A Hard Day's Night, but that's not quite true.
A Beatlemaniac himself, Phil was there in the crowd for the bands' performance scene shot at The Scala Theatre in London, on March 31, 1964, but he ended up on the cutting room floor.
Phil knew he was there, but never saw himself on film in the crowd – until the producers made a 30th anniversary documentary You Can't Do That! The Making of A Hard Day's Night in 1996, which Collins narrated.
"They actually cut 'You Can't Do That', The Beatles' song, out of the movie," Phil told Conan O'Brien years later.
"They gave me this and I was freeze-framing it, and I suddenly saw someone that I recognised, and behind this person, was this little round-faced blonde-haired boy with a red tie with a diamond in the middle, and that was me!"
Most of the outtakes for the film were actually sadly destroyed, and this historical snippet was only saved because it appeared on an episode of The Ed Sullivan Show at the time.
8. George Harrison met his future wife Pattie Boyd on the set of the film
Pattie Boyd's Prisoner Scene In The Beatles' "Hard Days Night"
Paul remembered: "In the film, there were little schoolgirls in gym slips who were actually models, and we were quite fascinated with them – George even married one."
Yep, in that that hilarious (if somewhat inappropriate scene) with the schoolgirls on the train (George: Ey, look at the talent! John: Let's give 'em a pull....), who is the wide-eyed schoolgirl who says "prisoners?!" when warned off by Paul's grandfather?
It's a very young Pattie Boyd, who went on to marry George in 1966, when she was just 22 and he was 23.
"George and I were very young when we met," Pattie recalled years later.
"In a way it was wonderful because we were growing up together, we still had so much to learn."
The couple stayed married for over a decade before eventually divorcing in June 1977.
Pattie went on to marry and divorce George's friend Eric Clapton, before settling down with property developer Rod Weston.
9. The film is packed with other future superstars – including a Bond girl and Lionel Blair
The Beatles "I'm Happy Just To Dance With You" (with BBC audio!)
Pattie Boyd and Phil Collins are maybe the most stand-out names today, but they weren't the only future famous names that featured in A Hard Day's Night.
If you recognise the (ahem) "great swimmer" at the casino, that's because it's Bond girl Margaret Nolan. She played Bond's masseuse Dink in the same year's Goldfinger.
More than that, it's Nolan who was painted gold for that memorable 007 title sequence, with her image all over the adverts and soundtrack cover for the film.
She Acted In 2 Of The Most Iconic Films Of The 60s
That TV choreographer strutting his stuff to a piano-led instrumental version of 'I'm Happy Just To Dance With You'? That's Lionel Blair. The dancer at the nightclub? Charlotte Rampling. Another dancer? future Are You Being Served? and 'Allo 'Allo! creator Jeremy Lloyd.
The snotty police officer? Future Please Sir! and Sykes actor Deryck Guyler. Adman Simon Marshall we mentioned above? He was played by an uncredited Kenneth Haigh, who had previously originated Jimmy Porter in the era-defining Look Back in Anger on the stage.
10. A Hard Day's Night is positively littered with James Bond connections
Ringo's Theme, (This Boy)
The Beatles and James Bond are two of the most quintessentially British global cultural touchstones, and the 007 connections in A Hard Day's Night don't just start and end with Margaret Nolan.
Both films were released by United Artists, and the Le Cercle gambling club Ringo is invited to play Chemin de Fer and Baccarat (two of Bond's favourite card games) shares its name with the club 007 made his first appearance at in Dr No two years earlier.
Speaking of Dr No, the instrumental version of 'This Boy', also known as 'Ringo's Theme', was performed by guitarist Vic Flick, who played on 'The Jame Bond Theme' from that film.
The Beatles - Hard Days Night - Train Scene [HD]
That snarky city gent in the early scene who uses that train regularly (twice a week!) is played by Richard Vernon, who was also in Goldfinger as Colonel Smithers.
It's not the first time the worlds of Beatles and Bond have crossed paths
"My dear girl, there are some things that just aren't done, such as drinking Dom Perignon '53 above the temperature of 38 degrees Fahrenheit," said Sean Connery's Bond in Goldfinger, teeing himself up for a one-liner that's aged as badly as anything in the history of Bond.
James Bond critica The Beatles Goldfinger escena
"That's just as bad as listening to The Beatles without earmuffs!"
For shame 007, for shame.
There were no hard feelings from Paul McCartney of course, who went on to write and perform one of the all-time great Bond themes with 'Live and Let Die'.