Cat Stevens' 10 greatest songs, ranked
21 June 2023, 16:26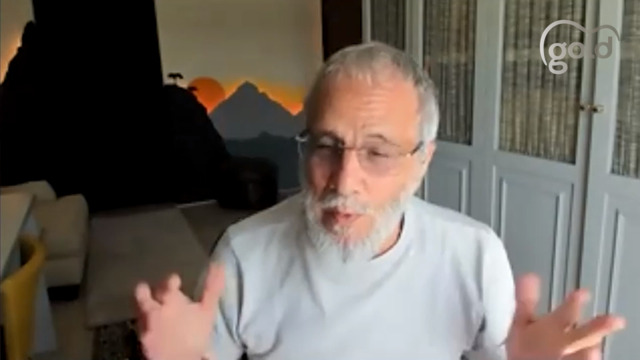 Yusuf/Cat Stevens looks back on Beatles influence and touring with Jimi Hendrix
We round up Cat Stevens/Yusuf's ten very greatest songs.
He's had many names over the years: Steven Demetre Georgiou, Cat Stevens, Yusuf Islam or his current mashup of Yusuf/Cat Stevens.
Whatever you want to call him, what's undeniable is the incredible music the man has put out over both legs of his music career.
Without discounting his religious music after his 2006 comeback or his return to poppier fare with 2017's The Laughing Apple, most of his very best-loved songs come from his first run as Cat Stevens from 1967 to 1978.
So that's where our focus is as we round up the ten very best songs by Yusuf//Cat Stevens.
Can't Keep It In

Cat Stevens - Can't Keep It In (Lyric Video)

'Can't Keep It In' comes from right in the middle of Cat's first run of fame, closing side one of his sixth album Catch Bull at Four (number 1 in the US, and number 2 in the UK).

The single went to number 13 in the UK and is a perfect example of Stevens in a joyous uptempo mood ("See all the love, love that's in me / I've gotta show the world, world's gotta see"), with just a tinge of melancholy keeping things balanced ("You've got too much deceit, and deceit kills the light").

Moonshadow

Yusuf / Cat Stevens – Moonshadow (Animated Short Film)

"I was on a holiday in Spain. I was a kid from the West End – bright lights, et cetera. I never got to see the moon on its own in the dark, there were always streetlamps," Cat said in 2009 about the inspiration for this song, one of his favourites.

"So there I was on the edge of the water on a beautiful night with the moon glowing, and suddenly I looked down and saw my shadow. I thought that was so cool, I'd never seen it before."

Taken from his all-conquering Teaser and the Firecat album, It went top 30 in the UK and US in 1970 and was later covered by Labelle and Mandy Moore.

I'm Gonna Get Me A Gun

Cat Stevens - I'm Gonna Get Me A Gun

The follow-up to 'Matthew and Son', 'I'm Gonna Get Me A Gun' was a standalone 1967 single in the UK that almost did as well, going all the way to number six.

In the US, it was bundled on to the release of his debut album Matthew and Son.

We can't condone its Falling Down message ("And all those people who put me down / You better get ready to run / 'Cause I'm gonna get me a gun), but if you put that to one side, its music is a wonderfully punchy, brassy smack to the chops.

Oh Very Young

Yusuf / Cat Stevens - Oh Very Young (live, Majikat - Earth Tour 1976)

A top 10 US single taken from Cat's 1974 album Buddha and the Chocolate Box, like Don McLean's 'American Pie' from a couple of years ago it touches on The Day The Music Died and the death of rock 'n' roll icon Buddy Holly.

There are nods to Holly's hits 'Not Fade Away' ("denim blue, fading up to the sky, and though you want him to last forever you know he never will") and 'Words of Love' ("Will you carry the words of love with you"), and it's a much less epic and more contemplative song than 'American Pie', without being in the least bit mawkish.

A Bad Night

Cat Stevens - A bad Night (1967)

Cat's second album New Masters was a commercial disappointment, though certainly not an artistic one.

It included his version of 'The First Cut Is the Deepest', the song that he'd already sold to PP Arnold and she had a hit with, as well as single/opener 'Kitty'.

Perhaps it would have performed better in the charts if he included the single 'A Bad Night', which went top 20 in the UK, with the song mixing up Cat twang, brassy bombast and strings for a kitchen sink approach that utterly delights.

Matthew and Son

Cat Stevens - Matthew & Son (1967)

The then-teenage Cat Stevens's second single was 'Matthew & Son', which went all the way to number 2 in the UK singles chart – still his highest-ever charting single over here.

"I had a girlfriend, and she was working for this big firm, and I didn't like the way that she had to spend so much of her time working," Cat said.

"The riff seemed to fit the words, Matthew and Son. There was a bit of social comment there about people being slaves to other people."

The recording features then-session-man and future Led Zep star John Paul Jones, as well as keyboard player Nicky Hopkins.

Elements were later borrowed by both Tears for Fears ('Mad World'), while the intro and verse melody was more knowingly nicked by Echo & The Bunnymen ('The Cutter').

Morning Has Broken

Yusuf / Cat Stevens – Morning Has Broken (Official Lyric Video)

While Cat wrote the vast majority of his best-known songs all by himself, one key exception was 'Morning Has Broken', which was actually a Christian hymn published all the way back in 1931, with words by Eleanor Farjeon and tune borrowed from a Scottish Gaelic song 'Bunessan'.

Cat's version – which had piano arranged and performed by session man-turned-prog superstar Rick Wakeman – made 'Morning Has Broken' an international hit, going top ten on both sides of the Atlantic.

It was one of the many (many) standouts from his Teaser and the Firecat album.

Peace Train

Yusuf / Cat Stevens – Peace Train (Live at the Nobel Peace Prize Concert, 2006)

Another Teaser and the Firecat single, 'Peace Train' actually became Cat Stevens's first US top 10 hit when it went to number 7 in 1971.

It's a song that has kept its power throughout the years, and has remained close to Stevens's heart, even as he shifted career and identity.

"'Peace Train' is a song I wrote, the message of which continues to breeze thunderously through the hearts of millions" he said during the Iraq war.

"There is a powerful need for people to feel that gust of hope rise up again. As a member of humanity and as a Muslim, this is my contribution to the call for a peaceful solution."

As Yusuf Islam, Cat performed the song at the 2006 Nobel Peace Prize Concert ceremony where Muhammad Yunus of Bangladesh received the award, and as Yusuf/Cat Stevens he recorded a new version of the song in 2021.

Wild World

Yusuf / Cat Stevens - Wild World (Live, 1971)

One of the songs written by Stevens about his relationship with Patti D'Arbanville. 'Wild World' was taken from his 1970 album and arguably his artistic high point Tea for the Tillerman.

"It was one of those chord sequences that's very common in Spanish music," Cat later explained.

"I turned it around and came up with that theme—which is a recurring theme in my work—which is to do with leaving, the sadness of leaving, and the anticipation of what lies beyond."

Released as a single in the US, it went all the way to number 11.

Father and Son

Yusuf / Cat Stevens - Father & Son

It couldn't really be anything else, could it?

This tender exploration of the relationship between a dad and his son hasn't aged a day since it was released back in 1970.

"Some people think that I was taking the son's side," Stevens told Rolling Stone.

"But how could I have sung the father's side if I couldn't have understood it, too?

Yusuf / Cat Stevens - Father And Son

"I was listening to that song recently and I heard one line and realized that that was my father's father's father's father's father's father's father's father speaking."

As well as covers (Boyzone) knock-offs (The Flamings Lips 'Fight Test'), Cat/Yusuf has re-recorded the song several times over himself.

That includes a very special version of his Tea for the Tillerman 2 album that mixed his original vocals (the son) with his present-day voice (the father).