The Animals facts: Songs, members, break-up and reunions of Eric Burdon's blues rockers
4 November 2022, 14:12 | Updated: 19 September 2023, 14:06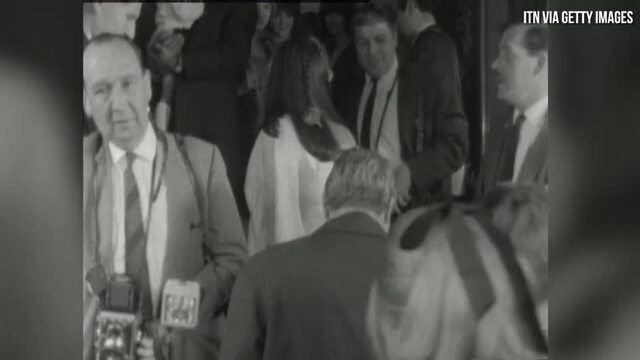 Eric Burdon marries Angie King in 1967
Their original incarnation only lasted a few years, but The Animals were a pivotal band in rock history.
That arpeggiated guitar riff, the piercing organ solo... if The Animals only released 'The House of the Rising Sun', their place in pop history would be confirmed.
Fronted by Eric Burdon, they did so much more than that – first in their original blues rock incarnation, then shifting styles with various lineups as Burdon led the way.
If you're looking for a recap of all the main players in The Animals over the years, or a rundown of their biggest and best songs, you're in luck.
Below, we celebrate the incredible music of The Animals and their legacy.
When did The Animals form and who was in their original lineup?
The Animals spun off from the Alan Price Rhythm and Blues Combo in Newcastle in 1962, when singer Eric Burdon joined forces with keyboard player Alan Price, guitarist Hilton Valentine, drummer John Steel and bassist Bryan 'Chas' Chandler.
The Combo had been knocking about since the end of the previous decade, but it was only when Burdon joined that things really took off.
Who has been in The Animals over the years and who is in the current touring lineup?
The Animals "Don't Let Me Be Misunderstood" on The Ed Sullivan Show
The original lineup of The Animals was pretty short-lived.
Tensions between Price and Burdon were at the root of the disintegration, with Price also apparently suffering from a fear of flying that stopped him from joining the group on a US tour in 1965.
Like many bands of the time, The Animals also suffered from terrible management and didn't make much money off their work, which likely didn't help matters.
Whatever the underlying reason, Price left the group in May of that year and formed the Alan Price Set.
Price was briefly replaced by Mick Gallagher, with Dave Rowberry stepping in afterwards for a run of hits until everything fell apart completely a year or so later.
Hilton Valentine, John Steel and Chas Chandler all left in 1966, with newbie Dave Rowberry following them out the door.
Eric Burdon & The Animals : San Franciscan Nights (Live 1967)
Eric Burdon pushed on, assembling a brand new lineup dubbed Eric Burdon and the Animals (or sometimes Eric Burdon and the New Animals), with him as the only original founding member.
For this two-year run, Barry Jenkins joined on drums with John Weider on guitar, bass and violin, Vic Briggs on guitar and piano and Danny McCulloch on bass.
Briefly in 1968, George Bruno Money aka Zoot Money joined the group on keyboard, bass and vocals, as did Andy Summers (yes, him from The Police) on bass, but this second lineup split up pretty soon after.
As well as a one-off benefit concert in 1968, in 1975-77 there was a short-lived reunion of the original lineup (Eric Burdon, Chas Chandler, Alan Price, John Steel and Hilton Valentine), even recording the album Before We Were So Rudely Interrupted before another split.
Then a four-month autumn/winter reunion 1983 augmented the original lineup with new players (Eric Burdon, Chas Chandler, Alan Price. John Steel, Hilton Valentine and Zoot Money, along with Steve Grant on guitar, synths and vocals, Steve Gregory on sax and Nippy Noya on percussion).
After 1992 things got complicated, with various versions of the group in existence.
Hilton Valentine led one version with various newbies along for the ride. Fellow founding member John Steel swiftly joined Valentine's Animals, later renamed Animals II and then Animals, with Dave Rowberry joining in 2001.
Then in 2001, Rowberry and Steel joined up with that group's Jim Rodford on bass as Animals and Friends. The group kept that name when it was just Steel and a returning Micky Gallagher.
Dave Pirner Inducts the Animals into the Rock and Roll Hall of Fame
After various lineup changes since, the current touring lineup of Animals and Friends is Steel with Danny Handley on guitar and vocals, Roberto Ruiz on bass and vocals and Barney Williams on keyboards.
After a stint fronting War from 1969 to 1971 and then enjoying a solo career, since 2016 Burdon has fronted Eric Burdon and The Animals with a steady lineup of Davey Allen on keyboards, Dustin Koester on drums, Justin Andres on bass, Johnzo West on guitar, Ruben Salinas on saxophone and flute and Evan Mackey on trombone.
Chas Chandler, who went on to manage Jimi Hendrix, died in 1996. Dave Rowberry died in June 2003. Hilton Valentine died in January 2021. Mick Gallagher joined Ian Dury and the Blockheads after his first stint with The Animals, and still plays with the current lineup of The Blockheads today.
How did The Animals get their name?
It's one of the great rock 'n' roll band names, but where did it come from?
The apocryphal reason is that they earned the nickname due to the wildness of their onstage antics, which became their actual band name, but that's been denied.
Burdon claimed that it was a tribute to a local Newcastle gang member "Animal" Hogg.
Drummer John Steel has his own version of the story.
"At this time the band was called the Alan Price Rhythm and Blues Combo, which is a terrible name.
"So we were told, 'Okay, you're going to get a great deal, you are going to swap gigs with The Yardbirds, they're going to come up here and do your gigs, and you're going to go down there and do their gigs, and by the way, Graham Bond came up with a great name for the band, so we're going to be called The Animals!."
What were the Animals biggest songs?
The Animals "We've Gotta Get Out Of This Place" on The Ed Sullivan Show
In both their original incarnation as The Animals and as Eric Burdon and The Animals, the group had a number of hits:
Their biggest songs included:
The House of the Rising Sun
I'm Crying
Don't Let Me Be Misunderstood
Bring It On Home to Me
We Gotta Get out of This Place
It's My Life
Inside-Looking Out
Don't Bring Me Down
See See Rider
Help Me Girl
San Franciscan Nights
Sky Pilot
Who wrote 'The House of the Rising Sun'?
The Animals - House of the Rising Sun (1964) HQ/Widescreen ♫ 58 YEARS AGO
'The House of the Rising Sun' was the song that made The Animals superstars on both sides of the Atlantic.
It's actually a traditional folk song, sometimes called 'Rising Sun Blues', whose exact provenance is unknown, with various roots assigned to it in England, France and the US.
As for who can take the credit for turning it into a pop hit, there are still a few names vying for attention.
Woody Guthrie recorded a version in 1941, while the likes of Lead Belly, The Weavers, Pete Seeger and Andy Griffith also gave their own takes.
The Animals "House Of The Rising Sun" on The Ed Sullivan Show
Joan Baez recorded it in 1960, Nina Simone in 1962 and again in 1967, Tim Hardin in 1964.
Bob Dylan learned it from Dave Van Ronk, and recorded his version for his self-titled debut album released in 1962.
It was this version that The Animals loosely based their version on, taking it to the top of the charts in the UK and US.
Controversially, their 6/8 version gave arranging credit to Alan Price, meaning he was the only one to get songwriting royalties for this massive hit, which has caused friction between the band members ever since.