Jimi Hendrix facts: Life, songs, performances and tragic death of the guitar hero
3 January 2023, 09:50 | Updated: 14 September 2023, 23:04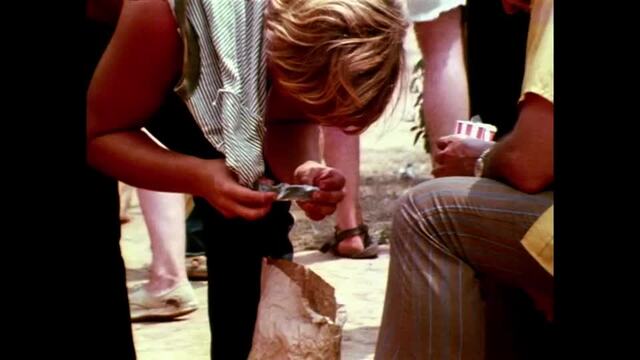 Jimi Hendrix – Electric Church documentary trailer
A look at the life, work and tragic early death of maybe the greatest guitarist of all time.
Everyone has their favourite player, but it's hard to argue against Jimi Hendrix being the greatest electric guitarist of all time.
In terms of technical ability married to pure psychedelic emotion, there are very few out there who are even fit to wind up his strings.
From his earliest days holding a broom in place of a guitar, to his era-defining spots at the Monterey Pop Festival and Woodstock, Jimi's meteoric rise from poverty to superstardom has continued to inspire stars to this day.
Ahead of what would have been Jimi's 80th birthday, we're taking a look back at the life, work and tragic early death of one of the most iconic characters of the 20th century.
When was Jimi Hendrix born and where did he grow up?
Jimi Hendrix was born as Johnny Allen Hendrix on November 27, 1942, in Seattle to dad James 'Al' Allen Hendrix and mum Lucille Jeter.
His name was legally changed in 1946 to James Marshall Hendrix, as a nod to both his dad and late uncle Leon Marshall.
Jimi had a tough childhood. His dad was stationed in Alabama at the time of his birth and was banned from taking time out to see his son, and on his return from service he struggled to find work.
Hendrix spent time with his gran in Vancouver, and his parents divorced when he was 9.
After attending Horace Mann Elementary School, Jimi completed his studies at Washington High School and attended, but didn't graduate from Garfield High School.
How did Jimi Hendrix get into music?
The Jimi Hendrix Experience - Foxey Lady (Miami Pop 1968)
Growing up on the cusp of the rock 'n' roll age, Jimi loved music before he had the means to play it.
The story goes that when he was at Horace Mann in the mid-1950s, he'd carry around a broom in lieu of a guitar.
He was apparently so attached to it that a social worker suggested the school allocate funding for the young Jimi to get a guitar. It never happened.
Undeterred, Jimi found a one-stringed ukulele in the trash when he was 15, and he learned to play along to songs like Elvis Presley's 'Hound Dog'.
A year later, he bought his first guitar: an acoustic instrument costing $5 (the equivalent of a not insignificant $50 today).
The Jimi Hendrix Experience - Hey Joe (Official Audio)
He played nonstop, day after day after day, copying the likes of bluesmen BB King, Robert Johnson, Howlin' Wolf and Muddy Johnson.
Jimi got some shows with Hank Ballard & the Midnighters and then formed The Velvetones, at which point his dad finally gave in and bought Hendrix his first electric guitar: a white Supro Ozark, which was replaced with a red Silvertone Danelectro after it was stolen.
Hendrix's fledgling music career was put on hold when he was 19. After being nicked for stealing cars he was given the choice of jail or the army, and chose the latter, enlisting in May 1961.
He completed paratrooper training and even was awarded a Screaming Eagles patch, but he was too obsessed with guitar playing to really apply himself.
Jimi was discharged in September 1962, and spent the first half of the decade playing in either his own bands, or for artists like Wilson Pickett, Sam Cooke, Jackie Wilson, Ike & Tina Turner, before stints with The Isley Brothers and Little Richard and others.
Hendrix was a superstar-in-waiting, looking to burst out of his "accompanying musician" role.
He moved to New York City's Greenwich Village in 1966 and looked to strike out on his own.
Jimi Hendrix - Hear My Train A Comin' (Lyric Video)
Hendrix formed his own band Jimmy James and the Blue Flames, who grabbed the attention of Keith Richards during a set at the Cheetah Club.
The Rolling Stones man dragged Andrew Loog Oldham out to see Jimi, but they weren't convinced.
Next up was Chas Chandler, who was poised to leave The Animals at the time.
Chas was won over, and took Jimi to London, where he formed The Jimi Hendrix Experience with bassist Noel Redding and drummer Mitch Mitchell.
What were Jimi Hendrix's biggest songs and albums?
The Jimi Hendrix Experience - All Along The Watchtower (Official Audio)
With the Experience, Jimi Hendrix swiftly grabbed the attention of well, pretty much everyone – including and especially fellow musicians like Eric Clapton, Paul McCartney and John Lennon, Pete Townshend, Kevin Ayers – and recorded a string of massive songs.
The Jimi Hendrix Experience released three albums in 1967 and 1968: Are You Experienced, Axis: Bold as Love and Electric Ladyland.
Jimi's biggest songs included:
Hey Joe
Purple Haze
Foxy Lady
All Along The Watchtower
Crosstown Traffic
Are You Experienced
Little Wing
If 6 Was 9
Voodoo Child (Slight Return)
Gypsy Eyes
Where did Jimi Hendrix play 'The Star-Spangled Banner'?
Wild Thing (1967) (Monterey Pop Festival)
As well as his own compositions ('Voodoo Child (Slight Return)') and covers ('Hey Joe', Bob Dylan's 'All Along The Watchtower'), one of Jimi's best known performances was of the 'The Star Spangled Banner'.
After his flash of UK success, Jimi burst back onto the US scene with a festival-stealing slot at the Monterey Pop Festival in 1967, where he set his guitar on fire, but that wasn't where he played the US national anthem.
Instead, the full Jimi Hendrix setlist at Monterey was as follows
Killing Floor
Foxy Lady
Like a Rolling Stone
Rock Me Baby
Hey Joe
Can You See Me
The Wind Cries Mary
Purple Haze
Wild Thing
Jimi Hendrix - The Star Spangled Banner [ National Anthem ] ( Live at Woodstock 1969 )
It was actually a couple of years later at Woodstock where Jimi had his own American revolution when he slipped in a deconstructed-reconstructed 'Star Spangled Banner' into his set just before 'Purple Haze'.
The full Jimi Hendrix Woodstock set list was:
Message of Love
Hear My Train a Comin'
Spanish Castle Magic
Red House
Mastermind
Lover Man
Foxy Lady
Beginnings
Izabella
Gypsy Woman / Aware of Love
Fire
Voodoo Child (Slight Return)
Stepping Stone
The Star-Spangled Banner
Purple Haze
Woodstock Improvisation
Villanova Junction
Encore:
Hey Joe
Did Jimi Hendrix get married or have any children?
Jimi Hendrix had a string of relationships that we know about, including a teen fling with Betty Jean Morgan, before dating Lithofayne Pridgon, Kathy Etchingham and Monika Dannemann.
He never married, and the question of whether or not he had kids is a little more complicated.
No paternity test has ever categorically proved that Jimi had children, but it's widely believed that he had a daughter and son.
The Jimi Hendrix Experience - Voodoo Child (Slight Return) (Live In Maui, 1970)
Tamika Laurice James Hendrix was born to mum Diana Carpenter on February 11, 1967 in Minneapolis, Minnesota, and claims to be Hendrix's oldest daughter.
James Daniel Sundquist was born on October 5, 1969, in Stockholm, Sweden, to mum Eva Sundquist, and claims to be Hendrix's son.
Neither ever was given a share of Hendrix's estate after his death, with mastered and unmastered tapes, copyrights and image rights being inherited by Jimi's dad Al.
When and how did Jimi Hendrix die?
Purple Haze (Live at the Atlanta Pop Festival) (Digital Video)
Jimi Hendrix died on September 18, 1970 at the age of just 27.
He was found breathing but unconscious by his then-girlfriend Monika Dannemann in her apartment at the Samarkand Hotel, 22 in Notting Hill, London.
She called for an ambulance, and Hendrix was declared dead at to St Mary Abbots Hospital.
A post-mortem found that Jimi had died of asphyxia while under the influence of barbiturates, effectively choking on his own vomit.
Dannemann revealed that Hendrix had taken nine of her prescribed sleeping tablets, when the recommended dose was just half a tablet.
Various inconsistencies in the "official" chain of events have led to conspiracy theories, but a months-long inquiry by Scotland Yard in the early 1990s proved inconclusive, and the investigation wasn't taken forwards.