Why are artists like Neil Young and Joni Mitchell leaving Spotify?
4 February 2022, 09:04 | Updated: 18 September 2023, 13:30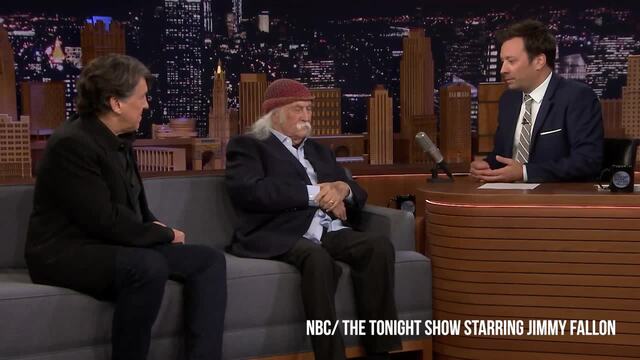 David Crosby says he would be up for reuniting Crosby, Stills, Nash and Young
A former stand-up comedian and gameshow host has inadvertently changed the face of the music industry.
If you've been on Spotify recently you may have spotted that, with a few scattered exceptions, the music of Neil Young and Joni Mitchell has disappeared.
If you're wondering what's happened, here's the story of how a former gameshow host could be responsible for a major shakeup in the modern music business.
Born in August 1967 during the Summer of Love, Joe Rogan was a stand-up comedian who moved into sitcom roles in Hardball and NewsRadio.
With a love of mixed martial arts, he then won the job of an interviewer and commentator for UFC, before fronting six seasons of NBC gameshow Fear Factor.
Then came a string of comedy specials and, in December 2009, the launch of his podcast The Joe Rogan Experience.
The popularity of the show snowballed, and on May 19, 2020 Rogan signed a licensing deal with Spotify worth an estimated $100 million (£73.75 million).
Rogan hosted a number of controversial guests, and has some of his own controversial opinions, but things shuffled on until the advent of the COVID-19 pandemic.
On his podcast, Rogan falsely suggested that otherwise young and healthy people don't need to worry about getting a COVID-19 vaccine.
He's advocated the use of ivermectin as a coronavirus treatment, even though it's an antiparasitic drug with no proven benefits for treating COVID-19.
Rogan also hosted a guest who compared government efforts to mitigate the pandemic to the rise of Nazi Germany.
Enter Neil Young.
More than many people, Neil young understands the power of vaccines to change and improve lives.
When he was five years old and living in rural Omemee in Ontario, Young contracted polio. He became partially paralysed on the left side of his body.
It was the last mass outbreak of polio in the province. In the late 20th century, two different polio vaccines have worked to have effectively eliminated the disease.
In 1981, there were an estimated 460,000 polio cases in the world every year. Today, there are less than 50.
In the US alone, there were nearly 58,000 polio cases and 3,145 deaths in 1952. Today there are effectively zero.
"I want you to let Spotify know immediately TODAY that I want all my music off their platform," Neil Young told his label with regards to him sharing a platform with the podcaster after his COVID episodes.
"They can have Rogan or Young. Not both."
In a post on his website, he added: "Spotify has recently become a very damaging force via its public misinformation and lies about COVID.
"I first learned of this problem by reading that 200 plus doctors had joined forces, taking on the dangerous life-threatening COVID falsehoods found in Spotify programming.
"Most of the listeners hearing the unfactual, misleading and false COVID information on Spotify are 24 years old, impressionable and easy to swing to the wrong side of the truth."
He noted that he didn't personally have the control of where his music was streamed, and thanked his record company for backing his wishes and pulling it down – even though it meant 60% of his streaming income disappearing.
He later added: "I support free speech. I have never been in favour of censorship.
"Private companies have the right to choose what they profit from, just as I can choose not to have my music support a platform that disseminates harmful information
"I am happy and proud to stand in solidarity with the front line health care workers who risk their lives every day to help others."
A longstanding critic of poor audio quality, he then urged his fans to use other streaming platforms, such as Amazon, Apple and qobuz.
In the aftermath of Neil's comments fellow folk-rock icon Joni Mitchell, who herself contracted polio when she was nine which left her with a weakened left hand, followed his lead.
"I've decided to remove all my music from Spotify," she said in a website post titled I Stand With Neil Young.
"Irresponsible people are spreading lies that are costing people their lives.
"I stand in solidarity with Neil Young and the global scientific and medical communities on this issue."
After that, Young's CSNY bandmate Graham Nash has followed suit.
"Having heard the COVID disinformation spread by Joe Rogan on Spotify, I completely agree with and support my friend, Neil Young and I am requesting that my solo recordings be removed from the service," he said.
Despite the occasional bad feeling between Young, Nash, David Crosby and Stephen Stills over the years, CSN then issued a joint statement.
"We support Neil and we agree with him that there is dangerous disinformation being aired on Spotify's Joe Rogan podcast," they said.
"While we always value alternate points of view, knowingly spreading disinformation during this global pandemic has deadly consequences.
"Until real action is taken to show that a concern for humanity must be balanced with commerce, we don't want our music — or the music we made together — to be on the same platform."
While Neil Young's label helped get (most of) his music off the platform, it's not clear how much say Crosby, Stills and Nash have in what happens to their material.
At the time of writing, all CSN and CSNY albums are still on Spotify – as are solo albums by Crosby, Stills and Nash.
But they've made their views clear, as have the likes of E Street Band member Nils Lofgren and India Arie, and the ramifications go way beyond Neil Young, Joe Rogan and COVID-19.
Artists have withheld or delayed their music from appearing on streaming services before, including Taylor Swift, Beyonce and Adele at times, The Beatles famously took a while to get there.
Young himself zapped his music a few years back moaning of poor sound quality before eventually relenting, realising that streaming is how people hear music these days (as well as on Gold, of course).
And as it stands, the likes of Neil Young and Joni Mitchell are keeping their music on other streaming platforms.
The Beatles, Available Everywhere
But this new exodus reminds everyone how fragile the streaming ecosystem is.
Not every streaming service that has a song today is guaranteed to have it tomorrow. Not every streaming service that has a song today is guaranteed to exist tomorrow.
No-one is suggesting that Spotify is in any trouble, but it's worth noting that the company reported a $335 million annual operating loss for 2020, adding up to an $810m pre-tax loss.
And while the controversy rages over royalty rates to artists and the major label's co-ownership of the main streaming services, some artists may well look to dodge these platforms if a real alternative ever opens up.
So don't throw away your record collections just yet, and if you really like something and can't wait for one of our DJs to play it, then you should consider buying out for a physical copy – or at the very least a digital download.