'Mr Tambourine Man' by The Byrds: The making of the folk-rock masterpiece
20 January 2023, 09:17 | Updated: 19 September 2023, 12:20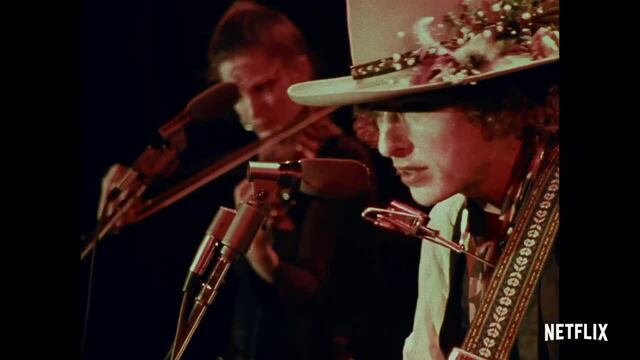 The trailer for Rolling Thunder Revue: A Bob Dylan Story By Martin Scorsese
Bob Dylan is probably even better known as a songwriter than he is a rock 'n' roll performer.
Some people argue that Bob Dylan's songs are always better when someone else sings them.
Those people are wrong, wrong, wrong of course. In his 1960s heyday especially, Bob's unique voice and guitar style has always been a key part of why his music is so special.
That said, there are a few Bob Dylan covers that have established themselves as out-and-out classics in their own right, and arguably even surpass the original.
One obvious example is Jimi Hendrix's explosive version of 'All Along The Watchtower', and another is The Byrds' take on 'Mr Tambourine Man'.
Read on to find out how 'Mr Tambourine Man' not only launched the career of The Byrds – including founding member and future CSN superstar David Crosby – but also pretty much invented folk rock.
Who wrote 'Mr Tambourine Man'?
After releasing a self-titled debut packed with traditional folk standards in 1962, Bob Dylan really got going the following year with The Freewheelin' Bob Dylan, marking his birth as a songwriter who wrote (almost) all of his own tracks for the rest of the decade.
So 'Mr Tambourine Man' was written by Bob Dylan – words and music.
Dylan started writing 'Mr Tambourine Man' in February 1964, after visiting New Orleans for Mardi Gras during a cross-country trip with some pals.
Mr. Tambourine Man (Live at Royal Festival Hall, London, UK - May 1964)
He finished it off at some point in the next couple of months when back in New York. Both folk singer Judy Collins and journalist Al Aronowitz claim Bob finished off the song in their home, but it doesn't really matter.
Not one to sit on his new material for long, he first played it during a show at London's Royal Festival Hall on May 17, 1964.
Who recorded and released 'Mr Tambourine Man first'?
Mr. Tambourine Man (Witmark Demo - 1964)
Here's where things get interesting.
Bob Dylan first recorded 'Mr Tambourine Man' in June 1964, during the sessions for Another Side of Bob Dylan.
Apparently that version was shelved because of Ramblin' Jack Elliott's backing vocals being not quite right. Another publisher demo was recorded later than month.
Then there was a six month wait before Dylan walked into the studio on January 15, 1965 and laid down 'Gates of Eden', 'It's Alright, Ma (I'm Only Bleeding)', and 'It's All Over Now, Baby Blue' and 'Mr Tambourine Man'.
Bob Dylan - Mr. Tambourine Man (Official Audio)
That's the entire acoustic side of his Bringing It All Back Home album. Not bad for a day's work.
The first recorded version of 'Mr Tambourine Man' hit shelves as the opening song of side two of Bringing It All Back Home on March 22, 1965.
What definitely didn't happen was The Byrds picking up a copy of Bringing It All Back Home in their local HMV and deciding to a cover it.
In fact, The Byrds first recorded 'Mr Tambourine Man' before Bob Dylan's was released, and before they were even The Byrds.
When Jim McGuinn, Gene Clark, and David Crosby were still the Jet Set, their manager Jim Dickson got hold of an acetate of Dylan's first demo of the song (the one featuring Ramblin' Jack Elliott) in August 1964.
McGuinn overhauled the song, shifting the time signature from 2/4 to a more standard 4/4 while he and Dickson decided to make it a bit more Beatlesy and record it with electric guitars.
In a pretty bold move, Dickson invited Bob himself to see the band rehearsing their version at World Pacific Studios.
LEGENDARY BAND TELLS Why Bob Dylan GAVE His Only #1 SONG to Them in the 60s | Professor of Rock
Bob's response to the Jet Set's electric re-imagining of 'Mr Tambourine Man'? "Wow, you can dance to that!"
Soon after, Michael Clarke and Chris Hillman joined the band and they changed their name to The Byrds in November 1964, going on to record a couple more demos of 'Mr Tambourine Man'.
With their full lineup and new name. The Byrds recorded 'Mr Tambourine Man' on January 20, 1965 (coincidentally just five days after Bob Dylan recorded his proper version).
The Byrds - Mr. Tambourine Man (Audio)
While Bob Dylan's uncompromising version has four verses and clocks in at over five and a half minutes, newbies The Byrds couldn't be so bold.
They only used Bob's second verse, and tightened things up to less than two and half minutes.
The Byrds version was first released as a single on April 12, 1965, before opening their debut album Mr Tambourine Man in June.
Who plays on The Byrds' version of 'Mr Tambourine Man'?
The Byrds "Mr. Tambourine Man" on The Ed Sullivan Show
It wasn't unusual for pop producers in the 1960s to decide that the scruffy performers they were in charge of couldn't really be trusted to play on their own records.
Everyone from The Monkees to The Beach Boys used session players at some point in their career. Even the US single of The Beatles' 'Love Me Do' featured Andy White on drums instead of Ringo Starr.
So maybe it's no surprise that producer Terry Melcher (son of Doris Day and the man who turned down Charles Manson) insisted on hiring session gods The Wreckin' Crew to record the backing of 'Mr Tambourine Man' and its Gene Clark-written B-side 'I Knew I'd Want You'.
So McGuinn, Crosby, and Clark sing The Byrds' version, but the only Byrd to play on the single is Roger McGuinn, with that distinctive 12-string guitar sound.
By the time they got their first album together, The Byrds were allowed to actually play their own music.
Is 'Mr Tambourine Man' actually about a drug dealer?
Dangerous Minds-Differentiating for Interest
If you've watched 1995's classic Michelle Pfeiffer movie Dangerous Minds, you'll know that it's pretty much accepted that 'Mr Tambourine Man' isn't really about a man playing the tambourine.
"'Play a song for me'" means give me the stuff," explains the character Raul. "Yeah, it's like that guy been up drinking all night and smoking some s**t and everybody broke out on his ass.
"And he's high, he's still high, but he's kind of low and shaky, you know, 'jingle-jangle'. Yeah, he needs something like a big hit of crack or cocaine!"
But while Bob Dylan was pretty into marijuana at the time he wrote 'Mr Tambourine Man', he was yet to have taken LSD, and has claimed that it's not actually about drugs at all.
Bob Dylan Sings "Mr. Tambourine Man" in Scorsese Film Rolling Thunder Revue | Netflix
So is it just about a sleepless man, waiting for a spirit or muse for inspiration or a non-pharmaceutical release?
Is the Tambourine Man, as Dylan once claimed, guitarist Bruce Langhorne, whose Turkish frame drum looked just like a tambourine?
Well, it's worth noting that (i) many songwriters have written drug-inspired songs and later denied they're about drugs, fearing censorship or just not wanting their music to be seen in such reductive terms (ii) Bob Dylan has a long, entertaining history of white lies when it comes to talking about his life and work.
For what it's worth, Roger McGuinn, who sung the lead on The Byrds' version, said his take was more inspired by spiritualism than drugs.
"I was singing to God and I was saying that God was the Tambourine Man and I was saying to him, 'Hey, God, take me for a trip and I'll follow you'," he told biographer Johnny Rogan for his The Byrds: Timeless Flight Revisited. "It was a prayer of submission."
How did 'Mr Tambourine Man' do in the charts?
For such an amazing artist, Bob Dylan has rarely set the singles charts alight. He's only had ten top 40 US singles and only four Top 10s (the last of which was 'Lay Lady Lay' in 1969).
Bob Dylan didn't even release 'Mr Tambourine Man' as a standalone track, and while its parent album Bringing It All Back Home topped the UK albums chart and went to number 6 in the UK, its singles didn't do as well.
'Subterranean Homesick Blues' went to number 39 in the US and number 9 in the UK. 'Maggies Farm' went to 22 in the UK and didn't even chart back home.
The Byrds' 'Mr Tambourine Man' on the other hand went to number 1 both in the UK and on the Billboard Hot 100, becoming the first-ever recording of a Bob Dylan song to top a pop chart.
How did 'Mr Tambourine Man' create folk rock?
Mr. Tambourine Man (Live at the Newport Folk Festival. 1964)
Folk and rock are very much brotherly genres these days, but it wasn't always the case.
Back in the early 1960s, many folkies felt that the intrusion of electric instruments and the rock sound was sullying the purity of folk.
The stunned reaction to Bob Dylan going electric at the Newport Folk Festival and the cry of "Judas" during his show at the Manchester Free Trade Hall show just how strong those feelings were.
Bob Dylan himself had been merging the genres around the time of 'Mr Tambourine Man'. While his version was a lot more folky and acoustic, it was far from being a pure folk song.
No Direction Home (10th Anniversary Edition Trailer)
The Bringing It All Back Home album was split into an Electric and then Acoustic side, and there was a sort of feedback loop when Dylan heard the fledgling Byrds version of his 'Mr Tambourine Man' before he'd even recorded his own finished version.
The launch of The Byrds saw the birth of "folk rock", with the label being bandied about all over the press to describe their fusion of Dylan-powered modern folk with the rockier sound of the British Invasion.
While he was already on the way, The Byrds helped inspire Dylan's own move further into what would soon be called folk rock with Highway 61 Revisited and Blonde on Blonde.
The Sound of Silence (Electric Version)
Dylan's 'Mr Tambourine Man' was produced by Tom Wilson who, after co-producing The Freewheelin' Bob Dylan with John Hammond, produced The Times They Are a-Changin, Another Side of Bob Dylan and Bringing It All Back Home before he and Bob apparently fell out over the recording of 'Like A Rolling Stone'.
So along with The Byrds and Dylan, Tom Wilson was another of the godfathers of folk rock, and he soon picked up the baton himself.
As well as his work with Dylan, he produced the original folky version of Simon & Garfunkel's 'The Sounds of Silence' for their acoustic Wednesday Morning, 3AM album, before remixing it himself as 'The Sound of Silence' without the duo's knowledge by layering on electric instruments, even using some of Dylan's backing band for the job.
Who else has covered 'Mr Tambourine Man'?
Like many Bob Dylan songs, 'Mr Tambourine Man' has been covered many times over.
There were over a dozen versions of the song recorded in 1965 alone, with The Brothers Four getting their cover in the can even before The Byrds, though licensing issues stopped them releasing it.
Since then we've had Judy Collins, Stevie Wonder, The Four Seasons, Joni Mitchell, Gene Clark, Crowded House, Teenage Fanclub, Glen Campbell, Duane Eddy, and er, William Shatner giving it a go.