Cher's secret pop history: The massive hits pop icon sang backing vocals on
10 November 2023, 12:32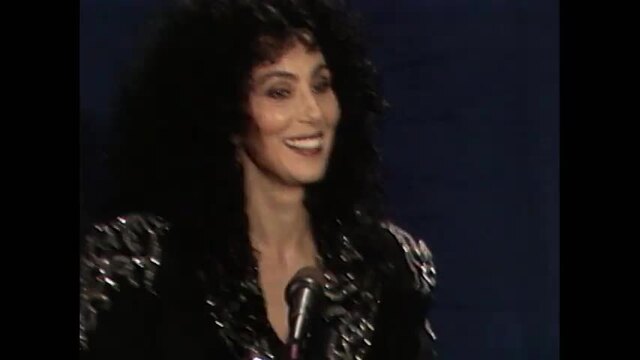 Cher - In Her Own Words documentary trailer
The Righteous Brothers, Darlene Love, The Ronettes...
Cher is one of the ultimate pop veterans, having released her debut single a whopping six decades ago – the novelty flop 'Ringo, I Love You'.
When it comes to bona fide hits, she's had more than you can shake a stick at, first at the side of her musician husband Sonny Bono as Sonny & Cher, and then a solo star in he own right.
No self-respecting record collection would be missing tracks like 'I Got You Babe', ''Baby Don't Go', 'The Beat Goes On', 'Bang Bang (My Baby Shot Me Down)', 'You Better Sit Down Kids', 'Gypsys, Tramps & Thieves', 'The Way Of Love', 'Half Breed', 'Dark Lady', 'If I Could Turn Back Time' and 'Believe', among others.
But what do you know about Cher's other hits... her secret pop history.
Before breaking through with 'I Got You Babe', Cher actually appeared on some massive hit singles by other artists.
Cher had been introduced to producer Phil Spector by her then-boyfriend, soon-to-be husband Sonny Bono. It's safe to say they didn't hit it off instantly.
"There was absolutely no chemistry," Sonny recalled in his memoir And The Beat Goes On.
"The two of them stood opposite each other in the antechamber of the studio and eyed one another like a cat and a dog."
But urged to hear her out by Sonny, quickly realised just how amazing Cher's inimitable voice would sound as a brick in his Wall of Sound, and set her to work in the studio.
As a then-unknown session player, Cher's name doesn't appear on the labels or sleeves for these classics, but those gorgeous deep tones and the key players' memories of the time mean we've got a pretty good idea about where she appeared.
The Ronettes – 'Be My Baby'
The Ronettes - Be My Baby | Colorized (1964) 4K
"I was just hanging out with Son, and one night Darlene [Love] didn't show up, and Philip looked at me and he was getting really cranky, y'know," Cher told The South Bank Show in 1999 about how she appeared on The Ronettes' 'Be My Baby', one of the greatest songs in history.
"Philip was not one to be kept waiting. And he said, 'Sonny said you can sing?' And so, as I was trying to qualify what I felt my ... 'expertise' was, he said, 'Look I just need noise – get out there!'. I started as noise, and that was 'Be My Baby'."
Cher wrote in her 1998 memoir The First Time that she only got the job when Darlene's car broke down.
"Everybody was standing around the microphone, waiting. Finally, Phil said, 'Let's just start.' And he looked over at me and said, 'Sonny says that you can sing'.
She added: "I'd never been in front of a microphone before, but I went out there, quaking and shaking, and stood next to Son. I was terrible with harmonies, so I just doubled Son's part. I was terrified, right up until the end of the song."
The Ronettes - "Be My Baby" | 2007 Induction
Talking about the session, Cher recently added to The Guardian: "The big joke was that I had to stand far back from the other singers.
"Phil would say, 'Cher, take a step back. And another step. And another'. At that point, everybody said, 'If she takes one more step, she'll be in Studio B!'. Somehow, my voice just cut through."
Cher worried that after Darlene Love returned that would be the end of her recording career, and drove Sonny bananas on the way home that evening with her concerns.
"Son groaned, 'God, Cher, I don't know if he's gonna ask you to do it again. Calm down before you drive yourself – and me – crazy!'," she remembered.
"And, of course, he did. He called me and Son his 'funk', and for more than a year he never recorded anything without us singing backup."
Darlene Love – 'Christmas (Baby Please Come Home)' and A Christmas Gift for You from Phil Spector
Darlene Love - Christmas (Baby Please Come Home) (Official Music Video)
So when Darlene Love's motor was fixed, Cher wasn't shunted out of the studio, but instead got to back her up.
One of the all-time great Xmas songs 'Christmas (Baby Please Come Home)' was the only newly-written song on A Christmas Gift for You from Phil Spector.
With a musical backing by The Wrecking Crew, with Sonny Bono listed as a percussionist, the song had lead vocals from Love and backing vocals from Cher and The Blossoms – that is Fanita James, Darlene Love, Gracia Nitzsche, Edna Wright, and Carolyn Willis.
"I hate it when people say, 'I remember it like it was yesterday, but I actually do'," Cher told The Guardian about recording her part on the song, which was written by Phil with Jeff Barry and Ellie Greenwich.
"I can see Darlene singing full-tilt boogie right in the room, not even in a booth, and me, Sonny and the other backup singers standing around one mike that was hanging down. It seems so archaic now, but it worked."
Cher - Christmas (Baby Please Come Home) [with Darlene Love] (Official Audio)
The single didn't actually do as well as hoped and, released on the same day John F Kennedy was assassinated, the album was a bit of a flop, too.
The record's stature grew over the years, especially after its re-release by Apple in 1972 as Phil Spector's Christmas Album.
As one of his now regular studio singers, Cher actually recorded backing vocals all over Spector's Christmas LP.
"We had been working like crazy on that album," she recalled.
"I kept thinking, I'm only 17 and I'm exhausted, what are these other people doing?' What I didn't realize then was they were all doing drugs!"
Cher returned to 'Christmas (Baby Please Come Home)' in 2023, when she recorded it as a proper duet with original performer Darlene Love for her own Christmas album.
Darlene Love – 'A Fine Fine Boy'
Darlene Love - A Fine, Fine Boy (Official Audio)
It wasn't just Darlene Love's Christmas cracker that featured Cher on back-up.
Anyone with ears can clearly hear both Cher and Sonny backing up Ms Love on her 1963 hit single 'A Fine Fine Boy'.
The Crystals – 'Da Doo Ron Ron'
The Crystals - Da Doo Ron Ron (Audio)
Written by Jeff Barry, Ellie Greenwich and Phil Spector, 'Da Doo Ron Ron' is another enduring pop-rock classic.
Spector liked the nonsense holding syllables in place when drafting the track so much that he didn't just keep them, but used them for the song's actual title.
The Crystals scored a top five hit with the song, and the group's Dolores 'LaLa' Brooks was the lead singer.
LaLa confirmed years later to the Solid Gold Weekend radio show that Cher popped up in the studio to sing backing on the track.
The Righteous Brothers – 'You've Lost That Lovin' Feelin''
The Righteous Brothers - You've Lost That Lovin' Feelin' (1964) 4K
The Righteous Brothers 'You've Lost That Lovin' Feelin'' topped both the UK and US charts soon after its release in 1964.
It was written by Spector with Barry Mann and Cynthia Weil and is maybe the ultimate example of Phil's famed Wall of Sound production techniques.
The song again had music played by The Wrecking Crew, and backing the stunning vocals from the Righteous Brothers Bill Medley and Bobby Hatfield were The Blossoms, plus Cher.
The singer later confirmed that the song was the last Spector single she ever recorded on.
"I became part of the background on every Spector song," she said of her successful run with the superproducer. "The last thing I did was 'You've Lost That Lovin' Feelin''."
A few months earlier, she had released her own solo single for Spector, 'Ringo, I Love You' under the name Bonnie Jo Mason. As the Righteous Brothers hit came out she and Sonny released 'Baby Don't Go', with Sonny producing the song himself.
And the following year, Sonny & Cher broke through with 'I Got You Babe', and Cher didn't need to sing backup for anyone anymore.