Cher's 15 greatest songs ever, ranked
29 March 2023, 12:18 | Updated: 15 September 2023, 15:20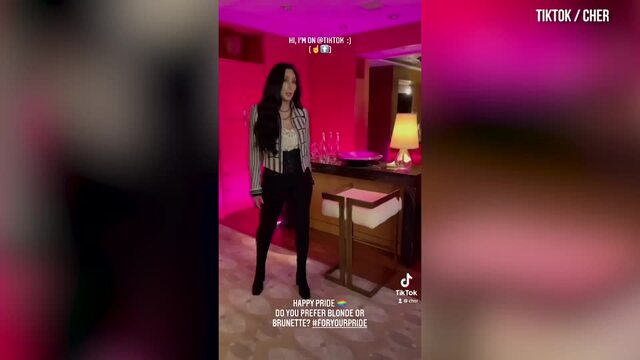 Cher joins TikTok as she posts introductory video
The Goddess of Pop has ruled the airwaves for over six decades, and we round up her biggest and best hits.
There aren't too many artists who have been knocking out hits for six decades, but right up there with the likes of The Rolling Stones is Cher.
Gliding effortlessly from folk to incredibly hard rock to disco to dance, it's totally clear why people call Cher The Goddess of Pop.
Picking just 15 of her hit singles is no easy task. Putting them in order all the way to the very best is harder still.
But that's just what we're doing here, as we round up and rank Cher's very greatest songs from across her career.
Alfie

Cher - Alfie (Smothers Brothers, 1967)

Written by Burt Bacharach and Hal David for the 1966 movie of the same name, over here we're all better acquainted with the Cillla Black version of 'Alfie'.

Burt actually wanted Dionne Warwick to sing it (naturally), but Paramount wanted a Brit. When it came to the US soundtrack, United Artists wanted someone closer to home, so the 20-year-old Cher stepped up, with her version produced by her then-husband Sonny Bono.

Cher almost made it to the big screen with a re-recorded version of 'Alfie' for the 2004 remake, but producers decided to go with a Joss Stone cover instead.

Fernando

Cher - Fernando (Official Video) [HD] with Andy Garcia - Mamma Mia! Here We Go Again Soundtrack

Rather than resent it or moan about not being taken seriously enough for an ex-folky, Cher has long-embraced her deliciously camp side.

Whether it was that outfit for the 'If I Could Turn Back Time' video (more on that later) or 2010's remarkable Burlesque, Cher has never been afraid to give the people what they want.

And that's exactly what she did when she appeared in movie musical sequel Mamma Mia! Here We Go Again as Donna's mum (Sophie's Grandma), also belting out some massive ABBA songs.

Everything she touched turned to glittery gold, but the most dazzling was this take on Fernando opposite Andy Garcia. Cher enjoyed it all so much she went on to release a full-on ABBA tribute album Dancing Queen.

Love Can Build a Bridge

Cher - Love Can Build A Bridge [Official Music Video]

For such a singular talent, Cher has always played remarkably well with others.

There's no better example than 'Love Can Build a Bridge', originally a country hit for The Judds in 1991, before a supergroup of Cher, Chrissie Hynde, Neneh Cherry and Eric Clapton took it to the very top of the UK Singles chart in 1995 for Comic Relief.

Love and Understanding

Cher - Love And Understanding

Cher followed up the success of 'The Shoop Shoop Song' with another hit, showing that she was going to be the Queen of the 1990s every bit as she was the 1980s (and 1970s. And 1960s)

'Love and Understanding' was written by Dianne Warren and produced by Warren and Guy Roche, trailing her 20th studio album Love Hurts, and went Top 10 in the UK and top 20 in the US.

Take Me Home

Cher - Take Me Home (Official Video)

It was the end of the '70s and after a few commercially unsuccessful albums Cher was being urged to get into the massive disco scene.

Cher was reluctant. Songwriter/producer Bob Etsy was reluctant. But after they recording the stunning 'Take Me Home' the doubts on all sides dissipated.

The single went top ten in the US and eventually shifted over a million copies to go Gold, and Cher was very much back in fashion.

The track was covered and revamped in 2001 by Sophie Ellis-Bextor with no little style,

The Beat Goes On

Sonny & Cher The Beat Goes On

One of just a couple of Sonny & Cher songs we've included here, 'The Beat Goes On' went to number six in the US charts in 1967 and opened that year's In Case You're in Love.

The Wrecking Crew bassist Carol Kaye highlighted this song in particular as one of the tracks that was absolutely made by the magic dust sprinkled on by the famed session group.

"it was a nothing song, and then the bass line kind of made that," she said of her decision to shift from a walking bass line to that quirky syncopated riff that makes it sound like nothing else.

Dead Ringer for Love (with Meat Loaf)

Meat Loaf - Dead Ringer for Love (Video)

Yet another collaboration, and one that showed that despite her laidback folk beginnings, Cher could rock as hard as anyone, easily keeping up with her dance partner Meat Loaf.

The title track from Meat's second album, 'Dead Ringer' was written by Jim Steinman (with an uncredited Cher also adding bits) and produced by him together with Jimmy Iovine and sounds every bit as rocking as you could imagine.

It eventually made its way to number 5 in the UK singles chart and more than earned its spot on many Cher and Meat Loaf best-ofs over the years.

The Shoop Shoop Song (It's in His Kiss)

Cher - The Shoop Shoop Song (It's In His Kiss) (Alternate Version)

It's one thing to make a classic song your own, but it's quite another to do that when a track is as famous AND as well-covered as 'The Shoop Shoop Song (It's in His Kiss)'.

Rudy Clark's song was originally a flop for Merry Clayton in 1963 and a hit for Betty Everett in 1964, before being memorably recorded by the likes of Ramona King, Linda Lewis and Linda Ronstadt.

Cher covered it for her hit 1990 movie Mermaids, taking it to number 33 in the US and all the way to the top of the UK singles charts.

Just Like Jesse James

Cher - Just like Jesse James - Rare original video

Another Dianne Warren-written song, this one alongside fellow hitmaker and producer Desmond Child.

This country-tinged ballad from 1989's Heart of Stone album saw Cher finish off the decade with yet another massive single.

Her fans absolutely love it, but Cher herself was never all that keen.

Cher - Just Like Jesse James (The Farewell Tour)

"I never really liked this song, and I did it and then I went away and I didn't do a video and I didn't do anything and then came back and it was a huge hit and I thought, 'Jesus Christ this song is kinda crap but it's a big hit!'," Cher said from the stage during her Farewell Tour.

"So then I didn't sing it and I didn't sing it and then I thought, 'Oh gosh this is the last time around I'd better sing it'. So I'm singing it.

"It's not really crap [pulls a face that suggests that yes, yes it is] but it's not my favourite but I'm actually getting better at it.

"There's just an awful lot of words and that I think is the problem. see when you get old you just ramble and ramble and ramble so let's just do the 'king song."

Walking in Memphis

Cher - Walking In Memphis (Alternative Version)

'Walking in Memphis' had been a hit for its writer Marc Cohn just five years before Cher picked it up, and had even won a Grammy nod for Song of The Year at a ceremony where Cohn won Best New Artist.

Cher's version for her It's A Man's World album in 1995 wasn't quite as big, though it went to number 11 in the charts and has endured to make itself every bit as loved as Cohn's witty original.

Believe

Cher - Believe [Official Music Video]

Cher had a pretty quiet '90s, with the odd hit sprinkled about, but in 1998 she showed that she wasn't going to give up her Goddess of Pop crown without a fight.

'Believe' wasn't just a stonking great slab of pop excellence. It wasn't just the ultimate comeback single. It was a genuinely musically groundbreaking hit that changed pop forever.

Popstars had been using Auto-Tune to "correct" their bum notes for years, but it was producer Mark Taylor who decided to ramp the settings up to the max for a sound unlike anything else in the charts.

He was nervous about what an actually incredible singer like Cher would make of it, but she loved it and it stayed despite record company reservations.

Taylor and his co-producer Brian Rawling wanted to keep the technique under wraps so initially claimed it had been done with a Vocoder. The secret was soon out though, and by the '00s you couldn't move for OTT Auto-Tune as an intentional voice effect.

Oh, and 'Believe' topped the UK and US charts, going Platinum over there and QUADRUPLE platinum over here.

Gypsys, Tramps & Thieves

Cher - Gypsys, Tramps & Thieves (Official Video)

The lead single from 1971's Chér, 'Gypsys, Tramps & Thieves' was produced by Snuff Garrett and written for Cher by Bob Stone.

After a few false starts, it proved to be THE song to successfully launch Cher's solo career away from Sonny Bono, going number one in the US and top five in the UK.

It was her first song recorded with The Wrecking Crew and successfully fused her earlier folk sound with something a bit more pop-rock.

Bang Bang (My Baby Shot Me Down)

Cher - Bang Bang (My Baby Shot Me Down) [Official HD Video] - Original Version

'Bang Bang (My Baby Shot Me Down)' has been much-covered and sampled over the years, and after its inclusion in Quentin Tarantino's Kill Bill Volume 1 there's an argument that Nancy Sinatra's 1966 cover is better known than Cher's original today.

Cher had released the her version, written by her then-husband Sonny Bono, just three months earlier, and it was the standout from her second album The Sonny Side of Chér.

It became her first million-seller and last Top 3 UK hit till 'The Shoop Shoop Song' in the 1990s.

Cher - Bang Bang (Live At The Mirage)

While the original may lose out to the quirky sparseness of Nancy's cover, Cher's own reworking of the song for her Extravaganza: Live at the Mirage video is maybe the pick of the bunch.

The whole set is a guitartastic celebration of the rockier side of Cher (it includes a version of Bruce Springsteen's 'Tougher Than The Rest' among other guitar-heavy covers), while Cher is kitted out in her 'If I Could Turn Back Time' outfit with giant black hair-do.

Here, 'Bang Bang' is recast as the ultimate gloom rocker, with guitar solos so shredded they've been turned into pure metal dust.

If I Could Turn Back Time

Cher - If I Could Turn Back Time (Official Video)

One of Cher's most stunning singles almost never happened. Cher had knocked back the song when Dianne Warren wrote it for, not being all that impressed with a demo Dianne had taped.

"I got on my knees and pleaded. I told her I wasn't going to leave the room until she said yes, and finally, just to get rid of me, she did," Warren said apparently holding down her leg and refusing to let go until Cher agreed.

Thank god for that, because this single from 1989's Heart of Stone became one of Cher's greatest moments, propelled by a gloriously controversial video.

The clip features Cher and her band on the USS Missouri battleship, surrounded by real-life Navy personnel, with the top brass thinking it could help recruitment.

They didn't count on Cher rocking up in a tiny one-piece swimsuit covered with a fishnet bodystocking that got the video banned on MTV before 9pm, before a less saucy video was cut.

I Got You Babe

Sonny & Cher "I Got You Babe" on The Ed Sullivan Show

Sure, when you're watching Groundhog Day you might get sick of this song by the end of the film, but in all other circumstances it's an absolute delight.

A number one single on both sides of the Atlantic, its fusion of folk and rock sounds backed by The Wrecking Crew and slick production by Sonny Bono himself made it an iconic hit of the era.

Sonny & Cher reunite for the last time to sing 'I Got You Babe' on Letterman (1987)

Cher returned to the song many times over the years, and despite her and Bono's bad-tempered divorce in the mid-1970s, they reunited for a stunning final performance on Late Night with David Letterman in 1987.

It was memorably covered by UB40 featuring Chrissie Hynde (who took it back to the top of the UK singles chart), while Cher reworked the song with Beavis and Butt-Head for The Beavis and Butt-Head Experience album in 1993.