Frank Sinatra: Tony Award-winning star cast in new musical ahead of UK world premiere
12 July 2023, 11:30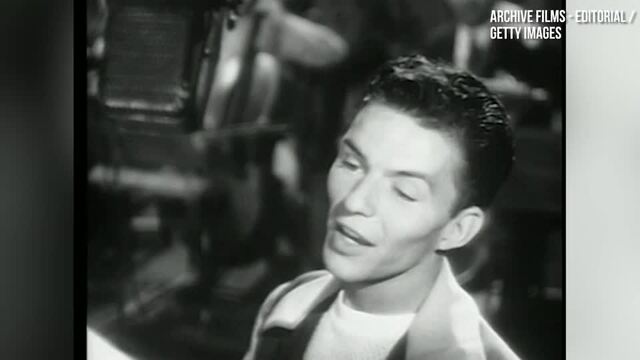 Frank Sinatra delivers beautiful performance in recording studio
We now know who'll be playing Ol' Blue Eyes in an upcoming stage musical.
A Tony Award-winning theatre star has been cast in an upcoming stage musical about the life and work of Frank Sinatra.
Matt Doyle will play Ol' Blue Eyes in Sinatra: The Musical, which will have its World Premiere at Birmingham Rep this autumn.
"I have no doubt my Italian grandmothers would be profoundly overjoyed," Matt – who won the Tony for Best Featured Actor in a Musical for Company on Broadway last year.
"This one is for Geraldine Padula and Nicoletta Macchia who raised my family and me on Frank's music.
"I cannot begin to express what an honour it is to take on The Chairman of the Board's incredible legacy."
Frank's daughter Tina Sinatra added: "Sinatra is the first book musical to take an honest look at my father's life, so the question people kept asking – who could possibly play him?
"From the moment Matt Doyle swaggered into the audition room, he owned the role.
"Not only did he naturally possess Frank's warmth and charm, Matt understood my father's complexities. And once he began to sing, we knew we had found our Frank!"
Frank Sinatra - New York, New York
She added: "In addition to his extraordinary talent, Matt also possesses an intuitive sensitivity about life that will help reveal the man behind the legend
"I can't wait to see him in the role at Birmingham Rep in the fall! I know Dad will be proud of him."
The play's director and choreographer Kathleen Marshall said: "I am so excited to work with Matt Doyle again!
"Matt is an incredible actor and singer, and he has all the charm, charisma, sensitivity and depth to bring the story of Frank Sinatra's life and artistry to Birmingham Rep."
Sinatra: The Musical, runs at the theatre from September 23 to October 28, 2023 and tickets are available now.
The production features 20 actors and 17 musicians performing over 25 of Sinatra's most legendary songs.