When Angela Rippon stunned the nation with her high-kicking dance routine on Morecambe & Wise
13 September 2023, 16:46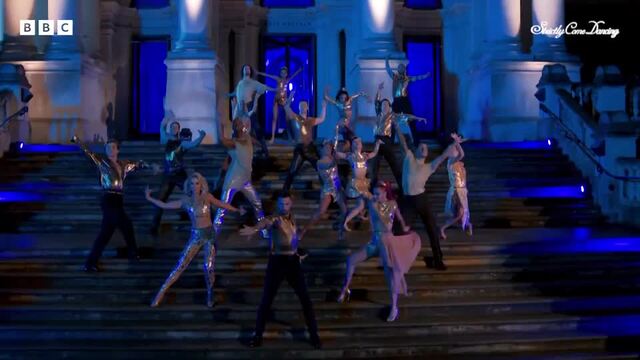 Strictly Come Dancing 2023 teaser trailer
Angela Rippon changed how we all thought of her in an instant.
Angela Rippon is almost as well known these days for her association with dance as she is with news reading.
Among her many TV hosting gigs (did you know she was the first co-presenter on the original Top Gear?), she was one of the many stars who fronted the long-running ballroom dancing competition Come Dancing.
That show was eventually revived and revamped 20 years ago as Strictly Come Dancing, and Angela nodded to her dancing past in 2011 when she appeared alongside fellow newsreaders Sian Williams, Susanna Reid, Sophie Raworth, and Emily Maitlis in a Children in Need Strictly special.
In 2023, she joined the competition proper, becoming one of 15 celebrities battling it out for the Glitterball Trophy.
But it was at Christmas 1976 when Angela Rippon first danced on our screens in a stunning, hilarious and truly memorable moment.
Morecambe and Wise - News Flash with Angela Rippon

Posted by Charlie Rose on Saturday, August 12, 2023
Eric Morecambe and Ernie Wise had been working together since 1941, and after early TV success with Running Wild and Two of a Kind really hit their stride in 1968 with The Morecambe & Wise Show.
The original BBC version of that show ran from 1968 to 1977, and most years was capped off with a Christmas Special.
The 1976 special was a typically star-studded affair, with Elton John, John Thaw, Dennis Waterman, Kate O'Mara, Marian Montgomery and The Nolans among the guests.
BBC Newsreaders do Strictly Come Dancing - BBC Children in Need 2011
But it was Angela Rippon who stole the whole thing with a surprise appearance
After a News Flash screencard appeared to interrupt the show, Angela was introduced in the way we all knew her, sat behind a desk running through the events of the day in her perfect received pronunciation, before everything took a turn for the fabulous.
"A report on the economy has just come through from Number 11 Downing Street. The Chancellor's statement reads as follows," she started.
"There may be trouble ahead. But while there's moonlight and music and love..."
At this point Angela breaks into a broad grin, her newsdesk splits in two, she gives the highest kick we've seen this side of Eric Cantona at Selhurst Park, and breaks into a song and dance routine as Eric and Ernie come and join her.
Angela, who it turns out studied ballet until she was 17, danced throughout the segment as Morecambe and Wise vied for her attention.
The sketch was so incredibly popular that Rippon popped up again on the following year's Christmas special, this time being revealed as part of the chorus line.
Angela Rippon performs 'Hey Big Spender' - Let's Dance for Comic Relief - BBC One
Even today, it's impossible to hear 'Let's Face The Music and Dance' without immediately thinking of Angela Rippon's high-kicking performance.
And every time she appeared on TV for the next half century odd, it was inevitable that the sketch would get a mention, and no doubt let do her future dancing appearances and maybe even that Come Dancing hosting gig.
She's kept her hand (or should that be legs?) in with regards to dancing, and is a patron of the Old Time Dance Society and was, for a brief time, chair of the English National Ballet.