Elton John facts: Marriages, songs, children, charities and real name of the pop superstar
26 May 2023, 14:47 | Updated: 22 September 2023, 10:28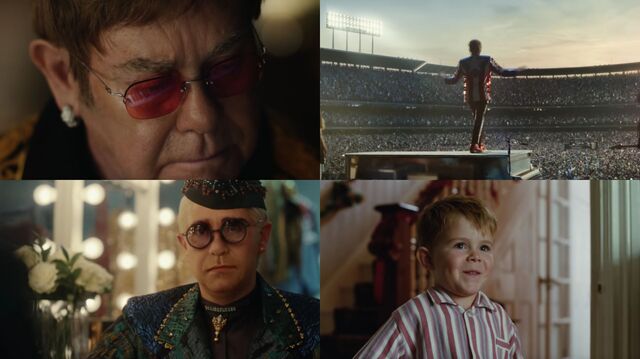 Sir Elton John stars in the heartwarming John Lewis Christmas advert
Elton John is simply one of the greatest performers and songwriters in pop history.
There are singers. There are popstars. There are superstars. But there's only one Elton John.
From the tail end of the 1960s to the present day, Elton has towered over the world of music, with hits in every single decade.
He's currently winding up his years-long Farewell Yellow Brick Road Tour, so it feels like the perfect time to take a look back at Sir Elton's life and work.
If you want to know Elton's birth name, who he's married to, and what his very biggest songs and albums are, then you're very much in the right place.
When was Elton John born and what is his real name?
Elton John was born on March 25, 1947, and his real name is... Elton Hercules John.
Wait, what?
Yes, Elton legally changed his name to Elton Hercules John on January 7, 1972. He had been working under that name since the '60s, having meshed together the names of his Bluesology bandmates Elton Dean and Long John Baldry.
When he was born though, he was given the name Reginald Kenneth Dwight.
Elton celebrated his 76th birthday in 2023.
Where did Elton John grow up?
Elton was born in Pinner, Middlesex, and grew up with his mum's parents in a council house in the suburb.
He went to school at Pinner Wood Junior School, Reddiford School and Pinner County Grammar School, but quit education before his A-Levels to concentrate on music.
How did Elton John get into music?
Elton John - Rocket Man (Official Music Video)
Elton's mum Sheila Eileen and dad Stanley Dwight were both into music, with Stanley playing trumpet with the semi-pro Bob Millar Band.
Maybe just as importantly, they both were fans of the pop music of the day, hoovering up records that the young Elton listened to.
As he grew up, Elton started playing his grandmother's piano, and soon started to be able to pick out classical tunes by ear.
He started formal piano lessons when he was seven and won a junior scholarship to the Royal Academy of Music when he was 11, while at the same time playing Jerry Lee Lewis at school events.
Elton went to Saturday classes at the Academy and played and sang in the choir, but wasn't bowled over by the experience.
"I kind of resented going to the Academy," he said. "I was one of those children who could just about get away without practising and still pass, scrape through the grades."
Despite having extra tuition and being a good student, he left before the final exams.
Elton John - I Guess That's Why They Call It The Blues
When his parents divorced, Elton moved in with his mum and stepdad Fred Farebrother, into Flat 3A at Frome Court, where he started songwriting earnestly.
At 15 and still named Reggie, he was hired to play piano at the Northwood Hills Hotel, later forming a band called The Corvettes and Bluesology, the latter becoming Long John Baldry's support band.
Things were on a roll for the teenage Elton and then there was a meeting of minds that would change his life forever.
When did Elton John meet Bernie Taupin and what was their first hit?
As with so many musical partnerships in the 1960s, '70s, '80s and '90s, one of the great pop relationships started with an advert in the inky music press.
Elton John responded to an advert in the New Musical Express from Liberty Records A&R manager Ray Williams.
He was given an envelope of lyrics by Bernie Taupin, who had also answered the ad. He wrote the music, and things were falling into place.
The two men met face-to-face that year and recorded their own song 'Scarecrow'. It was around this time that Elton changed his name.
Elton John - I'm Still Standing
Elton and Bernie joined DJM Records as songwriters the following year, turning around quick numbers for the likes of Roger Cook and Lulu.
That included a failed attempt to write the latter's 1969 Eurovision Song Contest number (their 'I Can't Go On (Living Without You)' came sixth, with eventual competition joint winner 'Boom Bang-a-Bang' coming out on top.
At the end of the decade, music publisher Steve Brown urged them to do their own thing, and Elton recorded the single 'I've Been Loving You' and his initially flop debut album Empty Sky.
The following year he recorded the self-titled Elton John, which had a little number on it called 'Your Song'.
The single went to number 7 in the UK chart, the album went Gold in the US and picked up a Grammy nomination, and the Elton John era had begun.
What are Elton John's biggest songs and albums?
Elton John - Your Song (Top Of The Pops 1971)
We don't want to go on for pages and pages and pages – easy to do given that Elton has released over 30 albums and around 150 singles in his remarkable career.
His most successful run of albums came in the early 1970s: Madman Across the Water, Honky Château, Don't Shoot Me I'm Only the Piano Player and Goodbye Yellow Brick Road.
Since then there's been a healthy sprinkling of Gold and Platinum records, including Caribou, A Single Man, Too Low For Zero, Made in England and Wonderful Crazy Night, among others.
His biggest and best songs include:
Your Song
Tiny Dancer
Crocodile Rock
Saturday Night's Alright For Fighting
Goodbye Yellow Brick Road
Step Into Christmas
Bennie and the Jets
Don't Let the Sun Go Down on Me
The Bitch is Back
Pinball Wizard
Don't Go Breaking My Heart (with Kiki Dee)
Sorry Seems to Be the Hardest Word
Are You Ready for Love
I Guess That's Why They Call It the Blues
I'm Still Standing
That's What Friends Are For (with Dionne Warwick, Gladys Knight & Stevie Wonder)
Nikita
Can You Feel the Love Tonight
Circle of Life
Made in England
Something About the Way You Look Tonight
I Want Love
Cold Heart (with Dua Lipaand Pnau)
Merry Christmas (with Ed Sheeran)
Hold Me Closer (with Britney Spears)
What famous songs did Elton John appear on as a session musician?
Wham! - The Edge of Heaven (Official Video)
Elton John is no stranger to hooking up with fellow artists for a hit, from John Lennon to Britney Spears via Stevie Wonder, Ed Sheeran and Blue.
He played piano on Wham!'s fourth number one single 'The Edge Of Heaven' and appeared on records by everyone from Kate Bush and Queens of the Stone Age to Fall Out Boy and Red Hot Chili Peppers.
But before he even had his name up in lights himself, he appeared on several high profile recordings by other artists because of his work as a session musician.
The Hollies: He Ain't Heavy, He's My Brother (2019 Remaster Video)
As for what songs he appeared on, we can't be completely sure. Session musicians were often seen as cogs in a machine and rarely credited, with their contributions sometimes not even being noted at the time.
In many cases especially busy session stars don't even remember they worked on certain recordings till they're reminded of it years later.
Some lists we've seen online seem to credit Elton with lending his voice or piano to tens of massive hits from 1968 to 1970, but we'd take those with a hefty pinch of salt.
We trust Elton's own official website though, which records that his backing vocals and piano work appear on Tom Jones's 'Delilah', while that's also his piano on The Hollies' 'He Ain't Heavy, He's My Brother'.
How many times has Elton John been married and how many children does he have?
Elton John was first engaged back in the 1960s to secretary Linda Woodrow, his first lover, but he broke off the relationship just a fortnight before the wedding.
He had his first same-sex relationship with Tamla Motown's UK label manager John Reid soon after his career-making US shows in Los Angeles in 1970.
Elton had come out as bisexual in a 1976 interview with Rolling Stone and went on to marry German recording engineer Renate Blauel in 1984, but the marriage was ill-fated.
Elton John, Kiki Dee - Don't Go Breaking My Heart (with Kiki Dee)
John reportedly told her during their St-Tropez honeymoon that he wanted to end the marriage, and later admitted that he was "living a lie". They divorced in 1988.
By 1992, Elton told Rolling Stone that he was "quite comfortable about being gay" and the following year he embarked on a relationship with ad exec-turned-filmmaker David Furnish.
They were among the first couples in the UK to have a civil partnership on December 21, 2005, and later married on December 21, 2014.
John and Furnish have two sons –  Zachary Jackson Levon Furnish-John and Elijah Joseph Daniel Furnish-John – both born to the same surrogate mum.
What is Elton John's net worth?
Mona Lisas And Mad Hatters (Live At The Royal Festival Hall, London, UK / 1972)
Elton is one of the biggest-selling artists in music history, with more than 300 million records sold during his career, back when selling records actually made you decent money.
Given he's written most of this material (the bulk of it with lyricist Bernie Taupin), he's got a decent share of the royalties, too.
His massive arena and stadium shows over the years have also raked in plenty of money, and while he's made plenty of charitable donations – including to his own Elton John AIDS Foundation – he's also endorsed a number of massive brands, too.
In 2018, Elton sold his back catalogue and rights to future work to Universal Music Group, and while financial details weren't revealed, we're pretty sure that Elton got a good price.
Estimates put Elton's net worth at around $550 million.
When is Elton John retiring from touring?
Elton John - Goodbye Yellow Brick Road (Live From Dodger Stadium, USA / 2022)
The same year Elton sold his back catalogue, he also announced what he said would be his final tour.
The original plan was for the goodbye jaunt to run for three years through to 2021, but then the COVID-19 pandemic happened, as well as a bout of ill health, and everything changed.
Elton John's Farewell Yellow Brick Road Tour is now due to run until July 8, 2023, with the 333rd and final show taking place at the Tele2 Arena in Stockholm, Sweden.
The last batch of shows includes a run of UK shows and headline spot at the Glastonbury Festival, but worry not if you've not got a ticket – Elton has teased that he still may play "the odd show" despite parking the tour bus for good.