How John Travolta was nearly in Happy Days and Henry Winkler nearly played Danny in Grease
28 September 2023, 11:51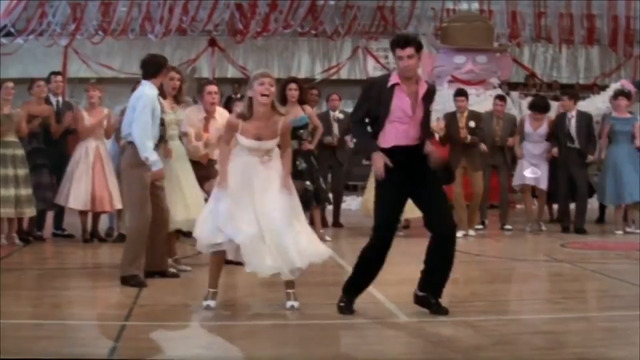 Olivia Newton-John and John Travolta star in trailer for Grease
Can you imagine Henry Winkler as Danny Zuko?
The 1970s were a time of great change and upheaval in society and popular culture, with the advent of punk, disco and hip-hop pushing things along nicely.
But as the first era of true teenagers grew up and entered the theatres, movie studios and TV writer rooms, it was also a time for looking back and celebrating the rock 'n' roll 1950s, too.
The two most enduring bits of '70s/'50s nostalgia are the 1978 movie Grease, based on the hit stage musical from earlier in the decade, and the hit TV show Happy Days, which ran from 1974 all the way through to 1984.
Leading Grease and starring opposite Olivia Newton-John's stunning Sandy was John Travolta as T-Bird Danny Zuko, while Henry Winkler was the breakout star of ABC's classic sitcom as biker Arthur 'Fonzie' Fonzarelli.
But can you imagine an alternate reality where it was John Travolta who broke through in Happy Days and Henry Winkler was in Grease? It actually almost happened.
John Travolta as Potsie, or even a blond Fonzie?
Before Happy Days properly launched in 1974, the show had its roots in the anthology series Love, American Style.
What later became the unofficial Happy Days pilot was first a single episode of the earlier show called 'Love and the Television Set' (later retitled 'Love and the Happy Days'), which aired a couple of years earlier on February 25, 1972.
That episode featured a teenage boy called Richie Cunningham and his pal Potsie, who try to use their family's first TV set to win over the ladies.
While some of the cast – like Ron Howard as Richie and Anson Williams as Potsie – were retained, when the show was picked up as Happy Days, many of the roles were recast.
At some point though, it looks as though John Travolta who was in contention to play Richie's best pal instead of Anson.
"Love, American Style" - "Love and the Happy Days"
Yep, it turns out that a pre-superstar John, who was then mainly acting in ads as well as appearing in Grease on the stage in the much smaller role as Doody, caught wind of the project and wanted in.
"You know it's funny. I didn't even know he auditioned until I was interviewed by Marilu Henner and she told me, years later," Potsie star Anson told Studio 10 in 2017.
"Well, I told Marilu to tell John I saved his career, by me getting the part and not him."
John Travolta went on to play Vinnie Barbarino on another TV hit Welcome Back, Kotter, before becoming a megastar with his big screen turns in Saturday Night Fever and Grease.
And in one of those coincidences, John's sister Ellen Travolta went on to play Louisa Arcola-Delvecchio in five episodes of Happy Days, Louisa being Chachi's mum and Fonzie's aunt.
Anson Williams Talks 'Happy Days' | Studio 10
There's also an even more tantalising rumour.... John Travolta as a blond Fonzie.
The Fonz never actually appeared in Love, American Style at all, and when he was first created in the Happy Days script he wasn't the loveable leather-clad biker we all know and love today.
Marion Cunningham actor Marion Ross wrote in her memoir that show creator Gary Marshall "had imagined him to be a blond 1950s matinee idol type" instead.
And YouTube Channel I Did Not Know That has claimed that as well as Travolta's documented audition for Potsie, he was also eying up the role of Arthur Fonzarelli.
When Travolta Auditioned to Play Fonzie.
Now, we've looked around and can't find any hint of this supposed John Travolta interview that YouTube channel is talking about – and no one else seems to have mentioned it on the entire internet.
Such an amazing bit of trivial vanishing without a trace feels unlikely, so we're taking this with a pinch of salt.
What we do know for sure is that the casting agents ended up split between Winkler and The Monkees' Micky Dolenz for The Fonz.
Already a famous TV and music star, Micky likely would have gotten the nod, but he was so much taller than the rest of the cast they decided that the shorter Henry Winkler would be a better fit.
Henry Winkler as Danny Zuko in Grease
While it was a relatively unknown John Travolta who auditioned for the role of Potsie (and maybe The Fonz), Henry Winkler was already a household name when the movie version of Grease came knocking around.
The Fonz was originally envisaged as very much a secondary, supporting character in Happy Days, but Winkler's easy charm, iconic leather jacket and motorcycle (that he not only never actually rode in the show, but didn't even know how to) made him a breakout star.
So when Grease was moving from the stage to screen, it made sense for producers to tap up this talent who had already won over the US and the rest of the world as the quintessential '50s Italian-American biker, but was apparently struggling to find any other work.
"It was so bad that not only could I not find work, but I was sitting at my desk at Paramount and I literally thought, 'Am I ever going to find anything with as much impact as the Fonz?'," Winkler said.
"How will I know? Will anybody ever ask me? I'm not getting any offers."
Henry Winkler Reveals Why He Turned Down The Role Of Danny In 'Grease'
So the offer for Danny in Grease came along, but Winkler was too concerned about being typecast to say yes, later admitting that he was – in CNN reporter Chris Wallace's words – a "damn fool" for turning it down.
"I thought, 'I've played the Fonz. I don't wanna do it again, but it's already happened, I'm already typecast'. I should've just shut up and had a really good time making that movie."
He later added to Access Hollywood that it was his lack of singing ability as well as his fear of playing another Fonz that put him off the role.
" I turned down Grease. I thought I had done The Fonz for ten years, I didn't want to get typecast," he laughed
"I don't know where... I was on drugs at that moment! John Travolta went on – not only that, I can't sing – he went on to be brilliant in Grease and bought a plane."