ABBA facts: Marriages, divorces, songs, albums, break-up and reunion of the Swedish pop giants
22 March 2022, 12:14 | Updated: 18 September 2023, 12:16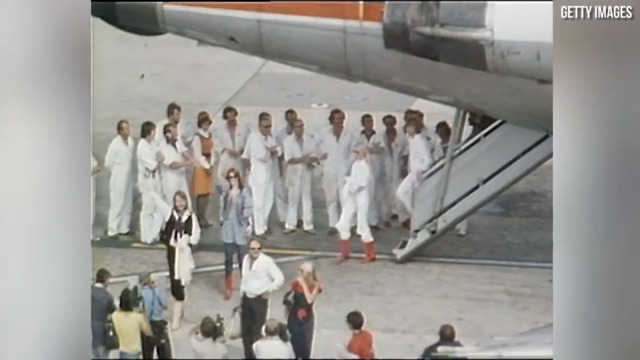 ABBA arrive in Melbourne in 1977 in stock footage
From their 1970s heyday to their triumphant 21st century comeback, ABBA are one of the most successful bands of all time.
Their critical fortunes have been up and down more times than a rollercoaster over the years, but you can't deny the incredible popularity of ABBA.
The Swedish pop superstars are one of the biggest-selling bands of all time, with estimated global sales of over 100 million records.
They split up in the 1980s after the disintegration of the two relationships that made up the group, but after reconciling a few years ago they finally released the long-awaited Voyage comeback album in 2021.
They won't be making a traditional return to performing, but their ABBA-tars will be doing the honours this spring in London.
So now feels like the perfect time to take a look back at the story and music of Sweden's greatest export.
How did ABBA meet and when did they form?
ABBA as everyone knows, is a palindromic acronym mad up of the first letter of its four members' names: Agnetha Fältskog, Björn Ulvaeus, Benny Andersson, and Anni-Frid Lyngstad.
Even before ABBA, all four members had some considerable experience in the music business.
Benny was a member of 1960s pop-rock group The Hep Stars and songwriting partner of Lasse Berghagen. Björn fronted folk-skiffle band The Hootenanny Singers and had a solo career around the same time.
Sweden isn't the biggest country in the world, so it's no surprise that Benny and Björn crossed paths. In June 1966, they wrote a song 'Isn't It Easy To Say' together, recorded by The Hep Stars.
The partnership developed, and by the end of the decade they were writing hits together. In 1970 they recorded the album Lycka (Happiness) together, whcih included a song co-written by Agnetha, and backing vocals from both Agnetha and Anni-Frid.
A year earlier, Benny had written a song for the Eurovision Song Contest, which tied for first place in Sweden's national Melodifestivalen 1969 tournament before missing out on a re-vote.
It wasn't his first dalliance with Eurovision (more on that later), but more importantly, that's where he met fellow contestant Anni-Frid.
Anni-Frid had been singing since she was 13 and even had her own band, the Anni-Frid Four. She won a talent competition in 1967 to earn a record deal with EMI Sweden.
She released a few singles, but it was when Benny started producing (and writing) her songs that she scored her first national number one 'Min egen stad' ('My Own Town') – which featured all future ABBA members on backing vocals.
Anni-Frid had actually met Björn even earlier, during a talent show in 1963, and later met Agentha in a talent show in 1968.
Agnetha sang first sang with Bernt Enghardt's local dance band, getting the attention of Karl Gerhard Lundkvist.
She ended up having a self-penned number one single as an 18-year-old, and released four albums by 1971.
Agnetha also played Mary Magdalene in the original Swedish production of Jesus Christ Superstar.
She met Björn in 1969, and they soon started working on one another's material.
Björn, Benny, Agnetha and Anni-Frid made their first attempt to formally work as a quartet in 1970, without much success. The partnership was shelved, but as they worked on each other's solo material, they gravitated together once more.
In June 1972, 'People Need Love' was released to a group credited to Björn & Benny, Agnetha & Anni-Frid. It reached the top 20 in Sweden and even scraped into the lower reaches of the US charts.
Under that unwieldy group name, they released the single 'Ring Ring' and album of the same title.
By 1973, Polar Music record label boss Stig Anderson was sick of having to say "Björn & Benny, Agnetha & Anni-Frid" every five minutes, and the name ABBA was born.
The group had to check with canned fish company Abba Seafood that they could use the name, and thankfully they gave them the go-ahead.
Who was married to who in ABBA (and when did they get divorced)?
ABBA - The Winner Takes It All (Official Music Video)
ABBA was a twirling combination of partnerships, and while the songwriting collaboration of Björn & Benny was obviously key, at the core of ABBA's unique makeup was its two romantic pairs.
After their meeting in 1969, Agnetha Fältskog and Björn Ulvaeus got married on July 6, 1971.
Anni-Frid and Benny Anderson also met in 1969, but they didn't get married until 1978.
Agnetha and Björn got divorced in 1980, and Anni-Frid and Benny Anderson got divorced in 1981.
Unsurprisingly, the divorces resulted in big tensions in the group, and ABBA disintegrated not long after the break-ups.
Who writes ABBA's music?
Abba - Thank You For The Music
All members of ABBA are capable of writing fine songs.
It should be noted that Anni-Frid wrote the vast majority of her own solo output before ABBA got together.
But when it comes to ABBA, nearly all their songs were written by the partnership of Björn & Benny.
There's a sprinkling of co-writes with label owner Stig Anderson, and Agentha got a co-writing credit on Ring Ring song 'Disillusion'.
When did ABBA enter the Eurovision Song Contest?
ABBA have a rich history with the Eurovision Song Contest, going back to before the band even properly existed,.
As mentioned earlier, it was at the Melodifestivalen 1969 national tournament where Benny and Anni-Frid first met. His 'Hej, Clown' (sung by Jan Malmsjö) was tied for first place but lost on a re-vote. (Anni-Frid's performance of 'Härlig är vår jord' came fourth).
ABBA - Ring, Ring (Official Music Video)
In 1973, the fledgling ABBA submitted 'Ring Ring' for that year's Melodifestivalen, with Neil Sedaka and Phil Cody providing an English translation. Incredibly, it only placed third.
FINALLY in 1974, ABBA fulfilled their Eurovision destiny with 'Waterloo'.
They swept through the nationals on February 9, and on April 6, won the 1974 Eurovision Song Contest, and became global superstars.
Abba - Waterloo (Official Music Video)
In 2004, 30 years after their win, all four members made cameo appearances in the Our Last Video Ever comedy skit for the tournament in Istanbul.
The following year to mark the 50th anniversary of the competition, the song was chosen as the best in the history of the Eurovision Song Contest.
What are ABBA's biggest songs?
Abba - Dancing Queen (Official Music Video Remastered)
Once they got going, ABBA's back catalogue became an endless stream of hits.
As well as their successful singles and albums, plus a couple of Greatest Hits released during their lifetime, their ABBA Gold compilation – released ten year after their split – is one of the best-selling albums of all time, with an estimated 30 million copies flying off the shelves.
ABBA's biggest songs include:
Ring Ring
Dancing Queen
Knowing Me, Knowing You
Take a Chance on Me
Lay All Your Love on Me
Super Trouper
I Have a Dream
The Winner Takes It All
Money, Money, Money
SOS
Chiquitita
Fernando
Voulez-Vous
Gimme! Gimme! Gimme! (A Man After Midnight)
Does Your Mother Know
One of Us
The Name of the Game
Thank You for the Music
Waterloo
I Still Have Faith in You
Don't Shut Me Down
When did ABBA split up... and when did they reform?
ABBA - The Day Before You Came
After Agnetha and Björn got divorced in 1980, and Anni-Frid and Benny Anderson got divorced in 1981, the writing was on the wall for ABBA.
Their last public performance was on December 11, 1982. Broadcast live from Stockholm on to The Late, Late Breakfast Show in the UK.
They never actually formally announced the split (and sometimes even denied it), but it was clearly over.
Anni-Frid and Agentha put out solo albums, Benny and Björn worked on the Chess musical.
Their was a reunion of sorts in January 1986, when they recorded an acoustic version of Stig Anderson's 'Tivedshambo' for their former manager's 55th birthday, and got together privately to sing 'Der Kleine Franz' at old tour manager Claes af Geijerstam's 40th.
Elaine Paige, Barbara Dickson - I Know Him So Well "From CHESS"
ABBA Gold in 1992 (and Erasure's ABBA-esque covers EP) helped the band reclaim their critical stature, as did the Mamma Mia! musical, but the foursome didn't get together in public again until July 4, 2008, at the Swedish premiere of the Mamma Mia! movie.
Despite the massive success of Mamma Mia! they denied plans for a proper comeback again and again, until 2016.
Former Spice Girls manager and Pop Idol creator Simon Fuller announced plans for a reunion to create a "digital entertainment experience", with digital ABBAtars doing the performing.
On April 27, 2018, it was confirmed that the group had recorded the new songs 'I Still Have Faith in You' and 'Don't Shut Me Down', with plans for a premiere at a TV special.
ABBA - I Still Have Faith In You
But things kept getting pushed back.
The TV project was shelved, Simon Fuller dropped, a new partnership made with Industrial Light and Magic, and then new song premiere dates set for 2019 and then 2020.
After a bit more teasing in summer 2021, on September 2, 2021, 'I Still Have Faith in You' and 'Don't Shut Me Down' were FINALLY released.
Another single 'Just A Notion' followed, before the release of the comeback album Voyage on November 5, 2021.
And while the band won't perform on stage, ABBA Voyage experience will kick off in London on May 27, 2022.
Has there ever been an ABBA movie?
Muriel's Wedding (1994) - trailer
Despite a raft of unofficial documentaries and 2005's epic solo Frida – The DVD, there's never been an official movie telling the whole ABBA story.
That doesn't mean they've been short of representation on the big screen, though.
In 1994 there was not one but TWO cult Australian films that had a love of ABBA and their music at their heart, the heartbreaking and hilarious The Adventures of Priscilla, Queen of the Desert and Muriel's Wedding.
Mamma Mia! The Movie Trailer (2008) - Great Quality!
Then came the jukebox stage musical Mamma Mia! in 1999, which used ABBA's songs to tell the story of a young woman about to be married on the search for the identity of her father.
It's a huge (and continuing) success, and spawned an equally successful movie adaptation in 2008, which itself had a hit sequel Mamma Mia! Here We Go Again a decade on.
Will ABBA ever play live again or record more new music?
ABBA - Don't Shut Me Down (Lyric Video)
After a break of nearly 40 years, many fans feared that we'd never get an ABBA reunion.
Now that they're back, the question on everyone's lips is whether they'll ever perform a live show again, or record a follow-up to Voyage.
On the issue of a live performance, it doesn't look promising.
If they were of a mind to actually play live, surely the launch of the Voyage project would have been the time?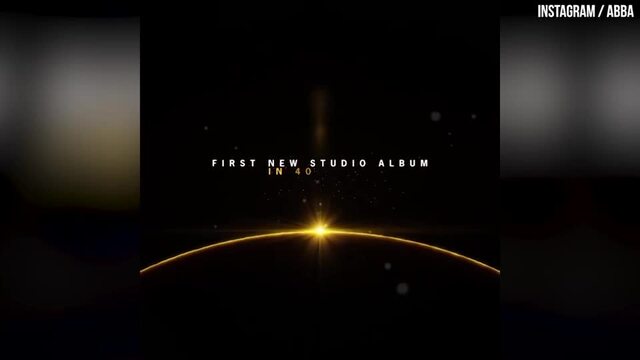 ABBA announce new album and concert 'Voyage' after 40 years
In 2008, Björn told the Daily Telegraph: "We will never appear on stage again. There is simply no motivation to re-group. Money is not a factor and we would like people to remember us as we were: Young, exuburent, full of energy and ambition.
"I remember Robert Plant saying Led Zeppelin were a cover band now because they cover all their own stuff. I think that hit the nail on the head."
In having their ABBAtars do the work on stage, they can (at least try to) capture that youthful exuberance (and fresh-faced appearance), while still offering a live-ish experience.
As to whether or not they may get back together in the studio, the future's a bit more uncertain.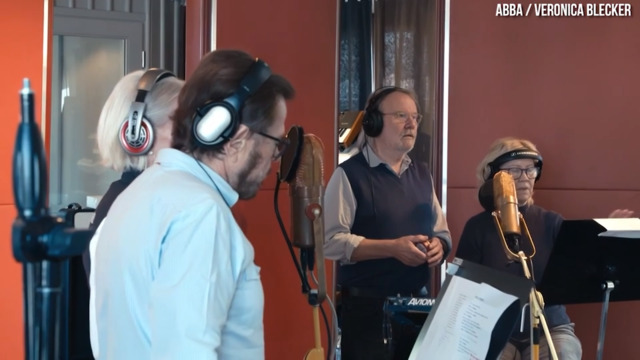 Explore new album and concert plans for ABBA as group announce 'Voyage'
"I don't really dare to say," Agnetha told Sverge Radio.
"We're a bit older now, and have our minor ailments, ha ha. But we struggle on. But I don't dare to say, because it's a bit uncertain."
Anni-Frid added BBC Radio 2: "We have probably said it must be the last thing we do because also thinking of our ages, we are not young any longer."
However, she didn't close the door completely, adding: "But I would say again, you never know. So don't be too sure."
A few days earlier, Benny had told BBC News that Agnetha and Anni-Frid could yet sway him: "If they twist my arm I might change my mind."