Buddy Holly's 15 greatest songs ever, ranked
12 January 2022, 12:10 | Updated: 10 October 2023, 13:56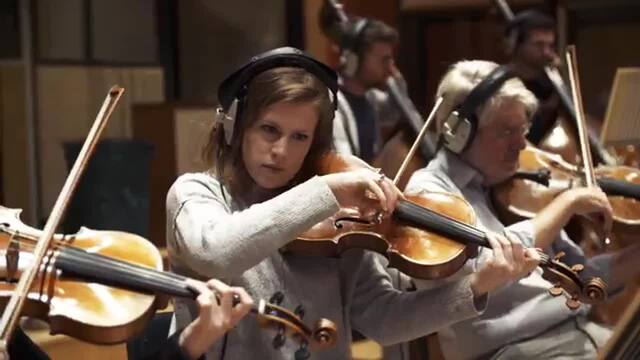 Buddy Holly with the Royal Philharmonic Orchestra album trailer
Buddy Holly's career only lasted a few years, but he changed the face of music forever.
With his backing band The Crickets and as a solo performer, Buddy Holly was one of the most important figures in rock 'n' roll history.
As a songwriter and a musician he's had an impact pretty much everyone who picked up a guitar since, with The Beatles and The Rolling Stones among many who considered him a key influence.
He released just three albums in his lifetime, before his life and career were tragically cut short February 3, 1959.
Buddy Holly was one of four men on board a flight that took off in terrible weather conditions, along with The Big Bopper, Ritchie Valens and young pilot Roger Peterson.
Peterson lost control of the plane, which crashed and killed all four men. But Buddy Holly's music lives on forever, and here are 15 of his very greatest songs.
Wishing

'Wishing' was released on the flip of a cover of Chuck Berry's 'Brown Eyed Handsome Man', a posthumous single in 1963.

Written when he was half of Buddy and Bob, the tender track was one of many (many) songs that Holly recorded but didn't get round to putting out during his short lifetime.

It featured on Holly in the Hills, the fifth album of Holly's music released after his death.

I'm Gonna Love You Too

Written by Joe B. Mauldin, Niki Sullivan and Norman Petty (though Jerry Allison claims that Holly wrote most of it while he wrote the bridge), Holly's original version is a classic bit of stuttering rockabilly heartbreak.

Blondie covered it for Parallel Lines, and while their version is a great slice of power pop, it stalled as the lead single before 'Hanging on the Telephone', 'Heart of Glass' and 'One Way or Another' stormed the charts.

It Doesn't Matter Anymore

Buddy Holly - It Doesn't Matter Anymore - 1959.

Written by Paul Anka (he who did 'My Way'), 'It Doesn't Matter Anymore' was released shortly after Buddy's tragic death.

With its jaunty orchestral backing from Dick Jacobs, it reached number 13 in the US and also became the first posthumous number 1 in UK chart history.

A cover by Linda Ronstadt was a top 20 hit in 1974.

Heartbeat

Written by producer Norman Petty and Holly's old Buddy and Bob bandmate Bob Montgomery, 'Heartbeat' was a catchy bit of shuffling, twanging rockabilly.

It wasn't a massive hit, only reaching 82 in the US and 30 in the UK. A cover by The England Sisters got to number 33, while Showaddywaddy took it all the way to number 7 in 1975.

It lent its name to ITV's Heartbeat period drama, and the cover by its star Nick Berry (PC Nicholas Rowan) for the theme got all the way to number 2.

Rave On

Nicking the title from 'Dixie Fried' by Carl Perkins ("And hollered, 'Rave on, children, I'm with ya! / Rave on, cats,' he cried"), 'Rave On' was written by Sonny West, Bill Tilghman and Norman Petty.

Sonny recorded and released this first, but it was Buddy Holly's version from a couple of months later that stood the test of time.

Words of Love

Not a massive hit for Holly the time, 'Words of Love' has emerged as one of his best-loved songs over the years.

It showed Holly's experimental spirit, with Buddy layering tape to harmonise with himself.

Maybe the reason his version didn't do so well was that The Diamonds released their doo-wop version before Holly had his in the shops, reaching number 13 and scoring the first Buddy Holly Hit.

Massive Holly fans, The Beatles recorded their cover for Beatles for Sale in 1964.

Crying, Waiting, Hoping

Released in 1959 as the flip of 'Peggy Sue Got Married', 'Crying, Waiting, Hoping' was an out-and-out rocker that was effectively built up from a Holly demo after his death.

Buddy laid down the vocals and guitar in a Manhattan apartment, and after his death producer Jack Hansen filled out the sound with studio musicians and the Ray Charles Singers to mimic the classic Crickets sound.

Peggy Sue Got Married

Before 'Let's Twist Again'. Before 'Judy's Turn to Cry'. Holly got in there early with one of the first sequel songs, following on the story of his 1957 hit 'Peggy Sue'.

When the real-life Peggy Sue got married to Crickets drummer Jerry Allison, the couple's move to California meant the end of Allison's musical partnership with Holly.

Another of the Manhattan apartment recordings overdubbed by Jack Hansen, it's become another posthumous Holly classic.

Years later, David Bowie's own sequel song 'Ashes To Ashes' paraphrased Holly in its opening line ("You recall a girl thats been in nearly every song" / "Do you remember a guy that's been in such an early song?")

Everyday

Written by Holly with producer Norman Petty and recorded by Buddy with the Crickets, the delicate 'Everyday' went all the way to number 3 on the Billboard Hot 100 when it was released in 1957.

As well as being used in the classic coming-of-age movie Stand By Me, the song has been covered by Bobby Vee, John Denver, Don McClean, Erasure and Fiona Apple.

Peggy Sue

Buddy Holly - Peggy Sue Live

Written by Crickets drummer Jerry Allison with Norman Petty, 'Petty Sue' was originally called 'Cindy Lou', named after Buddy's sister's daughter.

But it got a name-change when Allison and his then-girlfriend (and future wife) Peggy Sue Gerron broke up.

When the real-life Peggy Sue first heard the song from the live stage, she said she was as "so embarrassed", but added: "I was just delighted, I thought it was a fascinating song."

Maybe Baby

Another Holly/Petty number, the twanging 'Maybe Baby' was a number 17 hit in the US in 1957 and did even better in the UK, going all the way to number 4.

It was recorded at Tinker Air Force Base in Midwest City, Oklahoma while Buddy and the Crickets were on tour.

Over the years it's been covered by high profile artists like The Beatles, Brian May, Paul McCartney (solo) and Hank Marvin.

Oh, Boy!

Buddy Holly & The Crickets "Oh, Boy!" on The Ed Sullivan Show

One of the greatest single packages of all time, 'Oh, Boy!' was released as the B-side to 'Not Fade Away' and reached number 10 in the US and number 3 in the UK in 1958.

Written by Sonny West, Bill Tilghman and Norman Petty, it also featured on The "Chirping" Crickets album.

A cover by Mud in 1975 did even better than Holly's original, going all the way to number 1 in 1975.

Not Fade Away

One of Buddy Holly's most out-and-out rocking songs, 'Not Fade Away' was thrown out as a B-side, but is now recognised as one of his very greatest tracks.

Inspired by the classic Bo Diddley beat, it was written by Holly with producer Petty and recorded on May 27, 1957 – the same day as 'Everyday' – which isn't a bad day's work all things told.

The song was taken to the next level by The Rolling Stones in 1964, with their raucous take becoming one of their first hits, being their first UK top 10 and their first single in the US.

True Love Ways

The beautiful 'True Love Ways' was one of the clutch of songs recorded at Holly's last ever session, at the Pythian Temple on October 21, 1958, together with the Dick Jacobs Orchestra.

Apparently inspired by the Gospel song 'I'll Be All Right', which was later played at Holly's funeral, its gentle, lilting, orchestral sound shows the other side of the rock 'n' roller.

Released after Holly's death, it reached number 25 in the UK but failed to chart in the US, though Brit poppers Peter and Gordon took it to number 2 in the UK in 1965, and all the way to 14 in the US.

That'll Be The Day

Buddy Holly & The Crickets "That'll Be The Day" on The Ed Sullivan Show

Any one of a dozen songs could have easily topped this list – Holly recorded so many classic rock 'n' roll songs – but we've decided that 'That'll Be The Day' just pips it.

Written by Buddy with his pal and drummer Jerry Allison, he initially recorded it in 1956 with his backing band The Three Tunes, but it's the 1957 re-recording with The Crickets that we all know and love.

The title was inspired by John Wayne's refrain in John Ford's Western The Searchers, and the song was a number one hit in both the UK and US, going Gold in 1969.

It was later inducted into the Grammy Hall of Fame and placed in the National Recording Registry.