Brian May interview: Queen legend reveals how Buddy Holly and Lonnie Donegan influenced him
26 April 2022, 08:30 | Updated: 5 October 2023, 12:55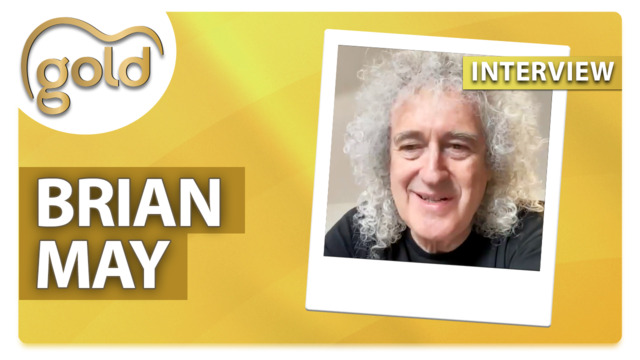 Brian May interview: New album, his hero Buddy Holly and a guitar solo!
Brian May is back with a newly-minted version of his second solo album, and there's plenty of treats for fans this time around.
Originally released in 1998, Another World has been re-issued as a special double-album on multiple formats as the second in his aptly-titled Gold series, and the second disc includes various bonus tracks and extras.
Among the tracks include cover versions of songs by his heroes including Buddy Holly, The Shadows and Conway Twitty, and Brian has opened up about how important his early influences were to him growing up.
The Queen guitarist caught up with Gold's James Bassam about the new album, his love for Buddy and Jeff Beck, his sadness over the recent passing of Taylor Hawkins, and more.
Watch the full interview in the video above.
On what his first-ever record was, Brian told James: "It was Lonnie Donegan – "Rock Island Line". Lonnie Donegan's 'Rock Island Line'.
Brian May gives Gold a guitar solo!
"Lonnie was a big influence on me – skiffle. I don't think people talk about skiffle much these days, but it was a thing which came in, and derived from American blues. And it was just acoustic guitars and makeshift instruments, like a washboard and thimbles and a tea-chest bass. So every kid on the block could pick it up – a guitar – and strum a few chords, and play skiffle. So that's how I started. That was the thing for me.
"You know, Lonnie Donegan was great. He was channelling artists like Leadbelly into England. It was the very beginning of the blues coming into England. Later on, of course, you've got Eric Clapton channelling BB King and Buddy Guy and all those people. And there's a continuous kind of influx. And you've got Jimi Hendrix. All hail Jimi Hendrix, you know?"
Praising Foo Fighters drummer Taylor Hawkins - who appeared on Brian's album Another World - Brian said: "He'd just joined the Foo Fighters. And we were friends. He was the arch Queen fan. I don't know if you know, but he knew more about Queen than we did.
"And, again, was so supportive. I think Taylor Hawkins singlehandedly made us cool again in America – you know, just by liking us so much. He knew everything we'd ever done, and was inspired by what we'd done.
"Anyway, he came into my studio, and played on the track, and gave me lots of, you know, the physical and mental and spiritual support that you need. He cracked it. I mean, it's an amazing track, I think, 'Cyborg', with his input.
"And he's gone now. That was a crushing blow, a couple of weeks ago. I couldn't believe that he's gone. Just a wonderful guy."
Brian's cover of Buddy Holly's 'Maybe Baby' appears on the album, and he explained just how important Buddy was to him as a boy.
"I listened to what was coming out of Radio Luxembourg in those days. And I heard this track. I had the clang of the guitar. I heard those spooky kind of harmonies and Buddy's voice. And it just spoke to me.
Brian May - Maybe Baby (Official Lyric Video)
"I thought, 'That's what I want to do. This is giving me shivers up my spine. This is making me feel like life has excitement at its core. This is something which is touching my soul. That's what I want to do.'
"And I remember so clearly the night I was there, with my little headphones, under my covers. And the announcement came: 'Buddy Holly was killed today in an air crash.' I remember feeling this terrible pain in my heart. You know, I didn't know the guy, but he was my hero.
"And I rushed downstairs and told my mum and dad. And they were like, 'Oh? You love this guy, right?' I went, 'Yeah.' And I was in tears. Buddy Holly in, I think, really two years of his recording career, changed the world. I still love that stuff. That's why I did 'Maybe Baby' on this album."
Brian May's Another World album is out now, alongside the accompanying book Another World: The Bri-Art Collection.