'Rocket Man' by Elton John: The making of the stellar space ballad
23 March 2023, 10:07 | Updated: 11 October 2023, 13:28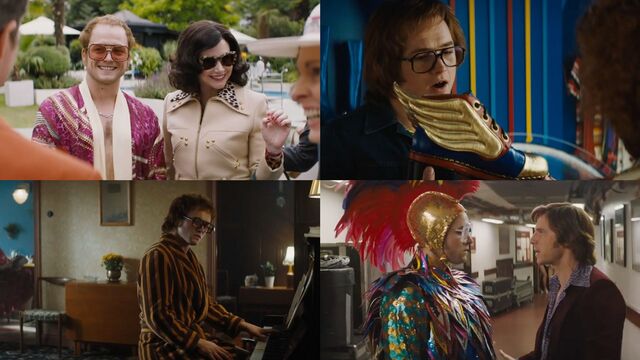 Watch the fantastic new trailer for the Elton John movie 'Rocketman'
First released in 1972, 'Rocket Man' has become one of Elton John's best known and most loved songs.
Released just over a decade into the Space Age, Elton John's 'Rocket Man' isn't just a classic 1970s song – it's one of the best ballads of all time.
But did you know what sci-fi book inspired the song, or why Bernie Taupin had to sing the opening line for two hours straight?
Is 'Rocket Man' a knockoff of David Bowie's 'Space Oddity'? Where did it get in the charts? Does it have a music video?
As the song approaches its 50th anniversary, here's everything you need to know about the classic song.
Who wrote 'Rocket Man'?
Like most Elton songs, 'Rocket Man' – or to give it its full original title 'Rocket Man (I Think It's Going to Be a Long, Long Time)' was written by Elton John (music) and Bernie Taupin (words).
The song was inspired by a short story 'The Rocket Man' from sci-fi genius Ray Bradbury's The Illustrated Man collection, published in 1951.
Funnily enough, Elton John himself didn't know about Bradbury's influence on the song till as late as 2023.
"In that book there was a short story called 'The Rocket Man which was about how astronauts in the future would become sort of an everyday job," said Bernie in an Instagram video. "So I kinda took that idea and ran with it."
"You know I never knew that," said a surprised Elton, adding in the caption: "You learn something new every day!"
Bernie also said that he was also influenced by Pearls Before Swine's 1970 song 'Rocket Man' from their fourth album The Use of Ashes.
It's also been claimed the idea came to him when he saw a shooting star (or possibly an aeroplane) in the night sky.
Taupin later revealed that the first verse came to him when he was driving home to his mum and dad on the motorway. He couldn't exactly stop and write it down, so he had to repeat it to himself for two hours so he didn't forget it.
The song was recorded with Elton John on piano and lead vocals (of course), with Davey Johnstone on electric slide and acoustic guitars, Dee Murray on bass guitar, Nigel Olsson on drums and David Hentschel on Arp synthesiser.
"It was a pretty easy song to write the melody to, because it's a song about space, so it's quite a spacious song" Elton said.
'Rocket Man' was also the first song to feature the combination of Johnstone, Murray and Olsson on backing vocals, which quickly became a staple of the Elton sound.
What is 'Rocket Man' about?
Elton John - Rocket Man (Official Lyric Video)
Back in 1972, fewer than 60 people had ever been in space. Yuri Gagarin was the first on April 12, 1961, setting off in Vostok 1. Neil Armstrong became the first to step foot on the Moon on July 20, 1969.
But in the far-flung future, what if being an astronaut was just a day job – albeit a pretty lonely one?
In Bradbury's 'The Rocket Man', a young boy called Doug misses his dad, who is often sent on three-month space journeys and can't give it up.
"You don't know what it is," the dad tells Doug "Every time I'm out there I think, if I ever get back to Earth I'll stay there; I'll never go out again. But I got out, and I guess I'll always go out."
That was the background for Bernie Taupin's song, which imagined an everyday spaceman heading off on a journey to Mars after his wife packed his bags just the day before.
Is 'Rocket Man' a ripoff of David Bowie's 'Space Oddity'?
David Bowie – Space Oddity (Official Video)
When you look at the evidence, it's a fair enough question:
Both songs are about a lonely astronaut stranded far from home ("Rocket man, burning out his fuse up here alone" / "Though I'm past one hundred thousand miles")
Both songs explicitly have the astronaut pining for his wife back home ("I miss the Earth so much I miss my wife" / "Tell my wife I love her very much she knows")
Both songs have quirky sci-fi sounds (David Hentschel on the ARP synthesizer and Davey Johnstone/Gus Dudgeon on slide guitar / Bowie on Stylophone and Rick Wakeman on Mellotron)
Both songs were produced by Gus Dudgeon (While Tony Visconti produced the rest of the David Bowie/ Space Oddity album, he handed the 'Space Oddity' over to engineer Gus because he thought it was a bit of a novelty)
'Space Oddity' was released around ten months before 'Rocket Man'
David Bowie acknowledged the similarity by adding "I'm a Rocket Man!" to his song when he recorded it for BBC Radio 1's Johnny Walker Lunchtime Show in May 1972 (though it wasn't broadcast at the time)
BUT
Bernie has denied that 'Space Oddity' was an influence – and we're going to believe him.
It was the apex of the Space Age after all, with man just having landed on the Moon, and everyone was writing and recording songs about space exploration.
Elton John: The Cut l Rocket Man - The Inspiration
"People identify it, unfortunately, with David Bowie's 'Space Oddity'. But it was actually inspired by a story by Ray Bradbury, from his book of science fiction short stories called The Illustrated Man," Bernie said in a video interview in 2016.
"In that book, there was a story called 'The Rocket Man', which was about how astronauts in the future would become sort of an everyday job. So I kind of took that idea and ran with that."
When was 'Rocket Man' released and where did it get in the charts?
After it was recorded at Château d'Hérouville in France, 'Rocket Man' was mixed at London's Trident Studios and released on April 17, 1972 with 'Susie (Dramas)' on the B-side.
Here in the UK it rose all the way to number 20 in the charts – kept off the top by T.Rex with "Metal Guru' – while in the US it got to number 6 on the Billboard Hot 100.
Elton John - Rocket Man (Royal Festival Hall, London 1972)
It was the lead single from Elton's fifth studio album Honky Château which topped the US Billboard 200, but only reached number 2 in the UK.
That album was kept off the top first by T.Rex once more with Bolan Boogie, and then by The Rolling Stones with Exile on Main Street.
After shifting three million copies Stateside, the song is certified triple platinum in the US, and by the end of August 2019, it went platinum in the UK.
Does 'Rocket Man' have a music video?
Elton John - Rocket Man (Official Music Video)
Despite the first pop videos springing up in the 1960s, they were still something of a novelty in 1972, so 'Rocket Man' didn't have a proper promo film when it was first released.
That changed in 2017, when the first official video for the song premiered at the prestigious Cannes Film Festival.
The video had been chosen as one of three winning videos in the Elton John: The Cut competition held to mark the 50th anniversary of Elton's partnership with Bernie (the others were for 'Tiny Dancer', and 'Benny And The Jets').
Co-directed by Iranian refugee Majid Adin and Irish animation director Stephen McNally, the animated 'Rocket Man' video was inspired by Adi's migration to England.
Who has covered 'Rocket Man'?
Kate Bush - Rocket Man - Official Music Video
Like many Elton John songs, 'Rocket Man' has been covered by plenty of high profile artists.
One of the best versions was by Kate Bush, which featured on 1991 tribute album Two Rooms: Celebrating the Songs of Elton John & Bernie Taupin.
Her version came out as a single (with her take on 'Candle in the Wind' on the B-side), and it got all the way to number 12 in the UK charts.
Other versions include David Fonseca's hit in Portugal, The Chipmunks, Starsailor, Neil Diamond, My Morning Jacket, Puddle of Mudd, The Feeling, Heaven 17 and Taron Egerton in the Rocketman musical biopic.
William Shatner "Sings" 'Rocket Man' (1978) - BEST QUALITY!
Maybe most memorably, Bernie Taupin introduced Star Trek icon William Shatner's spoken word performance at the Science Fiction Film Awards in January 1978.
This version has been parodied on everything from Animaniacs to The Simpsons, with Stewie Griffin doing a scene-for-scene version on Family Guy.
Shatner also recorded a version of the song for his 2011 album Seeking Major Tom, which among other space-themed songs also included his version of... 'Space Oddity'.