Neil Diamond sells his entire back catalogue including 'Sweet Caroline' and 'Red Red Wine'
1 March 2022, 12:38 | Updated: 14 September 2023, 22:50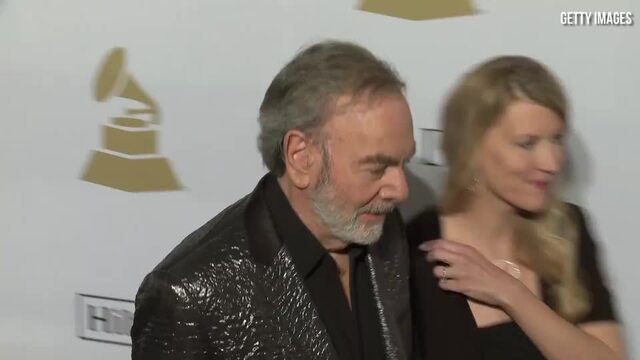 2017: Neil Diamond and Katie McNeil hit the red carpet at Pre-Grammy Gala
Neil Diamond joins the likes of Bob Dylan, Sting and Neil Young.
Neil Diamond has joined the ever-growing list of rock stars who have sold their back catalogue and master recordings in a multi-million pound deal.
Bob Dylan, Sting, Neil Young, Stevie Nicks, Lindsey Buckingham and David Crosby are just some of the artists who have sold some or all of their songs to existing music publishing companies like Universal or the new wave "song funds" like Hipgnosis.
Older artists especially are looking for a large lump sum payment, and letting the company who owns the songs and often the masters do all the hard work in making money from the music.
Neil Diamond's new deal with Universal Music Group (UMG) of course covers such massive hits as 'Sweet Caroline', 'Red Red Wine', 'Solitary Man', 'Cracklin' Rosie', 'Song Sung Blue', 'Love on the Rocks' and 'America'.
But the deal doesn't just cover Neil's biggest songs, but all recordings made during his career – including 110 unreleased tracks, a full unreleased album and a number of long-form videos from his archive.
It's not known how much Universal shelled out for Neil's songs, but their Dylan deal was estimated to be well over $300 million (£225 million).
The terms of the deal also give Universal the rights to record and release any future Neil Diamond music, should he return to the studio in the future.
"After nearly a decade in business with UMG, I am thankful for the trust and respect that we have built together," Neil said.
He added that he felt "confident" that the executives at Universal and Capitol Music Group "will continue to represent my catalogue, and future releases with the same passion and integrity that have always fuelled my career".
Neil Diamond - Sweet Caroline (Global Singalong)
For his part, Chairman and CEO of Universal Music Group Sir Lucian Grainge said: "Neil Diamond is by definition, a truly universal songwriter.
"His immense songbook and recordings encompass some of the most cherished and enduring songs in music history.
"Through our existing partnership, we are honoured to have earned his trust to become the permanent custodians of his monumental musical legacy."