Neil Diamond's 10 greatest songs, ranked
23 January 2022, 10:46 | Updated: 22 September 2023, 11:05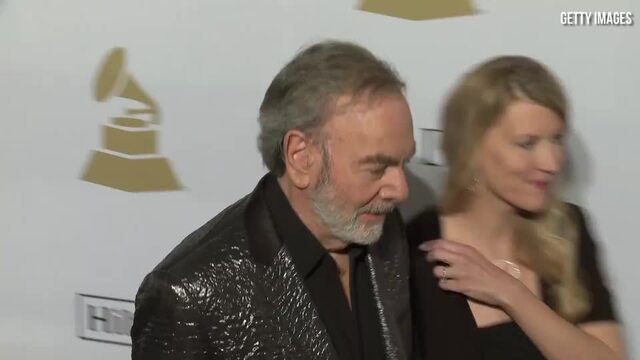 2017: Neil Diamond and Katie McNeil hit the red carpet at Pre-Grammy Gala
As a songwriter and a performer, Neil Diamond is one of the greatest hitmakers of all time.
Born in Brooklyn and coming of age as a songwriter in the Brill Building, Neil Diamond is one of the key figures in 20th century music.
He's written countless hits for other artists – and more than a few for himself, too.
He's sold over 100 million records, conquered Hollywood with The Jazz Singer and wowed the main stage at the Glastonbury Festival.
Neil retired from touring in 2018 after being diagnosed with Parkinson's disease, but he's vowed to continue writing and recording new music.
So ahead of his 81st birthday on January 24, our top ten celebrates the most sparkling of Neil Diamond's songs.
America

Neil Diamond - America (Live At The Greek Theatre / 2012)

One of the songs written and recorded by Neil Diamond for the soundtrack of The Jazz Singer, 'America' tells the positive story of immigration to the US over the years (Neil's own Jewish family came to the US from Russia and Poland).

It reached number 8 in the Billboard Hot 100, and was one of his many Adult Contemporary chart-toppers.

Love on the Rocks

Neil Diamond - Love On The Rocks (Official Video)

Another song from The Jazz Singer, Neil wrote this classic ballad with Gilbert Bécaud.

It did even better than 'America', reaching number two in the US chart, only kept off the top by John Lennon's comeback single '(Just Like) Starting Over'.

Forever in Blue Jeans

Neil co-wrote this song about the unofficial uniform of America with his guitarist Richard Bennett.

It featured on his album You Don't Bring Me Flowers in 1978, before coming out as a single the following year.

Years later, comedian Will Ferrell covered the song in an ad for Gap jeans, doing his best Neil Diamond impression.

You Don't Bring Me Flowers

"You Don't Bring Me Flowers" A one of a kind rendition

'You Don't Bring Me Flowers' was originally written with Alan and Marilyn Bergman for the high-concept gender role-reversal sitcom All That Glitters.

The song ended up being shelved in favour of Kenny Rankin's 'Genesis Revisited' and, probably unrelated, the soap opera spoof flopped with critics and audiences.

Neil did a little bit more work on the song and popped it on his album I'm Glad You're Here with Me Tonight in 1977. A year later, Barbra Streisand released a cover for her Songbird album.

Then some magic happened. Louisville WAKY radio programme director Gary Guthrie spliced both versions together as a fake duet, first as a gift to his wife, before playing it on the radio.

Other DJs followed suit with their own versions, and they were so well-loved by listeners that Neil and Babs eventually got in the studio to record a real duet, which raced to the top of the charts and eventually went platinum.

Play Me

Neil Diamond live, 1976, "Play Me"

The lead single from Neil Diamond's 1972 album Moods, the catchy 'Play Me' featured some great guitar from incoming guitarist Richard Bennett, who went on to work with Neil for nearly two decades.

It's Nancy Sinatra's favourite Neil Diamond song ("because it is sexy") and with lyrics like "You are the sun, I am the moon, / You are the words, I am the tune, / Play me" we can't argue with that.

Cracklin' Rosie

Neil Diamond Cracklin Rosie 1970

Neil Diamond's million-selling 'Cracklin' Rosie' was his first US number one hit. Released in 1970 and featured on his album Tap Root Manuscript.

On the track, he was backed by session gods The Wrecking Crew, including Hal Blaine on drums, Larry Knechtel on keyboards, Joe Osborn on bass, and Al Casey on guitar.

I Am... I Said

Neil Diamond "I Am... I Said"

"It was consciously an attempt on my part to express what my dreams were about, what my aspirations were about and what I was about," Neil told Mojo years later about writing this 1971 hit from his Stones album.

He attributed it to his time in therapy, and also to his failed attempt to win the part of Lenny Bruce in a planned biopic about the groundbreaking and transgressive comedian.

The song went all the way to number four in both the UK and US charts.

I'm A Believer

Neil Diamond - I'm A Believer (Live From Erasmus Hall / 2014)

Neil Diamond first wrote this absolute classic 'I'm A Believer' for The Monkees, who earned a number one with it on New Year's Eve in 1966.

Their single was sung by Mickey Dolenz and produced by Jeff Barry and stayed top of the charts for seven weeks. It also topped the charts in the UK in early 1967.

Later established as a star in his own right, Diamond recorded his own version for his 1979 album September Morn, and it became a fixture of his live set.

Girl, You'll Be A Woman Soon

Neil Diamond - Girl, You'll Be A Woman Soon 1967

Neil Diamond scored a top ten hit with 'Girl, You'll Be A Woman Soon' all the way back in 1967.

It was covered many times over after that. Cliff Richard had a go as early as 1968, recording it as the flip of his 'I'll Love You Forever Today' single.

Quentin Tarantino was such a fan of Urge Overkill's version from their 1992 Stull EP he included it on the soundtrack of Pulp Fiction two years later.

Sweet Caroline

Neil Diamond "Sweet Caroline" on The Ed Sullivan Show

We couldn't pick anything else, could we?

Neil Diamond's signature song is one of the most instantly recognisable tracks of the 20th century, sung in arenas, sports stadiums and anywhere else that a few thousand people choose to gather.

Neil has claimed that was inspired by JFK's then 11-year-old daughter Caroline (Neil eventually sang it at her 50th birthday in 2007), though later suggested that it was about his wife at the time, Marsha – 'Sweet Ma-ah-arsha' didn't scan, so he had to choose a three-syllable name instead.

It "only" reached number 4 in the US in 1969 and number 8 in the UK in 1971, but it's easily become Diamond's best-known track and a fixture in his live sets.

With its singalong chorus, 'Sweet Caroline' is terrace anthem, and on the back of England's run to the final at the delayed Euro 2020, it went all the way back to number 20 in the UK singles chart in July 2021.