Tom Jones didn't know if he'd keep singing after his wife died
6 December 2021, 10:31 | Updated: 14 September 2023, 22:42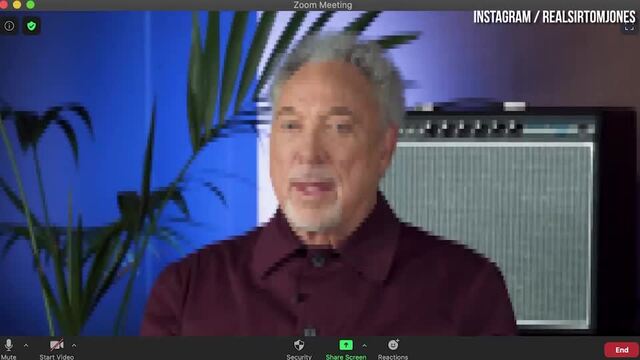 Sir Tom Jones promotes 'The Hourglass Edition' of his album Surrounded By Time
Sir Tom Jones was married to his wife Linda for 59 years from 1957 to her death in 2016.
Earlier this year, Tom Jones released his 41st studio album Surrounded by Time, which has received some of the best reviews of his career.
His fourth in a row produced by Ethan Johns, it followed 2015's Long Lost Suitcase, and was also his first album since the death of his wife Linda.
Sir Tom married his high school girlfriend Linda in March 1957, and despite his well-known infidelities, they stayed together for an incredible 59 years until her death in April 2016.
In a wide-ranging interview with The Independent, Tom has said that the opening track of his new album, a stripped-back version of Bernice Johnson Reagon's 'I Won't Crumble With You If You Fall', chimed with one of the conversations he and Linda had on her deathbed.
Tom Jones - I Won't Crumble With You If You Fall (Live from Real World Studios)
"I didn't know if I was going to carry on," he said. "But she told me that I had to. And she told me not to fall, not to crumble.
"When I heard that song, I thought, 'Oh my God, it's like the last two weeks that I had with my wife'. I think she would have wanted me to do that song."
Of making his first album without her input, Tom said: "She was always very honest. She'd ask, 'What is this? Who are you aiming at with this? Why did you do this?'. Nine times out of 10, she was right."
He added of losing Linda: "When a loved one dies, it's devastating, you feel lost. Life's been very different for me.
"But there's got to be some redemption, something that you can learn from.
"Especially for the loved ones who are still alive. You've got to stay strong for everybody."
Surrounded by Time was re-released last Friday (December 3) in a special Hourglass Edition.
The new version of the album features a cover of Bob Dylan's Time out of Mind single 'Not Dark Yet' and Katell Keineg's 'One Hell of a Life', four songs recorded live at the Shepherd's Bush Empire and an interview with Peter Paphides.
Sir Tom is currently on a short UK arena tour and will support fellow Welsh artists Stereophonics at Cardiff's Principality Stadium on Saturday, December 18, with Catfish and the Bottlemen also on the bill.