'Mary's Boy Child – Oh My Lord' by Boney M: The making of the masterful Christmas mashup
14 December 2022, 11:24 | Updated: 14 December 2022, 13:43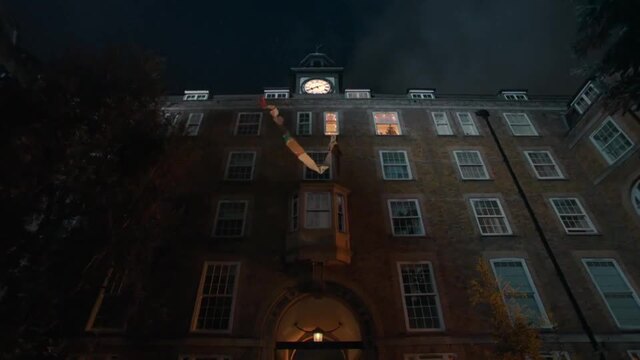 McDonald's release 'The List' Christmas Advert 2022
Led by a white German bloke in his late 30s (not that we knew it at the time), Boney M released an all-time Christmas banger.
Boney M certainly weren't all that they seemed, being led not by "frontman" Bobby Farrell, but instead by producer Frank Farian, the white German producer in his late 30s who would win even more notoriety as the mastermind behind Milli Vanilli.
But despite the lack of authenticity, you can't argue with singles as good as 'Daddy Cool', 'Rivers of Babylon', 'Rasputin' and, of course 'Mary's Boy Child – Oh My Lord'.
But do you know who wrote the song, or where it got in the charts on both sides of the Atlantic?
Read on for everything you every wanted to know about the merry medley that is 'Mary's Boy Child – Oh My Lord'.
Who wrote 'Mary's Boy Child – Oh My Lord'
Boney M. - Mary's Boy Child (Officical Video)
As you probably guessed from the title, 'Mary's Boy Child – Oh My Lord' is actually two songs smooshed together in a mashup/medley/whatever you want to call it.
'Mary's Boy Child' was written by Jester Hairston, who had repurposed his earlier unrecorded Calypso composition 'He Pone and Chocolate Tea'.
It was originally performed by Schumann's Hollywood Choir and first released as a single by singer/actor/icon Harry Belafonte in 1956.
The newly-written 'Oh My Lord' refrain was written by Frank Farian, Fred Jay and Hela Lorin.
"I always thought of Boney M. as being put together by a spiritual force and we liked doing spiritual songs," singer Marcia Barrett told 1000 UK #1 Hits.
"When we did 'Mary's Boy Child', we added a bit spontaneously at the end. As it worked, we left it in."
Fellow Boney M singer Liz Mitchell added to PA in 2018: "I was in the right place at the right time.
"It was only decided to record it at the last minute, and although singing a track in the studio more than 50 times in one session, including lead, backing vocals, harmonies and all the oohs and aahs, was very hard work, we created something very special which has endured over the past four decades."
Farian was the leading force behind Boney M (it's apparently him doing all the male vocals on the recorded versions of their biggest songs), with dancer Bobby Farrell just miming along in their videos.
What is 'Mary's Boy Child – Oh My Lord' about?
Boney M. - Mary's Boy Child / Oh My Lord (ZDF-Fernsehgarten 05.12.1993)
The original 'Mary's Boy Child' is very much in the "religious songs about Jesus" group of Christmas songs.
"Long time ago in Bethlehem / So the Holy Bible say / Mary's boy child, Jesus Christ / Was born on Christmas day."
No Santa, snow or shopping – back to basics for a Christmas song about the very first Christmas.
The 'Oh My Lord' segment gives it all a bit more of a Christmas disco bounce ("Oh my Lord / You sent Your son to save us / Oh my Lord / Your very self You gave us"), but doesn't alter the overall message.
When was 'Mary's Boy Child – Oh My Lord' released and where did it get in the charts?
A promo single version of 'Mary's Boy Child – Oh My Lord' was released with 'Never Change Lovers in the Middle of the Night' on the B-side, before the proper version was released with 'Different in the Streets' on the flip on November 27, 1978.
On the heels of 'Rivers of Babylon' (number 1), 'Rasputin' (number 2), 'Mary's Boy Child – Oh My Lord' continued Boney M's run of hit singles in the UK, and went all the way to number 1 on December 9, staying at the top for four weeks, scoring the coveted Christmas No.1 in the process.
Over in the US, the single stalled at number 85. The band never made a massive splash on the US charts, with 'Rivers of Babylon' number 30 place their highest position.
Since its original 1978 release, ''Mary's Boy Child – Oh My Lord' has been re-released many times over, with one remix coming out in 1989 and a Christmas Mega Mix following in 1992.
Who has covered 'Mary's Boy Child – Oh My Lord'?
Mary's Little Boy Child/Oh My Lord
Obviously half of 'Mary's Boy Child' is a cover itself of the Harry Belafonte classic, but if we're considering Boney M's medley as a song its own, it's been covered a few times.
High profile versions include those by Johnny Mathis in 1982, Anne Murray in 1988, the cast of Glee on their 'Previously Unaired Christmas' episode in 2013, and Elbow's Guy Garvey in 2016.