'Hey Joe': The remarkable, twisted story of one of the most famous songs in rock 'n' roll
12 January 2023, 13:07 | Updated: 11 September 2023, 16:19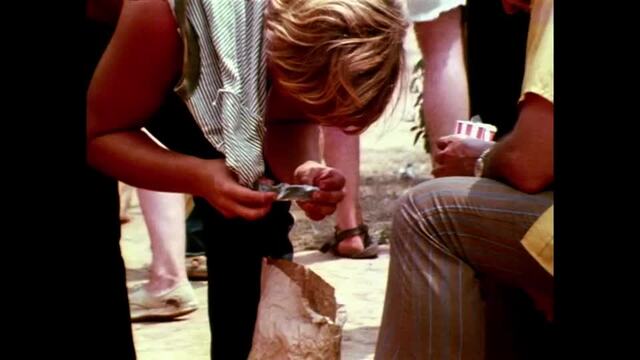 Jimi Hendrix – Electric Church documentary trailer
Who wrote 'Hey Joe'? Who recorded it first? Who made it famous? It turns out it's not straightforward...
'Hey Joe' is one of the most famous songs in the rock 'n' roll canon, with Jimi Hendrix having made what's widely recognised as the definitive recording.
Covers database SecondHandSongs lists over 435 versions of the track since it was first released, and we're sure it's been performed and recorded by hundreds and thousands more artists than that.
But do you know who actually wrote the song? Or who was the first band to put it down on plastic? Which artist first made it famous?
It turns out the answer to a lot of those questions isn't nearly as simple as it first seems.
Below, we unpick the remarkable, twisting, turning story of 'Hey Joe'.
Who wrote 'Hey Joe'?
Billy Roberts - Hey Joe (Original Version)
This should be easy, right? Just look at the label. Well, not so fast.
Some records state that the author is Billy Roberts. Some claim it's Dino Valenti. Some suggest that the song is public domain.
The most widespread telling of the story of 'Hey Joe' has William Moses Roberts Jr (aka Billy Roberts) coming up with 'Hey Joe'... possibly in an Edinburgh folk club way back in 1956.
Scottish folkie Len Partridge claims that he added some bits, but many don't agree, and either way Len acknowledges that it was really Billy's song.
"We played quite a lot together, and one of the things that came out of that period was 'Hey Joe'," Len told The Independent.
"Don't even ask me now which bits were added by me. I can't claim credit for it – that really has to go to Bill."
But before the era of sampling, remixes, re-edits and re-imaginings, the folk world was based on writers riffing on the work of the distant or not-so-distant past, with different players reworking the same basic chords, ideas and lyrics and putting their own twist on them.
'Hey Joe' wasn't a million miles away from a load of other folk and blues songs, musically, and Roberts hasn't always given the same story of how he came up with it.
Chucking a spanner into things, fellow folkie and Billy's one-time girlfriend Niela Miller claimed that 'Hey Joe' was directly lifted from her own song 'Baby Please Don't Go To Town' (mislabelled 'Baby Please Don't Go Downtown' in some places).
"In the late fifties, Billy Roberts was my boyfriend for a while. I was a songwriter and had written a song called 'Baby Please Don't Go To Town'," Miller is quoted as saying.
"It is copyrighted. He stole it from me, kept the melody and put different words to it. thereby turning it into 'Hey Joe'. My music publisher at the time advised me against suing Billy because Dino Valente's name appeared on the recording and it would have been a long and expensive process.
"Please let Billy know that whenever he wants to make amends, I would welcome it."
She added that she wrote the song between 1954 and 1955, and Billy learned it from her when they dated in 1956.
Niela says that the F C D G A chord progression was hers, and while Billy changed the lyrics, the "Question" format of the words was baked into her version of the song.
Tim Rose - Hey Joe (1969)
Miller recorded a demo of her song in 1962, filed for the copyright in 1964, and eventually released it in 2009 on her Songs of Leaving album.
Backing up Niela's story was folk icon Pete Seeger, who offered to testify on her behalf, and we're not gonna argue with the actual Pete Seeger.
Rewinding a bit... who was the Dino Valenti whose name appeared on the recording?
Born Chester William Powers, Jr., Chet Powers aka Dino Valenti, was one of the singers in Quicksilver Messaging Service.
Clarence Ashley - Little Sadie
The story goes that Dino learned the song from his friend Billy, started playing it himself, and cheekily copyrighted it in Los Angeles. (Some say with Billy's blessing, to help him with some money troubles after a stint in jail).
As for claims that the song was in the public domain, that could have come from singer Tim Rose, who claimed to have learned the song from Vince Martin in 1960 and called his version 'Blue Steel .44'.
Tim recorded a version in 1966 and claimed the copyright as an arrangement of a traditional song, but there's never been any proper evidence of that.
When The Leaves first recorded their version of the song it was also credited as Traditional/Public Domain, and we'll find out why that was a little later, too.
Carl Smith - Hey Joe (1968).
There were some trad inspirations for the song. Early 20th century ballad 'Little Sadie' (also known as 'Bad Lee Brown', 'Cocaine Blues', 'Transfusion Blues', 'East St. Louis Blues', 'Late One Night', 'Penitentiary Blues' and other titles) tells the story of a man on the run after shooting his wife.
The earliest record of the song dates from 1922. John Dilleshaw & The String Marvel recorded an unissued version of 'Bad Lee Brown' in 1929, while Clarence Ashley put 'Little Sadie' on plastic the same year.
The song also share a title with 'Hey Joe!', a country song written by Boudleaux Bryant and released in 1953 by Carl Smith.
There were also a few tweaks and twiddles made to the song, musically and lyrically, before Jimi Hendrix got his hands on it. More on that later.
Who was the first act to record and release 'Hey Joe'?
Not including home recordings or unheard demos, this is a bit easier to answer.
The song had been bouncing around for quite a few years on the live circuit when it fell in the laps of garage rock band The Leaves.
The song was picking up fans – especially on the Los Angeles scene – with Dino Valenti and David Crosby's versions apparently picking up a lot of attention.
The Leaves first heard the song watching Crosby's Byrds play at Ciro's in Los Angeles, and set to work.
The Leaves - Three Phases of Hey Joe - 45 rpm recordings Mira Records
The recorded not one, not two, but THREE versions of the songs between 1965 and 1966.
'Hey Joe' was first released by The Leaves in either November or December 1965, but was a flop.
It was the third version, produced by Nik Venet and released in May or June 1966, that hit the charts, eventually peaking at number 31 on the Billboard Hot 100.
Around the time of The Leaves releases, The Standells, the Surfaris, Love, The Music Machine, and The Byrds all released their own versions of the song.
Some people claim that The Surfari's version – released on the B-side of their 'So Get Out' single – dates from 1965, but it seems much more likely that The Leaves got the jump on them.
Before The Leaves made the song a hit, Love included the track on their self-titled debut album which was released in January 1966.
Love had learned the song a year earlier when guitarist Bryan MacClean had been working as a roadie for The Byrds, and it's been argued that it was Love who really brought the song to a bigger audience during their storming live shows.
The Standells - Hey Joe (T.V. appearance)
"Bryan was really the first to popularise 'Hey Joe' in the LA clubs," fan-turned-musician Robert Leslie Dean told Barney Hoskyns for his Arthur Lee: Alone Again Or book.
"The Leaves glommed on to the tune after coming down to Bido Lito's
MacLean added: "The way Crosby had done it, it almost had a Mose Allison type feel. When we did it, it was like punk rock.
"I lost my voice every night singing it. It was completely new – folk rock with a punk edge – and it put us on the map.
Both Love and The Byrds' recorded versions of the song have slightly different lyrics... (with "gun in your hand" being replaced by "money in your hand")
The Byrds' take was called 'Hey Joe (Where You Gonna Go)' and was included on their album Fifth Dimension, released in July 1966.
It's claimed that Crosby wanted to record the song as far back as 1964, but his bandmates vetoed it
"The reason Crosby did lead on 'Hey Joe' was because it was his song," the band's Roger McGuinn said in the liner notes for the album in 1966.
"He didn't write it but he was responsible for finding it. He'd wanted to do it for years but we would never let him.
"Then both Love and The Leaves had a minor hit with it and David got so angry that we had to let him do it."
Crosby's version didn't really match the power of the Love and Leaves version it inspired, and he later said that recording it was "a mistake", though they did continue to play it live, including at the Monterey Pop Festival in 1967 (where Hendrix also played the song).
Love's version is credited to Valenti, and in the liner notes to the 2001 reissue, the band's guitarist Johnny Echols suggests that their words were the "correct" ones.
"Bryan brought that to the group from The Byrds," Echols said.
"But what happened was that the people from The Leaves, they were friends of ours and they asked me the words to the song.
"I told them, 'I'll get you the words tomorrow'. So, I wrote totally different words. The words you hear on their record are words that I wrote and they have nothing to do with the original 'Hey Joe'."
The Byrds (Monterey Pop Festival 1967) - Hey Joe - YouTube.flv
Wowzers.
He added: "The original words to 'Hey Joe' are 'Hey Joe, were you going with that money in your hand... I'm going downtown to buy me a blue steel 44, when i catch up with that woman, she won't be running no more'.
"It never says, 'Hey Joe, where you going with that gun in your hands. Those were words that I wrote just because I knew they were going to try to cover our song.
"That was kind of a dirty trick that I played on The Leaves, which turned out to be the words that everybody uses. We had planned to release that as our first single and they covered us and released it beforehand."
The Byrds - Hey Joe (Where You Gonna Go) (Audio)
For what it's worth, Love's manager Jerry Hopkins told Hoskyns that it was Bryan who had transcribed the words for the song for The Leaves after initially refusing before his bandmate Arthur Lee said "Oh, go on".
"So Bryan laboriously wrote them out, but refused to tell them who'd written the song," Hopkins said.
"The Leaves subsequently released the song as a single and authorship was noted as Traditional/Public Domain. But it bombed and they went back in the studio and re-recorded it."
When did Jimi Hendrix record and release his version of 'Hey Joe'?
Jimi Hendrix - Hey Joe (1967, London)
The liner notes for Are You Experienced call 'Hey Joe' "A blues arrangement of an old cowboy song that's about 100 years old". You already know better than that.
Turned on by Love, according to Arthur Lee at least, Jimi Hendrix was regularly performing 'Hey Joe' during his 1966 New York City as part of Jimmy James and the Blue Flames.
His version was slower than the LA takes, and was said to have been partly inspired by Tim Rose's single.
The Jimi Hendrix Experience - Hey Joe (Official Audio)
It was apparently 'Hey Joe' that Chas Chandler first heard Jimi perform when he walked in on a live performance, convincing him to sign the guitar icon and bring him to England that autumn.
Hendrix recorded his version at Studio De Lane Lea in London on October 23, 1966, and released it on December 16, 1966, with 'Stone Free' on the B-side.
In the UK it was an instant hit, peaking at number six in the singles chart in early 1967.
Hey Joe (Live at The Woodstock Music & Art Fair, August 18, 1969)
Back home in his native US, the song didn't get a release till May 1, 1967.
Backed with '51st Anniversary', it failed to chart (only The Leaves version has ever gone Top 40 in the US), but it still quickly became one of his most famous recordings.
When Hendrix headlined Woodstock on Monday morning, August 18, 1969, with his band Gypsy Sun & Rainbows, he closed his performance – and the festival – with a stunning version of 'Hey Joe' as his encore.
Who else has covered 'Hey Joe' over the years?
There isn't the time or space to list every single cover of 'Hey Joe' here, but we'll give a shoutout to some of the most striking and high-profile versions over the years.
On top of The Leaves, Love, Surfaris, Standells, Tim Rose and Hendrix versions we've already mentioned, there were some significant covers before the decade even ended.
Cher recorded her own version in late 1966, which scraped into the Billboard Hot 100 and was included on her 1967 With Love, Cher album.
Johnny Hallyday hat a Belgian hit with the song with a French language version in 1966. The following year The Creation recorded the song.
Wrongly thinking it was a public domain song and they could scoop up the royalties, Marmalade covered it as the B-side to their 'Lovin' Things' single in 1968.
The same year, Frank Zappa's 'Flower Punk' ("Hey Punk, where you goin' with that flower in your hand?/Well, I'm goin' up to Frisco to join a psychedelic band") on We're Only In It For The Money was based on 'Hey Joe'.
Johnny Rivers and Deep Purple gave it a go, while one of the more successful versions saw Wilson Pickett reach number 59 with his take in August 1969.
Into the 1970s, Patti Smith recorded a unique take on the song with her own spoken-word intro recasting the song to be about kidnapped heiress Patty Hearst, with Patty becoming the gun-wielding Joe.
Soft Cell performed the song as part of their 1983 'Hendrix Medley' while Nick Cabe & The Bad Seeds put their spin on it three years later.
Since then, The Lemonheads, Seal, The Offspring, Eddie Murphy, Body Count, Captain Sensible, Robert Plant, Jim Lea, ZZ Top, The Vibrators and Charlotte Gainsbourg have played 'Hey Joe' in concert or on record..