'Je t'aime... moi non plus': The making of Serge Gainsbourg and Jane Birkin's naughty hit
17 July 2023, 12:48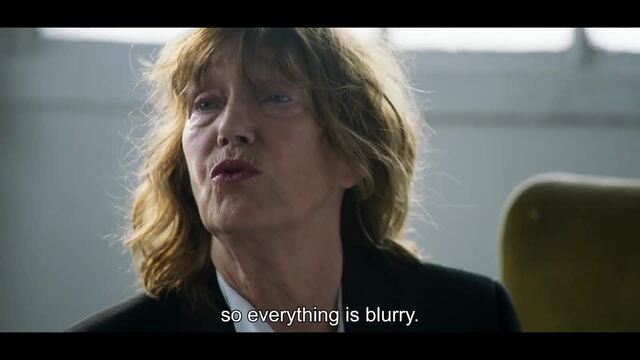 Jane by Charlotte – documentary trailer
This sexy 1969 hit was banned in the UK but that didn't stop it going all the way to number one.
Jane Birkin – who died this month at the age of 76 – was an icon of French cinema, a political activist, and the inspiration for the Hermès Birkin handbag.
To many though, she'll always be best remembered for her musical career, and especially her partnership with the ever-controversial Serge Gainsbourg.
Their most famous musical collaboration was their first, the banned hit single 'Je t'aime... moi non plus'.
But did you know that Serge actually recorded the song with someone else first, or that its title was inspired by a gag from surrealist master Salvador Dalí?
Read on (mmmmm) for everything (uhuh) you ever wanted (ahhhh) to know about (gasp) 'Je t'aime... moi non plus'.
Who wrote 'Je t'aime... moi non plus'?
'Je t'aime... moi non plus' was written by irascible French pop superstar and eternal enfant terrible Serge Gainsbourg.
Everyone knows that Dolly Parton wrote 'I Will Always Love You' and 'Jolene' in one day, but Serge can match that: he wrote 'Je t'aime... moi non plus' and 'Bonnie and Clyde' for his girlfriend Brigitte Bardot (more on her later) in just one night.
The story goes that the then-fledgling couple had a particularly bad early date in late 1967, and Bardot phoned him the following day, demanding that he make it up to her by writing "the most beautiful love song you can imagine".
He came up with two of 'em.
Did Serge Gainsbourg and Jane Birkin have actual sex when they recorded 'Je t'aime... moi non plus'?
Serge Gainsbourg and Jane Birkin did have a tempestuous 12-year relationship after they met on the set of Slogan in 1968. They had a daughter, the actor/singer Charlotte Gainsbourg, in 1971.
But no, they didn't have sex when they recorded 'Je t'aime... moi non plus'.
Despite Birkin's convincing gasps on the song, especially the outro, the reason for this popular urban legend probably comes from the original version of the song.
As we already noted, Serge wrote the song for Brigitte Bardot, and soon after they recorded it in a two-hour session in a recording studio in Paris in the winter of '67.
Engineer William Flageollet claimed to have witnessed (ahem) "heavy petting" during the recording, and when word got out the press went wild with the story.
Less keen on the whole affair was Bardot's then-husband Gunter Sachs. He demanded the single be withdrawn, and so Bardot asked Gainsbourg not to release it.
"The music is very pure," Gainsbourg said. "For the first time in my life, I write a love song and it's taken badly."
Surprisingly perhaps, given how little he often seemed to care for the opinions of others, Serge agreed to pull the song and this version remained unreleased until 1986.
Gainsbourg still wanted to release the song though, and looked around for a new singer.
According to Marianne Faithful, Serge "asked everybody", including Valérie Lagrange, Mireille Darc and Marianne herself.
Serge Gainsbourg & Jane Birkin - Je t'aime... moi non plus/Original videoclip (Fontana 1969)
Despite their own terrible first night out, Serge and Jane – who had previously been married to John Barry – hit it off after Slogan, and started their own relationship.
"I don't know how he got Jane to do it because she was such a lovely English upper-class schoolgirl," Faithfull told Sylvie Simmons for Serge Gainsbourg: A Fistful of Gitanes.
"But of course, he would have got her to do it by f**king her brains out! And 'Je t'aime...' was perfect for Jane. She was born for it."
For her part, Jane told the Redditch and Alcester Advertiser: "I only sang it because I didn't want anybody else to sing it.
"So when Serge heard me singing rather brightly in the bath, he said 'I'm going to write Jane B and then on the other side, perhaps you'd like to sing Je t'aime... moi non plus', but in an octave higher than the Bardot version so you'll sound like a little boy'. I said yes immediately."
She added to The Daily Telegraph: "I had heard the version Serge had previously recorded with Brigitte Bardot and I'd thought it was so hot."
Birkin argued that the Bardot original was hotter than her cover, and said: "I got a bit carried away with the heavy breathing – so much so, in fact, that I was told to calm down, which meant that at one point I stopped breathing altogether.
"If you listen to the record now, you can still hear that little gap."
But a real-life recording of a real-life sex session?
"Thank goodness it wasn't, otherwise I hope it would have been a long-playing record," quipped Birkin
"We made it, very boringly, in the studio in Marble Arch, both of us in sort of telephone cabins."
What does the title of 'Je t'aime... moi non plus' actually mean and what is the song really about?
Serge Gainsbourg ft. Jane Birkin - Je t'aime...Moi non plus (Official Audio)
Literally translated, means 'Je t'aime... moi non plus' "I love you… me neither".
Huh?
Well, it's a play on the old gag, often attributed to Peter Cook: "I met a man at a party. He said, 'I'm writing a novel, I said 'Oh really? Neither am I'."
Serge was riffing on a more refined version of that joke from Salvador Dalí.
"Picasso is Spanish, me too. Picasso is a genius, me too. Picasso is a communist, me neither."
As for what the song is actually about, you probably don't need a degree in French to work it out... but we'll translate a few couplets for you
"I go, I go and I come, Between your loins"... "You are a wave, me a naked isle".
For what it's worth, Serge alternately called the song a "love song" and an "anti-f**k" song about the impossibility of physical love.
The song also gave its name to the 1976 film written and directed by Serge, which starred Birkin opposite Joe Dallesandro, with Gérard Depardieu popping up in a small role.
Was 'Je t'aime... moi non plus' really banned?
Whether or not a song is "banned" is a bit of a broad question.
You could buy 'Je t'aime... moi non plus' in shops, though Philips chose to release it not on the main label, but instead on its Fontana subsidiary (though it didn't last long there, as we'll find out...)
It was also originally packaged in an otherwise plain sleeve only featuring the words "Interdit aux moins de 21 ans" (banned for under 21s).
What's more, the song was banned by radio stations across the world, including in the UK.
And while he wasn't exactly in charge of stacking the shelves in the record shops of Milan and Naples, the supreme pontiff – then Pope Saint Paul VI – was not a fan.
"It was banned immediately in Italy by the Pope," said Birkin "Serge just called him 'our greatest PR man'."
Serge Gainsbourg, Charlotte Gainsbourg - Lemon Incest (Clip Officiel)
Anyway, the track wasn't nearly as controversial as 'Lemon Incest', the song Serge released with his and Jan's then 13-year-old daughter Charlotte Gainsbourg in 1985.
"I remember my father having to explain himself, and his lyrics, because he plays with the jeu de mots," Charlotte said years later of that recording, whose title was a play on the French for lemon zest.
"Incest is so shocking and so taboo. It's as if he was amusing himself with that.
"But when you listen to the lyrics, he's just talking about the infinite love of a father for his daughter and of a daughter for her father.
"You can't condemn that. Because there's nothing physical. So, yes, he says incest, but that's it."
When was 'Je t'aime... moi non plus' released and where did it get in the charts?
Despite the delays of the withdrawn Bardot single and the Pope's discomfort, 'Je t'aime... moi non plus' was released in February 1969.
It had the song 'Jane B' on the B-side, except in Belgium, which padded out the release with '69 Année Érotique', a song about... the sexy year of 1969, of course.
It was a massive, massive hit, across Europe anyway.
The song reached number two in the UK during its original release by Fontana, when it was deleted by the label.
Serge Gainsbourg et Jane Birkin "69 année érotique" | Archive INA
It's claimed that it wasn't just the radio bans that worried Philips, but also that the label boss's wife was shocked by the release.
It was picked up by Major Minor Records and following their re-release it went all the way to number one.
As impressive in some ways, it even broke the US Top 100, reaching 58.
'Je t'aime... moi non plus' sold over three million copies by the end of the year, and has racked up millions more sales since then.
Who has covered 'Je t'aime... moi non plus'?
It's maybe surprising that plenty of brave souls have covered 'Je t'aime... moi non plus' over the years, both in concert and in the studio.
The first covers were instrumentals from the likes of Sounds Nice and the Electronic Concept Orchestra.
Then came reworkings from the likes of Donna Summer, Psychic TV, Barry Adamson, Malcolm McLaren and Blanca Li, and Sven Väth feat. Miss Kittin.
Allo Allo's Rene and Yvette Sing Je T'aime On Wogan 1986
The most high profile covers include an English-language take by the Pet Shop Boys and Madonna's live take during her 2012 MDNA tour.
The song is obviously ripe for parody, and Serge himself rewrote the song as "Ça" with Marcel Mithois for Bourvil and Jacqueline Maillan.
Also giving it a comedic spin were Frankie Howerd and June Whitfield and 'Allo 'Allo stars Gorden Kaye and Vicki Michelle in character as René Artois and Yvette Carte-Blanche.