Kate Bush's 15 greatest songs ever, ranked
9 February 2022, 12:53 | Updated: 21 February 2022, 12:06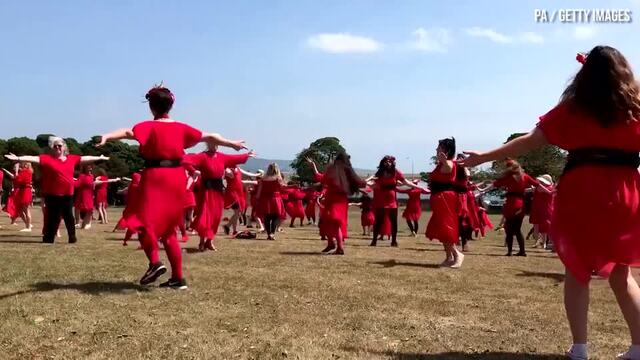 2018: Kate Bush fans mark 'The Most Wuthering Heights Day Ever' in Dublin
From the 1970s to the 2010s, Kate Bush has been one of Britain's greatest ever popstars.
Kate Bush burst onto the scene as a teenager in the 1970s and went straight to number one with her self-written debut single 'Wuthering Heights'.
It set the tone for an incredible career. Ten incredible studio albums, a run of tremendous singles, and wondrous (if all too rare) live performances.
Picking her very best songs isn't for the faint-hearted.
But we've had a rummage through our collection and chosen 15 of Kate Bush's finest recordings, spanning over 40 years of an incredible career.
We've had to leave off some of our favourites (no room for the masterful 'Wow', 'Top of The City',' or 'The Sensual World', among many others), but here's our take on Kate Bush's greatest hits, which also works as the perfect beginner's guide.
Babooshka

Kate Bush - Babooshka - Official Music Video

Kate Bush has a not entirely fair reputation for being a bit kooky. You can see how that happened though with singles like 'Babooshka' and its delightfully barmy video –  double bass and all.,

Released as a single in 1980 before popping up on the Never For Ever album, it tells the story of a wife testing her husband's fidelity by sending him notes purportedly from a younger woman, named Babooshka (ironically Russian for granny).

It went top five in the UK and was a massive chart hit.

Army Dreamers

Kate Bush - Army Dreamers - Official Music Video

Another single from Never For Ever, this beautiful song is about a regretful mother in mourning for her son who is killed on military manoeuvres.

"It's the first song I've ever written in the studio," Kate said at the time. "It's not specifically about Ireland, it's just putting the case of a mother in these circumstances, how incredibly sad it is for her.

"How she feels she should have been able to prevent it. If she'd bought him a guitar when he asked for one."

Moments of Pleasure

Kate Bush - Moments of Pleasure - Official Music Video

Taken from Kate Bush's seventh album The Red Shoes, this heartbreaking song was recorded while her mother was ill, and she died a short while later.

Despite that, Kate has said that she doesn't see it as a sad song herself.

"I think there's a sort of reflective quality, but I guess I think of it more as a celebration of life," she told Ken Bruce years later.

Wild Man

Kate Bush - Wild Man - radio edit still video

When Kate Bush returned after a six-year break with the Director's Cut project, some people were understandably disappointed that it wasn't an album of newly-written material.

No matter. She followed it up six months later with 50 Words for Snow, one of her very best albums. Its sole single was the marvellous, brooding 'Wild Man'.

Featuring Andy Fairweather Low, it tells the story of a group of people discovering a Yeti in the Himalayas, but destroy the evidence to keep him safe.

This Woman's Work

Kate Bush - This Woman's Work - Official Music Video

Originally featuring in John Hughes 1988 movie She's Having A Baby, this masterpiece couldn't be left to soundtrack obscurity, so Kate popped it on her own The Sensual World the following year.

"It's one of the quickest songs I've ever written," Kate told Roger Scott about the song, which explores a man's fears surrounding his partner giving birth. "It was so easy to write.

"We had the piece of footage on video, so we plugged it up so that I could actually watch the monitor while I was sitting at the piano and I just wrote the song to these visuals."

The Man With The Child In His Eyes

Kate Bush - The Man with the Child in His Eyes - Official Music Video

There are pop prodigies, and then there's Kate Bush.

She wrote 'The Man with the Child in his Eyes' when she was just 13. With a little help from David Gilmour she recorded it when she was 16.

It featured on her debut album The Kick Inside, went to number 6 in the charts, and won an Ivor Novello Award for its lyrics in 1979

The song is all about how men are often barely-grown up kids, but it's a celebration of the manchild rather than a dismissal of the phenomenon.

"It was a theory that I had had for a while that I just observed in most of the men that I know," Kate said. "The fact that they just are little boys inside and how wonderful it is that they manage to retain this magic."

Deeper Understanding

Kate Bush - Deeper Understanding - Official Video

The worry that we're swapping out real human interaction for pixels is much older than Facebook, TikTok or even smartphones.

Kate Bush's exploration of the topic ("As the people here grow colder/ I turn to my computer") features on her 1989 album The Sensual World.

"It's like more and more humans are becoming isolated and contained in their homes," Kate presciently told Roger Scott at the time.

"And this is the idea of someone who spends all their time with their computer and, like a lot of people, they spend an obsessive amount of time with their computer. "

By the time she re-recorded it as a single for her remakes album Director's Cut in 2011, we'd all caught up with what she meant.

Hounds of Love

Kate Bush - Hounds of Love - Official Music Video

"It's in the trees! It's coming!"

The title song from Kate Bush's fifth (and best) album The Hounds of Love is all about a fear of being destroyed by the terrifying power of love.

She explained that it captures people "wanting to run away from love, not to let love catch them, and trap them, in case the hounds might want to tear them to pieces". Phew.

A top 8 single in the UK, it was memorably covered by The Futureheads and reached the same spot in 2005.

King of the Mountain

Kate Bush - King of the Mountain - Official Music Video

After a massive 12 year gap following The Red Shoes, Kate Bush made her triumphant return with double album Aerial.

A lot was made of the sprawling, conceptual second disc A Sky of Honey, but we much prefer the first A Sea of Honey songs – including the album opener 'King of the Mountain', apparently written a decade before the rest of the album.

One of the all-time great comeback singles, it explored the idea of a living Elvis, off playing with Citizen Kane's sled in the show ("Elvis are you out there somewhere / Looking like a happy man? / In the snow with Rosebud/ And king of the mountain).

It reached number 4 in the UK singles charts, and had an excellent cover of Marvin Gaye's 'Sexual Healing' on the B-side.

And Dream of Sheep

Kate Bush - And Dream of Sheep (Live) - Official Video

The second half of Hounds of Love is a self-contained concept half-album called The Ninth Wave, the story of someone stranded in the freezing cold water overnight.

"'And Dream Of Sheep' is about them fighting sleep," she explained. "They're very tired and they've been in the water waiting for someone to come and get them, and it's starting to get dark and it doesn't look like anyone's coming and they want to go to sleep.

"They know that if they go to sleep in the water they could turn over and drown, so they're trying to keep awake; but they can't help it, they eventually fall asleep."

Kate made a special video for the song which was used in her stunning performance of The Ninth Wave as part of her Before the Dawn return to the live stage in 2014.

Don't Give Up (with Peter Gabriel)

Peter Gabriel - Don't Give Up (ft. Kate Bush)

Yes, it's a Peter Gabriel song, released on one of his albums (1986's So), but Kate Bush's contribution is so utterly vital that it more than earns its place on this list.

Apparently, Peter originally tried to tap up Dolly Parton to sing the women's part of this disarming duet (we can't quite picture that), but when she turned him down he asked Kate if she'd oblige.

It's impossible to imagine the song any other way. It went to number 9 in the UK, and had that stunning video of the couples in a lingering embrace.

Lily

Written in celebration of Kate Bush's friend and spiritual healer Lily Cornford, 'Lily' first appeared on Kate's 1993 album The Red Shoes and had the distinction of being the opening song on her Before The Dawn shows.

"I was really moved by Lily and impressed with her strength and knowledge," Bush said. "So it led to a song - which she thought was hilarious."

Wuthering Heights

Kate Bush - Wuthering Heights - Official Music Video - Version 1

Based on Emily Brontë's classic novel, Kate Bush actually wrote the song in a few hours after watching the last ten minutes of the BBC's mini-series adaptation.

She got the gist of it though, we reckon, being sung from Catherine's point of view as she begs Heathcliff to let her in.

Kate laid down the vocals in one incredible take, and pushed hard for this to be her debut single.

Kate Bush - Wuthering Heights - Official Music Video - Version 2

It knocked ABBA's 'Take A Chance on Me' off the top, making Kate Bush the first woman to have a number one single she'd written entirely by herself.

It also had not one, but two gorgeous music videos. One featured Kate on Salisbury Plain while wearing a red dress, and the other saw her in a white dress in a dark, mist-filled room.

Cloudbusting

Kate Bush - Cloudbusting - Official Music Video

A top 20 UK hit inspired by Peter Reich's memoir A Book of Dreams, 'Cloudbusting' tells the story of Peter's relationship with his unconventional psychologist and philosopher dad Wilhelm (he who coined the term "the sexual revolution") on the family farm Orgonon.

Reich's dad actually built a machine he thought could manipulate "orgone energy" "bust" clouds and make rain. Reich made an enemy of the US Food and Drug Administration with his beautiful, barmy pseudoscience, resulting in his arrest and imprisonment.

A short film-style video starred Donald Sutherland as Wilhelm Reich and er, Kate as his son Peter.

Running Up That Hill (A Deal With God)

Kate Bush - Running Up That Hill - Official Music Video

Originally titled 'A Deal with God' (EMI were a bit wary of that title), 'Running Up That Hill' was the first song recorded for The Hounds of Love and featured the quirky sound of the Fairlight synth/sampler.

"This song is very much about two people who are in love, and how the power of love is almost too big for them," Kate explained in her newsletter.

"It leaves them very insecure and in fear of losing each other. It's also perhaps talking about some fundamental differences between men and women."

It was a massive number three hit in the UK, and remains one of Kate's best-loved and most-played songs to this day.