Twiggy facts: Age, films, music, David Bowie collaborations and how the cultural icon got her name
9 June 2023, 11:51 | Updated: 13 September 2023, 15:20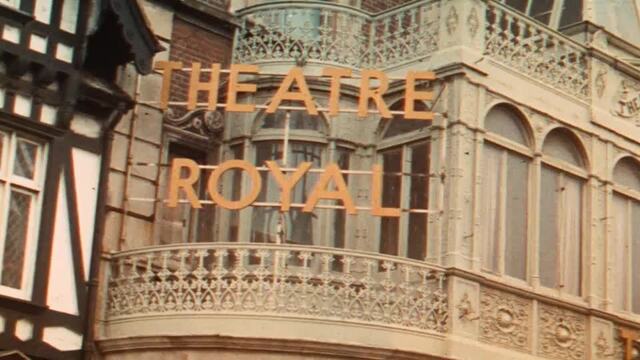 The Boy Friend – the Twiggy movie trailer
How did a girl from Neasden become an internationally renowned model and 1960s cultural icon? We look at Twiggy's amazing story.
Cher, Madonna, Beyoncé... there are some stars who are so massive they only need the one name.
Twiggy is one such superstar, a girl from Neasden who became not just a proto-supermodel but also a true cultural icon.
But do you know how Twiggy got into modelling in the first place, or what major films she appeared in?
Did you know that as well as her all-important collaboration with David Bowie, she also had her own successful pop career?
Read on for everything you might ever want to know about Twig the Wonderkid.
When was Twiggy born and where did she grow up?
Twiggy was born on September 19, 1949 and raised in Neasden, on the edge of London, to factory worker mum Nellie Lydia and master carpenter dad William Norman Hornby. She celebrated her 73rd birthday in 2022.
She went to Brondesbury and Kilburn High School.
How did Twiggy get her stage name and what's her real name?
Twiggy was born Lesley Hornby, and after her second marriage is now called Lesley Lawson (or Dame Lesley Lawson DBE, to use her full title).
It was Twiggy's hairdresser boyfriend Nigel Davies who came up with her mononym.
He became her manager, gave himself the name Justin de Villeneuve, and persuaded Lesley to rename herself Twiggy.
The name had its roots in Twiggy's childhood nickname "Twigs", possibly earned by her short stature (5'6") and slight frame (just under eight stone).
At the height of her modelling fame you could even buy a somewhat icky badge that read "FORGET OXFAM FEED TWIGGY".
How did Twiggy get into modelling and when did she retire?
Even before her modelling days, Twiggy had a keen interest in fashion, with her mum teaching her how to sew so she could make her own clothes.
She had her breakthrough when she was just 16 after celeb hairdresser Leonard gave her an experimental short crop haircut at his Leonard of Mayfair boutique.
"I was in the salon for about seven hours and they were cutting and colouring it, it was all extremely exciting for me," Twiggy remembered.
"He was brilliant, I went from this mouse like brown to the colour which I have kept now."
Snapper Barry Lategon took a number of pictures, and they were spotted by Daily Express fashion journo Deirdre McSharry, who asked for a meeting with Twiggy and arranged for more snaps.
The Express published a feature hailing Twiggy as 'The Face of 66', and Twiggy was an overnight superstar.
She was soon on the cover of Vogue around the world, as well as other mags like Tatler, Newsweek and Harpers Bazaar and even had her own US magazine Twiggy: Her Mod Mod Teen World.
Toy giant Mattel even went as far as releasing a Twiggy edition Barbie doll.
While that short crop is what helped kick off her career, Twiggy originally had long locks inspired by her modelling idol Jean Shrimpton.
Her signature look made the most of her slim figure, that all-important crop and a striking dark-eyed look that was apparently achieved with three layers of false eyelashes
"I hated what I looked like, so I thought everyone had gone stark raving mad," Twiggy once admitted.
But she was a hit, suddenly in all the fashion mags, getting major fees and bringing out her own range of dresses.
While she's known as a proto-supermodel to this day, her modelling career was pretty short-lived.
Twiggy decided to stop modelling after just four years, saying: "I'm very bored with it... you can only go so far."
What films and TV shows has Twiggy starred in?
When Twiggy stopped modelling her first move was into acting.
She was a regular visitor to director Ken Russell's house, and after his failed attempt to make The Wishing Tree with the now ex-model, Twiggy popped up as an uncredited extra in 1971's in The Devils as a male courtier.
Twiggy then took a leading role in his adaptation of The Boy Friend the same year, playing Polly Browne in the reworking of Sandy Wilson's 1953 musical. The story goes that it was Twiggy herself that suggested Ken make the project with her as its star.
Despite MGM's concerns. Russell said: "Give me three months and I'll have her dancing like Ginger Rogers and singing like Judy Garland."
The collaboration was a major success, with Twiggy scooping up two Golden Globes for her performance: New Star of the Year – Actress and Best Actress in a Musical or Comedy.
Chic Lady in The Blues Brothers (1980)
Twiggy then starred in the thriller W opposite her future husband Michael Witney (more on him later).
After that the roles dried up for a few years, but by 1980 she was not only enjoying a cameo in The Blues Brothers, but also enjoying a return to leading roles with There Goes the Bride opposite Tom Smothers, before parts in The Doctor and the Devils with Timothy Dalton and 1986's all-star comedy Club Paradise (Robin Williams, Peter O'Toole, Jimmy Cliff and Eugene Levy).
Since then Twiggy stepped back from cinema, with the occasional role here and there, mainly on TV movies like Body Bags and Brand New World, as well playing Eliza Doolittle in the TV production of Pygmalion.
Muppet Songs: Twiggy - Ain't Nobody's Business
At the same time as her music career, Twiggy was also playing theatre roles like Cinderella on the West End, and popping up all over the TV schedules, usually as herself.
In the 1970s, she fronted the show Twiggs, later renamed Twiggy, and appeared on The Muppet Show, Bing Crosby's Merrie Olde Christmas and The Hanna-Barbera Happy Hour.
In later years she enjoyed guest spots on everything from The Nanny and Heartbeat to Absolutely Fabulous, Tales from the Crypt and RuPaul's Drag Race UK.
Twiggy was a regular judge on America's Next Top Model from 2005-2007.
What music did Twiggy release during her pop career?
If she wasn't busy enough with all that stage and screen work, Twiggy was also running a parallel music career.
Following the 1968 release of 'Beautiful Dreams' (a major hit in Japan), Twiggy released the single 'Zoo de Zoo Zong' in 1971, written by the powerhouse songwriting duo of Roger Cook and Roger Greenaway, and went on to put out a clutch of well-received albums during the decade.
Her first "proper" release was 1976's Twiggy, which despite just scraping into the top 40 at number 33 eventually went silver with over 600,000 copies sold, while single 'Here I Go Again' went top 20.
TWIGGY - HERE I GO AGAIN live TOTP 1976
"My first real album after my record deal with Phonogram - I'd always absolutely adored country music, I guess it was always my 'thing'," Twiggy said.
This album was slightly more country than [1977 follow-up] Please Get My Name Right, which was more pop I suppose. The first album did rather well, earning me a silver disc, although they both did very well."
How did Twiggy meet David Bowie and when did they collaborate?
While she had a decent pop career of her own, Twiggy's most enduring impact with the world of music probably came with her crossovers with David Bowie.
Bowie namechecked Twiggy on 'Drive-In Saturday', the second single of 1973's Aladdin Sane album ("She'd sigh like Twig the wonder kid"), putting her in the same song as fellow cultural icons like Mick Jagger and Carl Jung.
Six months after Aladdin Sane, Bowie released the covers album Pin Ups, and on its front was a stunning photograph featuring Bowie and Twiggy side-by-side, taken by her ex-boyfriend-but-still-manager Justin de Villeneuve.
It's worth noting that all of Bowie's six preceding albums had featured photos or drawings only of the man himself on the front, and the same being true for every album he released afterwards with the exception of the original Buddha of Suburbia release and his swansong Blackstar.
David Bowie - Drive-In Saturday (Live at the Elysée Montmartre, Paris on 14th October, 1999)
That puts Twiggy in a very exclusive slot.
The now-immortal sleeve was shot in Paris and originally intended for Vogue magazine.
"We met Bowie a few times socially, and he mentioned that he wanted to be the first man on the cover of Vogue," de Villeneuve told The Guardian years later.
"I called them to suggest this, with Twiggy, of course, and after a bit of a hoo-ha, they agreed."
Twiggy remembers being nervous about the hook-up, but added: "He immediately put me at ease. He was everything I could have hoped for and more."
He added: "When Twigs and Bowie were together and lit up, I looked through the viewfinder and realised that David was pure white, whereas Twiggy was tanned from a holiday in Bermuda.
"There was a moment of panic because I knew it would look bizarre; but the makeup artist [Pierre Laroche – the man who filled in that Aladdin Sane lightning bolt] suggested drawing masks on them, and this worked out even better.
"I remember distinctly that I'd got it with the first shot. It was too good to be true. When I showed Bowie the test Polaroids, he asked if he could use it for the Pin Ups record sleeve.
"I said, 'I don't think so, since this is for Vogue. How many albums do you think you will sell?'. 'A million,' he replied. 'This is your next album cover!'. I said. When I got back to London and told Vogue, they never spoke to me again."
What is Twiggy's net worth?
It's hard to estimate the net worth of someone who has been successful in so many different careers over the years, but the people who do this sort of thing take a guess at Twiggy being worth around $50 million.
Did Twiggy get married and does she have any children?
After her break-up with de Villeneuve, Twiggy married her W co-star Michael Witney in 1977. They had a daughter, Carly, the following year.
Twiggy and Michael remained married until his death from a heart attack in 1983.
In 1988, Twiggy worked with Leigh Lawson on the movie Madame Sousatzka and they got married later that year – and are still together today.