Pink Floyd: A timeline of all their feuds and fallouts over the years
8 June 2023, 14:15 | Updated: 21 September 2023, 14:13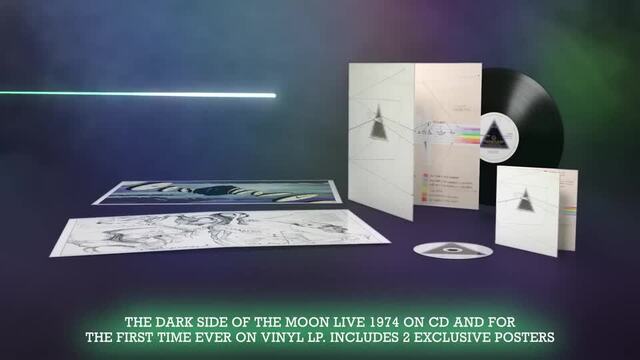 Pink Floyd - The Dark Side of the Moon 50th Anniversary unboxing video
After all the break-ups and make-ups, it looks like Pink Floyd will never have a "proper" reunion again.
Pink Floyd are one of the most successful bands of all time.
The band have sold over 250 million records across the world, with The Dark Side of the Moon still in the Top 100 today – 50 years after its release.
The band has been led over the years by various creative figures – Syd Barrett, Roger Waters and David Gilmour could each have claimed to have been the driving force at various points.
When you add in the talented Nick Mason and Richard Wright, it adds up to a lot of big personalities and egos rubbing against each other over 60-odd years.
That inevitably resulted in plenty of fallings out, as well as some sweet moments of reunion. Below, we take a look at those break-ups and make-ups.
Syd Barrett and The Pink Floyd
Pink Floyd - Arnold Layne (Official Music Video)
Pink Floyd formed in 1965 by the mercurial Syd Barrett on guitar and lead vocals, together with drummer Nick Mason, bass player Roger Waters and keyboard player Richard Wright.
Initially known as The Pink Floyd, the band were a massive draw on the live stage, as much for their trippy visuals and style as for the wild experimental soundscapes and jams they'd play.
This lineup released a couple of singles - 'Arnold Layne' backed with 'Candy and A Current Bun' and 'See Emily Play' backed with 'The Scarecrow'.
All four songs were written by Barrett and this lineup released the psychedelic classic The Piper at the Gates of Dawn.
Barrett wrote the bulk of the album, with only 'Take Up Thy Stethoscope and Walk' credited to Waters and 'Pow R. Toc H.' and 'Interstellar Overdrive' written by the whole band.
Things didn't last long, however.
David Gilmour joins and Syd Barrett is forced from Pink Floyd
Pink Floyd - It Would Be So Nice ('Release - Rome Goes Pop')
Despite being the driving force behind the group, Syd was the first to leave, and leave early on.
While Barrett was still in the lineup, a fifth member joined: an old busking buddy of Syd's called David Gilmour came aboard to help out the band.
Struggling with mental health issues likely triggered or exacerbated by the influence of psychedelic drugs, Syd had become increasingly erratic and unreliable and the plan was for Gilmour to lend a hand.
Syd's condition didn't improve. There were apparently plans for him to stay in the group as a non-performing songwriter, but it didn't work.
Barrett was effectively kicked out of his own group, with recent addition Gilmour taking over on lead vocals along with drummer Mason.
Roger Waters assumes leadership of Pink Floyd
Some may have thought Pink Floyd would fall apart without their leader, but instead, they flourished, despite arguably becoming even less commercially-minded.
Albums like A Saucerful of Secrets, More, Ummagumma, Atom Heart Mother and Obscured by Clouds were packed with sprawling instrumentals, with writing credits pretty evenly distributed among the band.
It was on Dark Side of the Moon, the band's massive 1973 commercial breakthrough, that Roger Waters firmly positioned himself as the band's new leader.
He wrote three of the ten tracks completely solo, co-wrote a couple more, but crucially wrote all the lyrics himself.
DSOTM was such a massive success, it inevitably changed things for Pink Floyd forever.
"It was a very difficult period I have to say," Gilmour later said.
Shine On You Crazy Diamond (Parts I-V)
"All your childhood dreams had been sort of realised and we had the biggest selling records in the world and all the things you got into it for.
"The girls and the money and the fame and all that stuff it was all ... everything had sort of come our way and you had to reassess what you were in it for thereafter, and it was a pretty confusing and sort of empty time for a while"
On the follow-up Wish You Were Here, Waters wrote or co-wrote every track, and he dominated 1977's Animals, writing the whole thing and singing lead vocals on everything too, except for 'Dogs' which he co-wrote and sang with Gilmour.
Coincidentally, during the recording of Wish You Were Here – which is bookended by the seven-part Syd Barrett tribute 'Shine On You Crazy Diamond' – an unrecognisable Syd dropped by the studio. It wasn't the happiest reunion.
Long-time band associate and regular cover artist Storm Thorgerson said of the visit: "Two or three people cried. He sat round and talked for a bit but he wasn't really there."
Richard Wright is axed from Pink Floyd
It was during the recording of Animals though that tensions really ratcheted up a notch, especially with keyboard player Richard Wright.
The album was the first by the band not to feature a single song at least partly written by Wright.
"I didn't really like a lot of the music on the album," he told the BBC Omnibus Special in 1994. "I didn't fight hard to put my stuff on the album and I didn't have anything to put on.
"I played well but did not contribute to the writing and also Roger was not letting me write. This was the whole start of the whole ego thing in the band."
The end of the In The Flesh tour was particularly bad-tempered, with Waters allegedly spitting on some overexcited fans in the front row during the final show at Montreal Olympic Stadium and Gilmour sitting out the third encore.
Pink Floyd - The Happiest Days of Our Lives (Live At Earls Court 1981)
Personal and financial issues swirled, as the band's attempt to dodge tax failed and landed them with a massive bill.
All this ill feeling fed into the next grand Pink Floyd project: double concept album The Wall, held together by producer Bob Ezrin who helped keep Waters and Gilmour together, despite suffering issues in his marriage.
At one point it was Richard Wright who was tasked with helping to producing the record, but he clashed with Ezrin and the rest of the group.
Beset by his own failing marriage, his depression and missing his children, Wright refused to cancel his booked family holiday when the release date for the album was brought forward.
Pink Floyd - Another Brick In The Wall, Part Two (Official Music Video)
Accounts differ as to exactly what happened next, but the upshot was that Waters fired Wright from the group, even though he was retained as a salaried session man for the rest of recording and the next tour, which ran from 1980-81.
"I did not just want to walk out on this great thing I'd been working on," Wright said.
"I just decided I'd go out and play my best, possibly with the hope that, if it worked out, his decision to have me out could have been reverted."
Things weren't any better on the road though, with Waters travelling and staying separately from the other three, and all four even said to point their motorhomes away from each other.
The Final Cut – the Final Roger Waters Pink Floyd album
Pink Floyd - The Final Cut
With Richard Wright now firmly out of the picture, Pink Floyd limped on, with Waters still trying to hold on tight to the group's leadership.
He dominated The Final Cut, originally planned as a soundtrack to 1982's The Wall movie, which was reworked after the Falklands War.
Inspired by the death of his father in WWII, Waters wrote the whole album by himself, winning sole credit for all the music and lyrics. He also sang on every track, some of which were recycled from The Wall writing sessions.
"I'm certainly guilty at times of being lazy, and moments have arrived when Roger might say, 'Well, what have you got?'," Gilmour admitted.
"And I'd be like, "Well, I haven't got anything right now. I need a bit of time to put some ideas on tape'."
He added: "There are elements of all this stuff that, years later, you can look back on and say, 'Well, he had a point there'.
Pink Floyd - Not Now John (Official Music Video)
"But he wasn't right about wanting to put some duff tracks on The Final Cut. I said to Roger, 'If these songs weren't good enough for The Wall, why are they good enough now?'."
It was essentially a Roger Waters solo album, and a couple of years later Waters released his first actual solo album The Pros and Cons of Hitch Hiking, which featured a controversial sleeve featuring a naked adult film star Linzi Drew, then-partner of Ben Dover and mum of Outnumbered actor Tyger Drew-Honey.
Having released his own self-titled solo debut in 1978, Dave released his second About Face in 1984, which featured the song 'You Know I'm Right' about his struggles with Roger ("Whatever I have going through my mind / You always have to disagree").
Nick Mason released Nick Mason's Fictitious Sports in 1981 and joined forces with 10cc's Rick Fenn in 1985 for Profiles.
Roger Waters quits Pink Floyd and things get really nasty
Roger Waters - The Tide Is Turning (After Live Aid)
Things were clearly at a low ebb, and with lawsuits flying around, Roger Waters officially left the group in 1985.
Waters later suggested he was forced to quit, telling Uncut in 2004: "If I hadn't, the financial repercussions would have wiped me out completely."
He immediately began a legal battle seeking to stop the remaining member using the Pink Floyd name and past material, initiating court proceedings to formally dissolve Pink Floyd, calling the group "a spent force creatively".
In return, Gilmour told The Sunday Times: "Roger is a dog in the manger and I'm going to fight him, no one else has claimed Pink Floyd was entirely them. Anybody who does is extremely arrogant."
Things cooled off somewhat by late 1987, when Roger Waters and the remaining members of Pink Floyd reached an agreement.
Under the terms, Pink Floyd could continue without Waters, while retained copyright over certain creative elements, such as the concept of The Wall and the inflatable pig from Animals.
Pink Floyd without Roger Waters – David Gilmour takes control
Pink Floyd - Learning To Fly (Official Music Video HD)
Having wrested control of the Pink Floyd name, David Gilmour took control of the group.
Richard Wright was welcomed back into the fold – though technically not considered a member due to the terms of his original leaving agreement – for the band's first post-Waters album A Momentary Lapse of Reason, which was released in 1987.
David wrote five of its songs himself, and the remainder with outside writers like Anthony Moore, Phil Manzanera and Patrick Leonard.
Pink Floyd - Sorrow (Live at Knebworth 1990)
Outside drummers on some songs replaced Nick, and Wright's late-in-the-day contributions were minimal, which did cause issues between the remaining Floyd members.
"Both Nick and Rick were catatonic in terms of their playing ability at the beginning," Gilmour said. "Neither of them played on this at all really. In my view, they'd been destroyed by Roger."
Mason retorted: "I'd deny that I was catatonic. I'd expect that from the opposition, it's less attractive from one's allies. At some point, he made some sort of apology."
Pink Floyd - One Slip (Live, Delicate Sound Of Thunder) [2019 Remix]
Despite all that, the album reached number three on both sides of the Atlantic and outsold The Final Cut, but that didn't stop Waters being utterly scathing in his remarks about it.
"I think it's a very facile but quite clever forgery," he told Rolling Stone at the time.
"If you don't listen to it too closely, it does sound like Pink Floyd. It's got Dave Gilmour playing guitar. And with the considered intention of setting out to make something that sounds like everyone's conception of a Pink Floyd record, it's inevitable that you will achieve that limited goal.
"I think the songs are poor in general. The lyrics I can't believe. I'm sure it will do very well."
The strange story of a sex-changing pig
Pink Floyd - Animals 2018 Remix Documentary (Pig On The Loose)
The legal disputes between Roger Waters and Pink Floyd rumbled on through the recording, release and tour of A Momentary Lapse of Reason.
Waters apparently rang up a few US promoters and threatened legal action if they used the Pink Floyd name, with the individual members consequently having to put up their own money to fund the jaunt.
Roger banned anyone in Pink Floyd from attending his own Radio KAOS tour dates, and remember that Animals flying pig?
He demanded copyright fees for his old band's continued use of the inflatable sow. Their response? To attach inflatable male genitalia to the balloon to make it different enough from Roger's.
The Division Bell and Polly Samson
Pink Floyd - High Hopes (Official Music Video HD)
Things were a lot calmer in the Pink Floyd camp by the time of The Division Bell in 1994, though Rick Wright was beginning to get a bit miffed by his "not actually a proper member of the band" status.
"It came very close to a point where I wasn't going to do the album, because I didn't feel that what we'd agreed was fair," Wright said.
Nevertheless, he stuck around and racked up four co-writing credits.
Also getting their name on the sleeve was Gilmour's then-fiancee Polly Samson. The novelist became a key part of David's songwriting, co-writing the lyrics of a whopping seven of the 11 tracks on the finished record, including the closing 'High Hopes'.
Polly's contributions initially ruffled some feathers with producer Bob Ezrin, but he later welcomed what she did for the record.
The Pink Floyd reunion at Live 8
Pink Floyd - Speak To Me / Breathe (Recorded at Live 8)
Despite all the bad blood over the years, Roger Waters, David Gilmour, Nick Mason and Richard Wright put their differences aside, and reformed as Pink Floyd to play the Live 8 benefit concert in London's Hyde Park on July 2, 2005.
As with Live Aid before it, it was Bob Geldof who was pulling the strings. Gilmour turned Bob down, but undeterred, Geldof got in touch with Mason.
Nick rang Waters. Waters rang Gilmour. They agreed, putting their differences aside for the cause.
They had three days of rehearsals at Black Island Studios and were predictably squabbling throughout over the choice of songs and how they'd play them.
Pink Floyd - Money (Recorded at Live 8)
"It's quite emotional, standing up here with these three guys after all these years, standing to be counted with the rest of you," Roger said from the stage.
"We're doing this for everyone who's not here, and particularly of course for Syd."
As Gilmour started to leave the stage after the set, Roger called him back and the whole band shared a rare hug.
Tempers had clearly calmed and icy feelings thawed.
Pink Floyd - Wish You Were Here (Recorded at Live 8)
"I don't think any of us came out of the years from 1985 with any credit," Waters admitted. "It was a bad, negative time, and I regret my part in that negativity.?
The group were apparently offered £136 million for a proper reunion tour, but turned it down.
While Waters suggested future charity shows could be possible, Gilmour decided against it.
"The rehearsals convinced me it wasn't something I wanted to be doing a lot of," Gilmour said.
Pink Floyd - Comfortably Numb (Recorded at Live 8)
"There have been all sorts of farewell moments in people's lives and careers which they have then rescinded.
"But I think I can fairly categorically say that there won't be a tour or an album again that I take part in.
"It isn't to do with animosity or anything like that. It's just ... I've been there, I've done it."
That was underlined in February 2006 when Gilmour announced that Pink Floyd had formally disbanded.
Syd Barrett dies – Pink Floyd pay tribute, together apart
David Gilmour / Richard Wright / Nick Mason - Arnold Layne (Live at The Madcap's Last Laugh)
Syd Barrett died on July 7, 2006 at his home in Cambridge. He was only 60 years old.
"The band are very naturally upset and sad to hear of Syd Barrett's death," said Wright.
"Syd was the guiding light of the early band line-up and leaves a legacy which continues to inspire."
A special tribute concert was held at the Barbican in London on May 10, 2007. Gilmour, Wright and Mason reunited to play Barratt's early Pink Floyd tracks 'Bike' and 'Arnold Layne'.
At the same show, Waters played his own solo track 'Flickering Flame'.
Richard Wright dies – David Gilmour and Roger Waters have their final shows together
Roger Waters, David Gilmour, Nick Mason - Outside The Wall, Live @ O2 Arena HD
Richard Wright died on September 15, 2008, at the age of 65 and was memorialised by Gilmour performing his 'Remember a Day' from A Saucerful of Secrets on TV.
A couple of years later on July 10, 2010, Waters and Gilmour performed together at a charity gig at Kidlington Hall in Oxfordshire to raise money for the Hoping Foundation to benefit Palestinian children.
Gilmour returned the favour by popping up at London's O2 on May 12, 2011 for 'Comfortably Numb' during Waters' umpteenth live tour of The Wall.
There was even a reunion of all surviving Pink Floyd members when Gilmour switched to mandolin for 'Outside The Wall', with Nick Mason playing the tambourine.
David Gilmour and Roger Waters are "at loggerheads" again
Despite that thawing, it wasn't long before Roger Waters and David Gilmour fell out again.
Even with the band no more, if anything Pink Floyd's star continued to grow, and there was inevitable friction about certain things.
David remained in charge of Floyd's website and social media, Roger continued to play full Pink Floyd albums like The Dark Side of the Moon and The Wall in full, as their albums were repeatedly remastered, reissued and repackaged.
"Nothing from me is on the website – I am banned by David Gilmour from the website," Waters complained in a Facebook video in 2020 about his new version of 'Mother' not being shared.
"David thinks he owns it. I think he thinks that because I left the band in 1985, that he owns Pink Floyd, that he is Pink Floyd and I'm irrelevant and I should just keep my mouth shut."
David Gilmour - Who By Fire (Leonard Cohen Cover from the Von Trapped Series)
He then brought David's wife into things, adding: "Why do we have to sit and watch Polly Samson, year after year, month after month, day after day – and the Von Trapps reading us excerpts from their novels to get us to go to sleep at night?"
A couple of years earlier Mason had told Rolling Stone: "I think the problem is Roger doesn't really respect David.
"He feels that writing is everything and that guitar playing and the singing are something that, I won't say anyone can do, but that everything should be judged on the writing rather than the playing."
He continued: "I think it rankles with Roger that he made a sort of error in a way that he left the band assuming that without him, it would fold.
"It's a constant irritation, really, that he's still going back to it. I'm hesitant to get too stuck into this one, just because it's between the two of them rather than me.
"I actually get along with both of them, and I think it's really disappointing that these rather elderly gentlemen are still at loggerheads."
Not nearly enough water in The Endless River under the bridge
Pink Floyd - Louder Than Words (Official Music Video HD)
Despite Pink Floyd's dissolution, the group released a new album The Endless River in November 2014.
The bulk of the album was made up from the hours and hours of material originally recorded for 1994's The Division Bell, some of which had previously been edited into an unreleased ambient piece called The Big Spliff.
David and Nick reworked the material into a mainly instrumental double album, with the sole song with vocals – 'Louder Than Words' – having lyrics written by Polly.
The song was inspired by David and Roger's wordless collaboration at Live 8. ("We bitch and we fight / Diss each other on sight / But this thing we do / These times together / Rain or shine or stormy weather / This thing we do").
Roger's response?
"Some people have been asking Laurie, my wife, about a new album I have coming out in November. Errhh? I don't have an album coming out, they are probably confused," he said.
Pink Floyd - Another Brick In The Wall (Part 2) [PULSE Restored & Re-Edited]
"David Gilmour and Nick Mason have an album coming out. It's called Endless River. David and Nick constitute the group Pink Floyd. I on the other hand, am not part of Pink Floyd.
"I left Pink Floyd in 1985, that's 29 years ago. I had nothing to do with either of the Pink Floyd studio albums, Momentary Lapse of Reason and The Division Bell, nor the Pink Floyd tours of 1987 and 1994, and I have nothing to do with Endless River.
"Phew! This is not rocket science people, get a grip."
Side 3, Pt. 5: Autumn '68
While the album featured plenty of Rick Wright's contributions, even a bit of organ recorded during a 1969 rehearsal, but Roger was totally absent.
"Roger was tired of being in a pop group 30 years ago," David told Rolling Stone.
"Why on Earth anyone thinks what we do now would have anything remotely to do with him is a mystery to me.
"He's having his fun. He's had his world tour, which went brilliantly well. And we are getting on with what we do. You'd have thought that after 30 years people might have thought,'; Hmmm, maybe we won't mention him every time'."
He added: "I think Roger is very used to being the power, the sole power, behind his career. And that's great for him.
Roger Waters - Comfortably Numb 2022
"But I think the thought of him coming back into something that has any form of democracy to it wouldn't be what he'd be good at.
"It's been much, much too long. As you said, I was in my forties when Floyd last toured. Let me think, I believe I was in my thirties when Roger left. It's over half a lifetime away."
He didn't totally rule out a possible charity reunion at some point if it were "the right thing", but it didn't seem likely.
"We really don't have that much in common anymore," David said. "That's not to say that we didn't do some of the greatest stuff that I could imagine in the time we spent together.
"You know, that was a mere seventeen years. It's been well over that, actually much longer, since he left."
Pink Floyd "reform" – without Roger Waters –  for the people of Ukraine
Despite their creative, financial and personal differences over the year, David Gilmour and Roger Waters were often aligned on major political, social and humanitarian issues.
There was that unlikely Live 8 reunion, of course, as well as that one-off Gilmour/Waters in 2011 for The Hoping Foundation to help Palestinian children.
But in recent years it's clear that their politics have sharply diverged, with Waters taking increasingly fringe views on matters like the ongoing Syrian Civil War and the Russian invasions of Ukraine.
Pink Floyd - Hey Hey Rise Up (feat. Andriy Khlyvnyuk of Boombox)
That split was underlined when Pink Floyd's surviving members Gilmour and Nick Mason – reformed without Waters for the charity song 'Hey Hey Rise Up', recorded in collaboration from Ukrainian singer Andriy from the band BoomBox.
For his part, while Waters initially criticised Vladimir Putin as a "gangster", he also appeared to place greater blame for the ongoing conflict with NATO and the US.
"I regret that Western governments are fueling the fire that will destroy your beautiful country by pouring arms into Ukraine, instead of engaging in the diplomacy that will be necessary to stop the slaughter," he wrote in a letter responding to a 19-year-old Ukrainian woman.
It all kicks off: Polly Samson goes nuclear and Roger Waters kicks off
Roger Waters' open letter to Vladimir Putin
As the war in Ukraine continued, Roger Water has become increasingly outspoken. In an interview with a German magazine, he claimed those who see Putin as the main problem as "brainwashed".
He also underlined his commitment to boycotting Israel as part of the BDS movement, while adding: "I'm not boycotting Russia, that would be ridiculous... If I were to boycott any country for political reasons, it would be the US. They are the main aggressor."
In response, Polly Samson went all out with an explosive post on Twitter: "Sadly @rogerwaters you are antisemitic to your rotten core. Also a Putin apologist and a lying, thieving, hypocritical, tax-avoiding, lip-synching, misogynistic, sick-with-envy, megalomaniac. Enough of your nonsense."
David endorsed Polly's comments, adding: "Every word demonstrably true."
In response, Roger said: "Roger Waters is aware of the incendiary and wildly inaccurate comments made about him on Twitter by Polly Samson which he refutes entirely. He is currently taking advice as to his position."
We're not betting on Gilmour and Waters sharing a stage ever again, after that.
Roger Waters re-records Dark Side of the Moon as a solo album
Pink Floyd - Money (Official Music Video)
That wasn't all. A few days after that very public falling out, Roger Waters told The Daily Telegraph that he was in the middle of re-recording Pink Floyd's absolutely massive album The Dark Side of the Moon as a solo record, complete with added spoken word poetry over the instrumentals.
That would be controversial enough, but his comments about the project will have thrown a fair amount of petrol onto the fire.
"I wrote the Dark Side of the Moon. Let's get rid of all this 'we' crap!" Waters said.
"Of course we were a band, there were four of us, we all contributed – but it's my project and I wrote it. So... blah!"
Roger Waters hits back at Polly Samson and David Gilmour responds with a bit of class
Roger Waters shockingly claims that Polly Samson (who is married to his ex-bandmate) added to the "Israeli lobby" attempt to "have me wiped off the face of the Earth."

Then misogynistically says "fancy waking up to that every morning."

He is so gross.

pic.twitter.com/4wUUHPTJHL

— Heidi Bachram (@HeidiBachram) June 7, 2023
In June 2023, Roger Waters became an increasingly controversial figure, hitting back and overturning bans against his performances in Germany prompting criticisms from major political figures on both sides of the Atlantic.
On stage during his This Is Not A Drill tour he directly addressed Polly Samson's comments from earlier in the year.
"I was really upset, I don't mind telling you," Waters told his fans about the comments.
"And also, it may have been contributory to the whole enthusiasm the Israeli lobby has developed since that time to have me wiped off the face of the Earth.
He added: "Should I mention her name? Anyway, so this lady, alright I'll tell you, this lady, Polly, right, some of you have seen this tweet, and if you haven't, look it up 'cos it's disgusting.
"Shall I stop now? I think I should, I think that's enough. No? Alright, Well, all I have to say about Polly Samson is imagine waking up to that every morning."
In response, David Gilmour posted a photo of Polly in bed with the caption "So lovely to wake up to, this morning as always!"