The Police's Stewart Copeland: 'Sting was an arrogant "Lion King" from birth, but a golden shaft of light'
23 June 2023, 06:00 | Updated: 26 September 2023, 14:07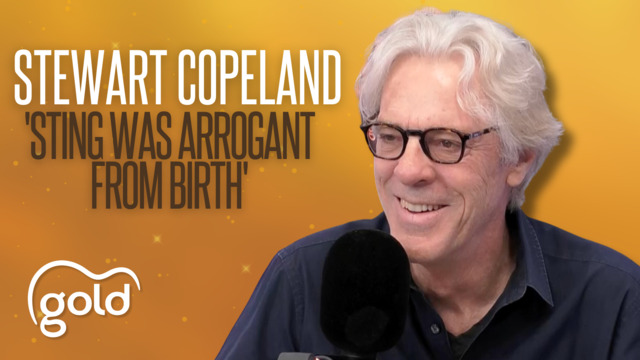 The Police's Stewart Copeland: 'Sting was an arrogant "Lion King" from birth, but a golden shaft of light'
The Police star Stewart Copeland is one of rock's greatest-ever drummers.
The legendary musician and composer has been celebrating the music of his former band The Police with a series of amazing orchestral concerts.
The Police Derange for Orchestra has toured the world, with Stewart joined by a full orchestra as they play the greatest Police songs like 'Don't Stand So Close to Me', 'Roxanne' and 'Every Breath You Take', which celebrates its 40th anniversary in 2023.
Gold's James Bassam caught up with Stewart about the special project, which sees an album released on June 23.
In the interview, Stewart talked about working with his old sparring partner Sting, as well as his love for Beatles drummer Ringo Starr. He also looks back at some of The Police's biggest songs.
Looking back at when he put together The Police back in the late 1970s, Stewart told James that he couldn't believe his luck when he first met Sting.
"I had a manifesto, the whole deal. And when I called Sting up in Newcastle, I told him, 'Yep, I got a band, we're called The Police', I got material, we got gigs, it's all going on.
"And my certitude was convincing enough. Actually, what convinced [Sting] was the do-it-yourself thing. The story is that a journalist up in Newcastle, when I was in Curved Air, took us to see the local hot band Last Exit, featuring a bass player who could sing and play bass and had a handsome-looking amp there. That's useful.
"But there was also one other factor, which was this unmistakable from the heavens shaft of celestial light lighting up this guy with charisma out to here, and we were introduced and you can't say that Sting made that success swelled his head or anything. He was the Lion King from birth.
"He is shy and people sometimes make mistake it for arrogance or stand off. He's not arrogant at all, in fact, quite self-deprecating.
Stewart Copeland | Every Breath You Take (from Police Deranged For Orchestra) (Official Video)
"But we met and I remembered he can sing and play bass and he has an amp. Those are the three things you need in a bass player. And, oh, there's that golden shaft of light, too. That's cool. So I called him from London and said, 'yeah, I got this band'. And first thing I said was that, 'by the way, this is a conversation about you, not your band'.
"And those fateful words were, keep talking right there. I knew that, A, he was a free agent and he was available and open to suggestion and, keep talking. That's what I had to do a lot of the next couple of years, keeping him in the band.
"We didn't have 'Roxanne'. We didn't have 'Message in a Bottle'. We didn't have any of those songs' success."
Speaking about how he felt when he met his drumming hero Ringo Starr, he said: "I go all googly when I meet Ringo, Mr. Starkey.
"But sitting next to him at a dinner party, what do you say to a Beatle other than, 'so, Ringo, how do you like that Ludwig bass drum pedal?' And to my surprise 'well, actually, you know, I prefer the Rogers' and we get into a whole discussion.
"There's little old me talking to a Beatle, Ringo, no less, about bass drum pedals. How cool is that?"
He added: "They're above me. And the way we figure it out, it's very simple. Amongst musicians, and I'm not sure if this works for actors and other celebs too, but with musicians, it's really simple. It's not how many records you sold, it's not how many tickets you sold, it's simply a matter of chronology. Who was first?
"The bass player in The Pretty Things outranks me, because he came before me. But Puffy [Puff Daddy], or Kanye has to look up to me. I don't care how many records, it just it keeps it simple. We're like dogs. They sniff each other's butt and they figure it out.
"But as soon as they figured out the hierarchy, you're the top dog, I'm the middle dog, he's the little the baby dog. As soon as they're all sorted out, everybody's happy, they all get along just fine. And so that's how musicians get along just fine. I'm above Puffy, I'm below Ringo."