Gold Meets... The Hollies: Tony Hicks and Bobby Elliott recall escapades with Little Richard and Graham Nash's exit
30 May 2021, 12:00 | Updated: 18 September 2023, 13:28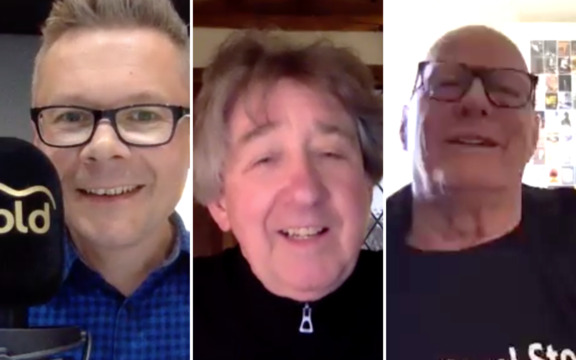 Gold Meets... The Hollies
In our latest Gold Meets... interview special, James Bassam catches up with Hollies legends Tony Hicks and Bobby Elliott.
In a special interview - first aired on Sunday, May 30 on Gold - James Bassam spoke to the Hollies' Tony and Bobby about their many amazing stories from the band's history, and their upcoming live shows (the full details of which are below).
You can catch up with the show featuring their classic hits and inspirations on Global Player here (just select Gold Meets... from the show menu), or watch just the interview above.
In a wide-ranging interview, Tony and Bobby revealed how the Hollies used to "boost their income" by selling clothes to the Rolling Stones (including Keith Richards who would buy anything), their time hanging out in studio with The Mamas and The Papas, and how a set of Bobby's "Granny's curtains" helped to rescue a classic recording session.
Meanwhile, there is Little Richard story that has to be heard to be believed...
Looking back at when former member Graham Nash first left the group, Bobby said: "We actually went to a Mamas and Papas recording session, and got to meet the great drummer, Hal Blaine. They became great friends.
"Certainly Graham… This was the start of Graham's moving to the States, because he'd split with his wife over here, and he wanted a new life. It's a long, complicated story, but eventually he met up with us. He was with us, and met up with Joni Mitchell in Canada, in Ottawa, and they became an item.
"So, yeah, we sort of merged, and he went, and we sort of carried on."
Tony continued: "It's a good period. The session with the Mamas and the Papas, as Bob says, we went along to it. After the session, I remember, I went back to join the rest of the boys who hadn't gone there, at Whisky-a-Go-Go, and Graham went off, up into the hills with Mama Cass, and met Stephen Stills and David Crosby, and he's never been the same since!"
However, the pair spoke of their fondness for Graham and how they've reunited over the years.
Bobby said: "He's been back in the fold a few times. We did a tribute to Buddy Holly, which was an American album. That was interesting. Graham had found this tape of Buddy Holly singing 'Peggy Sue Got Married', just doing an acoustic guitar.
"Ray Styles, our bass player, made it so that we had Buddy's voice separate, and we backed him – at Abbey Road Studios, the number two studio. We did it with Graham.
"We've had various reunions. He's always enthusiastic about getting up there with the guys. When he does come along, it's like he's never been away."
Tony said: "He's just got the greatest top harmony. Very few people— I mean, he sings it in full, not in falsetto. You combine that with that sort of nasally-ness, and it sounds great with The Hollies when he's doing it."
The Hollies - Bus Stop - Docken - Copenhagen - September 18, 2019 LIVE
The Hollies are one of the hardest-working bands of all time, and had played live every year since 1963, until the coronavirus pandemic delayed their latest shows.
The band will next go on a UK tour in 2022, starting at the Birmingham Symphony Hall on May 22.
"We want to get together," Bobby said. "We want to meet up again and play, you know, as a unit. I think we will take some time, and get together, and just knock things about.
"We always had a great atmosphere in our theatres – the crew included. We know them all. The band are like a family. The crew are like a family. It's always a happy atmosphere backstage, hopefully. And at showtime, that radiates out from our friends there."
The full dates and tickets can be found on the Hollies' official website here.