'Dancing Queen' by ABBA: The making of the shimmering pop masterpiece
29 April 2022, 12:36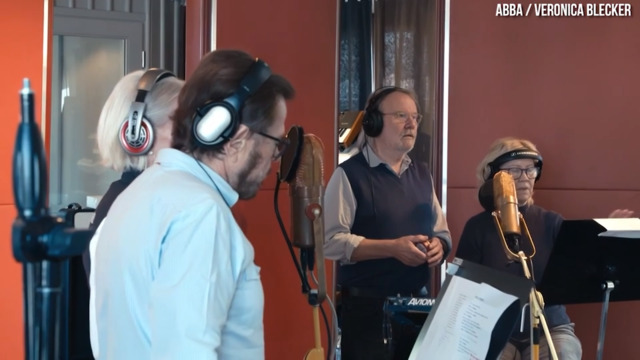 Explore new album and concert plans for ABBA as group announce 'Voyage'
After ABBA's triumphant return, we take a look at one of the group's biggest and best hits.
ABBA have made their triumphant return, and it's had us all putting on ABBA Gold once more to enjoy song after song of pure pop perfection.
It's hard to choose the best ABBA song, but right near the top of anyone's pile has to be 'Dancing Queen'.
Released in the middle of their imperial phase, 'Dancing Queen' is one of ABBA's most beloved songs, with its biggest fan probably being the band's own Anni-Frid Lyngstad.
But do you know who wrote the song, why it was originally passed over as a single for 'Fernando', and when it was performed for real-life royalty?
Here's everything you need to know about the shimmering pop masterpiece.
Who wrote 'Dancing Queen'?
Abba - Dancing Queen (Official Music Video Remastered)
Like most ABBA originals, 'Dancing Queen' was written by Björn Ulvaeus and Benny Andersson, and there's also a songwriting credit there for Stig Anderson.
Manager Stig owned the ABBA's record label Polar Music and he also contributed lyrics to a clutch of ABBA's songs, including 'Ring Ring', 'Waterloo', 'Mamma Mia', 'SOS', 'Knowing Me, Knowing You', 'The Name of the Game' and, yes, 'Dancing Queen' – including the song's name.
Benny Andersson and Björn Ulvaeus started recording the track on August 4, 1975, and the original demo was called 'Boogaloo'. As it came together, they took rhythmic inspiration from of George McCrae's 'Rock Your Baby' and Dr. John's 1972 album Dr. John's Gumbo.
When Benny played Anni-Frid Lyngstad as the backing track for the song, she apparently burst into tears at how beautiful it was.
"And that was before me and Agnetha had even sung on it!" Anni-Frid told The Guardian in 2014. "I knew it was absolutely the best song ABBA had ever done."
Agnetha Fältskog and Anni-Frid laid down their vocals the following months, and it took another three months to finish off the sessions.
What is 'Dancing Queen' about?
ABBA - Dancing Queen (1976) HD 0815007
While some ABBA songs play with quirky metaphor ('Waterloo', anyone?), 'Dancing Queen' is actually pretty straight down the line.
A 17-year-old girl hits the clubs on the weekend to ostensibly look for a fella ("You come to look for a king / Anybody could be that guy"), but when it comes down to it, she's not looking for a serious fling ("Looking out for another/ Anyone will do"), she just loves to dance ("You can dance, you can jive/ Having the time of your life").
The lyrics claim our dancing queen is something of "a tease" ("You're a teaser, you turn 'em on / Leave 'em burning and then you're gone"), but looking at the piece as a whole, we see her much more as a fun-loving, dance-loving, music-loving hero who isn't going to get tied down to a man when there's all those beautiful sounds out there to enjoy and beautiful people to enjoy them with.
What is the "missing verse" in 'Dancing Queen'?
ABBA - Dancing Queen (Live vocals)
When they first recorded 'Dancing Queen', Agnetha and Frida sang an extra verse, only for it to be scrapped and snipped out before it was released.
The recording studio footage emerged, and some clever people have even edited the line into the full song, not that it needs it.
As you can hear above, the "missing" verse goes: "Baby, baby, you're out of sight/ Hey, you're looking alright tonight/ When you come to the party/ Listen to the guys/ They've got the look in their eyes"
When was 'Dancing Queen' released and where did it get in the charts?
Well aware he had a hit on his hands, Benny Andersson wanted to release 'Dancing Queen' as the follow-up to the UK chart-topping 'Mamma Mia'.
However, manager Stig instead insisted on 'Fernando', believing it would have a bigger appeal.
So 'Fernando' was released on November, 10 1975, and 'Dancing Queen' was held back until August 15, 1976 (backed by 'That's Me'), despite having appeared on German and Japanese telly before then.
As it turns out, both 'Fernando' AND 'Dancing Queen' went all the way to number one, so maybe Stig was on to something with his strategy.
'Dancing Queen' also topped the US Billboard Hot 100, the Swedish charts, and countless other countries' charts around the world.
The song was also included as the second-track on the Arrival album, which was released on October 11, 1976, and went to number one in the UK albums chart and 20 in the US.
ABBA recorded a Spanish-language version called 'Reina Danzante' (later retitled 'La Reina Del Baile') in for the 1980 compilation album Gracias Por La Música.
On the back of the 1990s ABBA revival, 'Dancing Queen' was re-released in 1992, backed with 'Lay All Your Love On Me', 'The Day Before You Came' and 'Eagle' in the UK, where it reached number 16 in the charts. It was backed with 'Take A Chance On Me' in the US.
It also opened that year's squillion-selling ABBA Gold compilation.
When was 'Dancing Queen' performed for the ACTUAL Queen of Sweden?
ABBA - Dancing Queen [Royal Swedish Opera] (1976)
Not everyone knows that, like the UK, Sweden is actually a constitutional monarchy.
And the first time 'Dancing Queen' was ever performed live was on June 18, 1976 during an all-star gala staged by Kjerstin Dellert at the Royal Swedish Opera in honour of King Carl XVI Gustaf of Sweden and his bride-to-be, Silvia Sommerlath, who would be crowned Queen of Sweden the following day.
In 1993, ABBA had long-since split up, but Anni-Frid was on hand to reprise that performance for the King and Queen at the Royal Opera House in Stockholm for Queen Silvia's 50th birthday, backed by a cappella troupe The Real Group.
The Real Group & Frida - Dancing Queen (Queen Silvia 50th Birthday 1993)
It's said that King Carl Gustaf and Queen Silvia visited London's Tramp nightclub, the so-called "basement of bacchanalia", the king asked the DJ to play 'Dancing Queen' so he and the queen could have a twirl.
What's more, Chris Evans claimed in 2008 that our very own Queen Elizabeth II was also a fan of the song, reportedly telling him: "I always try to dance when this song comes on because I am the Queen and I like to dance."
What films has 'Dancing Queen' appeared in?
Muriel's Wedding/ "Dancing Queen" 1
As well as Erasure's successful ABBA-esque EP, one of the things that helped turn around ABBA's critical appeal in the 1990s were the cult Australian movies The Adventures of Priscilla, Queen of the Desert and Muriel's Wedding, both of which had a love of ABBA at their very core.
The Adventures of Priscilla, Queen of the Desert included 'Mamma Mia', and with Björn and Benny's permission Muriel's Wedding included a clutch of ABBA songs.
They including 'Mamma Mia', 'Waterloo', 'Fernando', 'I Do, I Do, I Do, I Do, I Do' and 'Dancing Queen', which was included in its original form, and also adapted into the orchestral 'Bridal Dancing Queen'.
Mamma Mia! | Dancing Queen
'Dancing Queen' was of course in ABBA jukebox musical Mamma Mia!, sung by Donna (Meryl Streep) backed by Dynamos Rosie and Tanya (Julie Walters and Christine Baranski) and was reprised in the sequel Mamma Mia! Here We Go Again by nearly the whole ensemble – Pierce Brosnan, Christine Baranski, Julie Walters, Colin Firth, Stellan Skarsgård, Dominic Cooper and Amanda Seyfried.
It's also featured in less likely places, including Spike Lee's 1999 thriller Summer of Sam and the same year's Watergate comedy Dick.
Who has covered 'Dancing Queen'?
Blondie - Dreaming (Official Video)
Before we even get to the covers, it's worth noting some pretty high-profile songs that owe an obvious and often admitted debt to 'Dancing Queen',
Released in 1979, Elvis Costello's controversial 'Oliver's Army' opened with a bit of piano that keyboard player Steve Nieve has confirmed was inspired by 'Dancing Queen'.
While ABBA were never considered as "cool" as Blondie by some, Chris Stein was happy to admit the influence.
"'Dreaming' is pretty much a cop of [ABBA's] 'Dancing Queen'. he told Entertainment Weekly in 2014. "I don't know if that was where we started, or if it ended up just happening to sound like that."
MGMT - Time to Pretend (Official HD Video)
More recently, MGMT have also been open about the influence of the song on their own massive hit 'Time To Pretend', with the group's Ben Goldwasser telling Song Exploder in 2016: "We wanted it to be the exact tempo of 'Dancing Queen' by ABBA."
They also admitted to lifting a little of the piano riff towards the end of the song, too.
When it comes to out-and-out covers, there's the Mamma Mia! and Mamma Mia! Here We Go Again versions we've already mentioned, while Brotherhood of Man recorded the song for their 1980 number ones covers album
Cher - Dancing Queen [Official HD Audio]
Then there's the 1992 version from UK ABBA disco cover group Abbacadabra, and Swedish ABBA tribute band A*Teens version, which featured on their 1999, The ABBA Generation album.
Naya Rivera and Amber Riley performed the song for the 2011 Glee episode "Prom Queen', while other artists who have covered the song over the years include Bjorn Again, Kylie Minogue, Kelly Clarkson Sixpence None the Richer, S Club 7, Steps, Belinda Carlisle, Cher, and er, Pinky and Perky