Cliff Richard facts: Songs, relationships, real name, Eurovision, Christmas hits of the "British Elvis" turned Christian rocker
26 January 2022, 15:48 | Updated: 15 September 2023, 14:23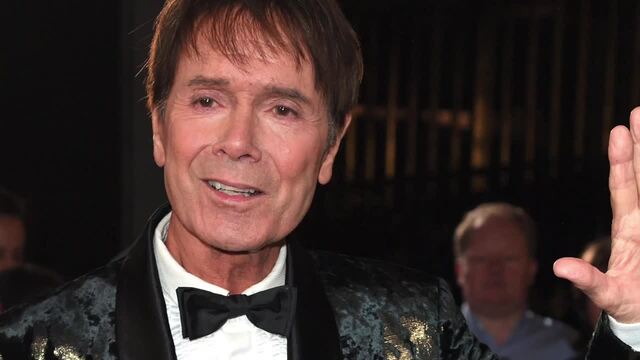 Cliff Richard on the state of chart music today
Cliff Richard is one of the biggest selling icons in rock history.
From his earliest days as a rebel rock 'n' roller to his later career as an elder statesman of pop, Cliff Richard has been an ever-present in British music.
He's had hit singles in six decades, number one singles in five decades, two solo Christmas number ones – he's been a chart phenomenon throughout his career.
And he's still going strong.
In 2020, he released his 45th studio album, Music... The Air That I Breathe, which went all the way to number three, shifting 60,000 copies and going silver.
It feels more than overdue to induct Sir Cliff into our virtual Hall of Fame and take a look back at is incredible life and work.
When and where was Cliff Richard born and what is his real name?
Cliff Richard was born as Harry Rodger Webb on October, 14 1940 to catering manager dad Rodger Oscar Webb and dormitory mum Dorothy Marie Dazely.
He was born at King George's Hospital on Victoria Street, which sounds like somewhere in England, but was actually in Lucknow, then part of British India.
The family lived on Howrah, near Kolkata, but amid the political violence and upheaval in India moved back to England in 1948.
The Webbs took a three-week voyage on the SS Ranchi to Tilbury in Essex, settling in a house in Carshalton, North Surrey, then Waltham Cross in Hertfordshire, before being allocated a council house in the nearby Cheshunt.
Sir Cliff went to Stanley Park Juniors, then the Kings Road Junior Mixed Infants School, then Cheshunt Secondary Modern.
He was good at his studies, going on to pass his English Lit O Level.
How did Cliff Richard get into music?
Cliff Richard & The Shadows - Move It (The Cliff Richard Show, 19.03.1960)
After leaving school, Cliff got a job at Atlas Lamps as a filing clerk, but by then he was already getting interested in music.
His dad bought him a guitar when he was 16 and like many young lads of the time he got into the burgeoning skiffle scene.
He formed The Quintones when he was still at school in 1957, before going on to sing in the Dick Teague Skiffle Group.
It was early in 1958 that the then-Harry Rodger Webb changed his name to Cliff Richard.
It was entrepreneur Harry Greatorex who came up with Cliff, as a terrible pun on rock. Ian Samwell, who went on to write Sir Cliff's fantastic 'Move It', added the Richard" in tribute to Little Richard.
Cliff Richard & The Shadows - Living Doll (The Royal Variety Performance, 22.05.1960)
Sir Cliff's backing band were initially called The Planets, but soon settled on Cliff Richard and The Drifters – which was Samwell on guitar, Terry Smart on drums and Norman Mitham on guitar.
Richard was signed to EMI's Columbia label on August 9. In his first session he recorded a version of Bobby Helms's hit 'Schoolboy Crush' as his planned first single, with 'Move It' on the flip.
Everyone saw sense though, and swapped them round. 'Move It' came out on August 29 and went to number two in the charts.
After a couple of years and some hit records someone pointed out that a brilliant and successful band called The Drifters had been knocking around the US since 1953, so Cliff's Drifters became The Shadows, and the rest is Cliffstory.
How did Cliff Richard go from the "British Elvis" to the UK's most famous Christian popstar?
Cliff Richard & The Shadows - Please Don't Tease (The Cliff Richard Show, 30.07.1960)
It's amazing to remember now, but when Sir Cliff first hit the scene he was very much marketed as the "British Elvis", much like Tommy Steele and Marty "dad of Kim" Wilde.
He was baptised as an Anglican as a young boy, but wasn't particularly observant. That all changed in 1964, when he embraced his Christianity.
At first, he considered quitting music altogether. Being an Elvis-inspired hip-wiggling popstar didn't particularly love with what he thought his faith should be. He even considered becoming a teacher!
Cliff Richard - Mistletoe and Wine (Official Music Video) [HD]
But his Christian pals told him he didn't have to give up his successful career because of his faith. It wasn't impossible for him to do both.
On June 16, 1966, Cliff appeared on stage campaign for evangelist Billy Graham and spoke publicly about his Christianity. While some fans feared this meant the end of his pop stardom, they were thankfully proved wrong.
By the following year, Cliff was starring in the Billy Graham Evangelistic Association financed movie Two A Penny, having a go at druggy and sexed-up popstars and telling the Beatles off for hanging out with the Maharishi Mahesh Yogi.
Cliff Richard - The Millennium Prayer (Top Of The Pops Christmas, 25.12.1999)
Sir Cliff's Christianity continued to have a massive impact on his pop career.
He dodged the Summer of Love and before the end of the '60s had made a six-part Gospel series for TyneTees TV and a documentary about the Holy Land.
Richard recorded his own religious albums, went on Gospel tours and recorded a string of Christmas singles.
Those seasonal smashes included top five hit 'Little Town' in 1982, and chart toppers 'Mistletoe and Wine' in 1988 and 'Saviour's Day' in 1990 – not to mention 'The Millennium Prayer' mashing up The Lord's Prayer with 'Auld Lang Syne' at the turn of the millennium.
When did Cliff Richard represent the UK at the Eurovision Song Contest?
Cliff Richard - Congratulations (Eurovision Song Contest, 1968)
Cliff Richard represented the UK at Eurovision not once but twice.
He sang 'Congratulations' in 1968, and was oh-so close to glory. The song came second, behind Spain's 'La La La' by just one point.
It's been claimed to this day that Spanish dictator Franco fixed the vote to ensure the country would host the next year's contest.
Cliff Richard - Power To All Our Friends (The Royal Variety Performance, 02.12.1973)
Despite missing out on the trophy, 'Congratulations' was a number one hit in the UK and a massive worldwide success.
He gave Eurovision another go in 1973, singing 'Power to All Our Friends'. It did pretty well, too, finishing in third place behind Spain (again) and 'Tu Te Reconnaîtras' from eventual winners Luxembourg.
Cliff remained associated with Eurovision, hosting the UK's qualifying heats on his BBC TV show and presenting song contest previews in the early 1970s.
What films did Cliff Richard star in?
SUMMER HOLIDAY - Official Trailer
As the British Elvis, it was only natural that Cliff Richard would have a musical film career.
After a minor supporting role in Terence Young's 1959 drama Serious Charge, he had a significant part in the following year's music biz satire Expresso Bongo.
Then came lead roles in The Young Ones, Summer Holiday, Wonderful Life and Finders Keepers.
Cliff had a quick voice cameo in 1996's Thunderbirds Are Go, before starring as the lead in Billy Graham's Christian movie Two A Penny in 1968.
THE YOUNG ONES - Official Trailer
He appeared in Graham's Israel doc His Land in 1970, before starring opposite Olivia Newton-John in The Case in 1972.
Sir Cliff's last proper film role was in 1973's Take Me High, though he did pop up as a busker in 2012 comedy Run For Your Wife.
Between 1960 and 1976, Cliff also fronted a number of TV shows, including The Cliff Richard Show, Cliff, Cliff and the Shadows, and It's Cliff and Friends.
When did Cliff Richard leave The Shadows and when did they reform?
Cliff Richard & The Shadows - Apache (The Cliff Richard Show, 16.03.1961)
The Shadows were always a separate entity from Cliff. They had their own recording contract and recorded their own material without Richards.
In fact, of the group's 69 charting UK singles, 34 were credited to Cliff Richards and The Shadows, and 35 just to The Shadows.
They had their own number ones with 'Apache', 'Kon-Tiki', 'Wonderful Land', 'Foot Tapper' and 'Dance On!'. There were various lineup changes, but the big shift happened when Cliff left the group in 1969.
Cliff Richard & The Shadows - I Could Easily Fall (In Love With You) (Carmen Nebel Show, 31.10.2009)
The Shadows continued on, scoring several hit singles and albums till their break-up in 1990, with a special reunion tour as Cliff Richard & The Shadows in 1984.
The group reformed in 2004, and in 2008 there was a proper reunion when Cliff Richard and The Shadows played at the Royal Variety Performance on December 11.
They went on to perform a 50th anniversary tour over the next two years and release the top five album Reunited and top 40 single 'Singing the Blues' in 2009.
What are Cliff Richard's biggest songs?
Cliff Richard - Living Doll (The Eddy Go Round Show, 15 Jun 1976)
Cliff Richard has released nearly 150 singles – most of them pretty big hits, so it's more than a bit tricky to narrow it down to his very biggest, but we've given it a go...
Move It
Living Doll
Travellin' Light
A Voice in the Wilderness
Fallin Love with You
Please Don't Tease
Nine Times Out of Ten
I Love You
Theme For A Dream
Gee Whizz It's You
A Girl Like You
When the Girl in Your Arms is the Girl in Your Heart
The Young Ones
It'll Be Me
The Next Time
Bachelor Boy
Summer Holiday
Lucky Lips
It's All in the Game
Don't Talk to Him
Constantly (L'Edera)
The Minute You're Gone
Wind Me Up (Let Me Go)
Congratulations
Goodbye Sam, Hello Samantha
Power to All Our Friends
Devil Woman
We Don't Talk Anymore
Carrie
Suddenly (with Olivia Newton-John)
Wired for Sound
She Means Nothing To Me (With Phil Everly)
Please Don't Fall in Love
All I Ask of You (with Sarah Brightman)
My Pretty One
Mistletoe and Wine
The Beast of Me
I Just Don't Have the Heart
Saviour's Day
I Still Believe in You
The Millenium Prayer
21st Century Christmas
Thank You for a Lifetime
What awards has Cliff Richards won?
Cliff Richard wins Lifetime Achievement presented by Peter Jamieson | BRIT Awards 1989
Sir Cliff absolutely dominated the music press awards in the 1950s, '60s and '70s.
He picked up the top Male Singer or Vocal Personality from the NME Reader's Poll pretty much every single year, as well as recognition from Melody Maker and Disc & Music Echo.
Richard won the Brit Award for Best British Male Solo Artist in 1977 AND 1982, and also picked up a Lifetime Achievement gong for Outstanding Contribution to Music in 1989.
He got an Ivor Novello for 'Congratulations' in 1968 and another for Outstanding Services to Music in 1970.
And then there was recognition from Her Majesty, with Cliff receiving an OBE from the Queen in 1980.
In 1995, he became the first rockstar to get a knighthood when he was appointed a Knight Bachelor (Bob Geldof's previous Live Aid gong was honorary because he's an Irish citizen).
Has Cliff Richard ever been married?
Cliff Richard / The Shadows - Bachelor Boy (Together 1984)
Cliff Richard has been in several high profile relationships, but he's still remained a Bachelor Boy.
"I've had a few false alarms," he's said. "I've been in love, but marriage is a big commitment and being an artist consumes a great deal of time."
Sir Cliff and Olivia Newton-John almost maybe could have been.
Cliff Richard & Olivia Newton-John - Had To Be (Official Video)
"At the time when I and many of us were in love with Olivia she was engaged to someone else," he said of his early 1970s infatuation. "I'm afraid I lost the chance."
He also considered proposing to tennis star Sue Barker when they were dating in the 1980s. "I'm seeing Sue, the only girl I want to see at the moment and if marriage comes on the horizon, I shall relish it," he said while they were dating.
Years later he added: "I seriously contemplated asking her to marry me, but in the end I realised that I didn't love her quite enough to commit the rest of my life to her."