The tragic story behind Elton John's stunning 'Song for Guy'
31 January 2022, 23:11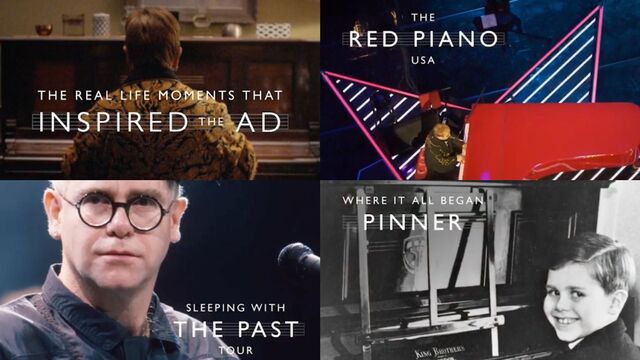 Elton John breaks down the real life tour moments that inspired the John Lewis advert
How an out-of-body experience and tragic death inspired one of Elton John's most touching songs.
If you set aside The Lion King soundtrack, pretty much all of Elton John's hit songs were written in partnership with his long-time lyricist Bernie Taupin.
There is one significant exception – the 1978 single 'Song For Guy'.
'Song For Guy' was taken from Elton's 1978 album A Single Man, which saw the singer part ways with Taupin and hook up with lyricist Gary Osborne.
But 'Song For Guy' is written by Elton alone. That's because it's almost completely instrumental, before the final repeated refrain of "life... isn't everything".
The original album version is six-and-a-half minute epic, and the single only snipped off a minute-and-a-half. A 2003 remix even stretched things out to a whopping eight-and-half minutes.)
Elton John - Song For Guy
Neither its length nor lack of lyrics hampered its success. It went all the way to number four in the UK in January 1979 – Elton's last top 5 appearance till 'I Guess That's Why They Call It the Blues' five years later.
But the story behind one of Elton John's biggest songs and his sole solo-written hit is an unbelievable tragic one.
In 1978, a young messenger boy who worked for Elton's Rocket Records label named Guy Burchett was killed in a motorbike accident.
"As I was writing this song one Sunday, I imagined myself floating into space and looking down at my own body," Elton said in the sleevenotes for the single and a Billboard magazine ad at the time.
"I was imagining myself dying. Morbidly obsessed with these thoughts, I wrote this song about death.
"The next day I was told that Guy our 17-year-old messenger boy, had been tragically killed on his motorcycle the day before. Guy died on the day I wrote this song."
So Elton named the almost-instrumental 'Song For Guy' in tribute.
The sparse, barely audible lyrics that end the song are often misheard, as either "Life is a delicate thing" or "Life is a temporary thing", both of which would fit the tragic story.
But the sheet music and close attention to Elton's live performances of the track – often paired with 'Your Song' to close his shows – reveal that it's the incredibly haunting "life... isn't everything".
Elton John on Song For Guy - 'Me' Book Extract
"One Sunday at Woodside, gloomy and hungover, I wrote an instrumental that fitted my mood, and kept singing one line of lyrics over the top: 'Life isn't everything'," Elton also confirmed in his memoir Me (whose audiobook was read by Rocketman star Taron Egerton).
"The next morning I found that a boy called Guy Burchett who worked for Rocket had died in a motorbike crash, virtually the same time I was writing the song, so I called it 'Song For Guy'."
He added: "It was like nothing I'd done before, and my American record label refused to release it as a single. I was furious But it became a colossal hit in Europe.
"Years later when I met Gianni Versace told me it was his favourite song of mine. He kept saying how wonderfully brave he thought it was.
"I thought it was a bit over the top! It was certainly different, but I wouldn't have described it as brave.
"After while it became apparent that Gianni thought it was wonderfully brave because he'd misheard the title and was under the impression I'd called it 'Song for A Gay'."
Oh, Gianni.
While much of Elton's work on A Single Man is loaded with instruments and backing vocals, 'Song For Guy' is much more stripped back.
As well as Clive Franks on bass and Ray Cooper on wind chimes and shakers, it features Elton on all the other instruments – piano, Mellotron, Polymoog, ARP String Ensemble and those very few vocals.
The song was produced by Elton and Franks, and engineer Stuart Epps tells a remarkable story about how the track was nearly lost.
"During one day of recording Elton kept playing a bit of a piano piece and saying that he wanted to record it at the end of the session," Epps remembered in a post on his website.
"We finished late but Elton said it wouldn't take long to put the part down. Gus had a [Roland] rhythm box and Clive and Elton set up a pattern to fit the song.
Elton John - Song For Guy (Old Grey Whistle Test 1978)
"I put on a spare piece of multitrack tape and Elton started recording the piece. It was quite unusual and had a few changes and Elton kept making mistakes.
"He would get a minute in and then make another error, which was now really annoying him."
As they got two minutes into another take, Epps realised to his horror that his tape reel was running awfully low, and Elton was still going.
"Elton was now four minutes in and still playing verse after verse with middle bits and all sort," he said.
"This was the first time Elton had got this far without a mistake. If the extremely unthinkable happened and I ran out of tape before he finished my life wouldn't be worth living.
"In fact, I would probably save Elton the trouble and kill myself. The piano track was sounding really good and a drop in or edit wouldn't be acceptable."
Epps kept praying as Elton kept playing.
"The take-up reel was looking like it only had a few feet left on it and Elton wasn't showing any signs of stopping," he said.
"Just as it looked like I was dead he played an outro and the last chord. As the last chord died away the tape ran out. Clive and I nearly died anyway from relief."
Epps said: "What did happen was that this instrumental grew in atmosphere with every other instrument that went on it into a brilliant track.
"We played it to [Elton's longtime producer] Gus [Dudgeon] the next day who was never very complimentary let alone about an Elton track that he didn't produce and he loved it."
THE CROWN 4x03: Princess Diana dancing to "Song for Guy"
After its chart success, 'Song For Guy' was used a number of times in TV and film – not always entirely appropriately given the tragic backstory that gave it its title.
It was used in Ben Elton's 1985 BBC sitcom Happy Families, possibly chosen because of Adrian Edmondson's character being called Guy.
It was also used in 1980 Chevy Chase and Jane Seymour fantasy comedy Oh! Heavenly Dog and Paul McGuigan's 2017 movie Film Stars Don't Die in Liverpool.
Recently the song featured in The Crown, where future friend of Elton Diana Spencer – played by Emma Corrin – dances alone in Buckingham Palace.