Relive Queen's Roger Taylor stealing the show at Eurovision with Sam Ryder in full
15 May 2023, 10:58 | Updated: 15 May 2023, 11:16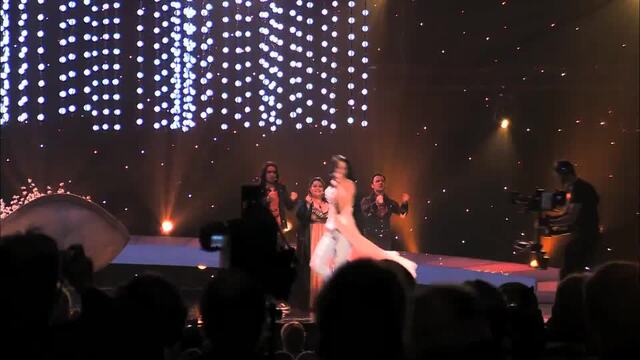 The Secret History of Eurovision – documentary trailer
In a night of amazing performances, one drummer might have stolen the whole show.
The 2023 Eurovision Song Contest was always going to be special, with surrogate hosts the UK pulling out all the stops to make it a memorable night for all of Europe, and especially Ukraine, who won last year's tournament.
Sweden's Loreen snatched victory from Finland's crowd favourite 'Cha Cha Cha', while the interval between the competition performances and results announcement was packed with wonderful covers and comedy.
One of the true standouts had to be last year's runner-up and proud Eurovision ambassador Sam Ryder singing his new single 'Mountain', with a very special guest backing him up on the drums.
If you thought the man behind the kit looked awfully familiar, that's because yes, it was Queen's very own Roger Taylor, with Sam introducing him before his guitar solo with a shout of "COME ON, ROGER!".
With their massive songs and all-conquering stagecraft, Queen would have been an absolutely perfect Eurovision band back in the 1970s and 1980s, but it unfortunately never happened.
Sam Ryder - Mountain | Grand Final | Eurovision 2023 #UnitedByMusic 🇺🇦🇬🇧
This perhaps was the next best thing. Sam Ryder belted out his new number and went wild on the guitar while Roger gave it his all on the sticks.
The performance seemed to go down better than the actual UK entry, with Mae Muller's 'I Wrote A Song' scoring just 24 points, putting it in second-bottom place.
If you liked the performance, you can actually enter a competition to win the guitar Sam Ryder played for it.
"WHEN YOU ARE SHREDDING AND ROGER TAYLOR IS SLAMMING THE HELL OUT OF THE DRUMS NEXT TO YOU 🤯🤯🤯" Sam wrote on Instagram and Twitter.
"PS WHO WANTS THIS VERY GUITAR? IT COULD BE YOURS 🎸⚡️ LINK IN BIO"
It wasn't the first time Sam Ryder and Roger Taylor have joined forces.
Sam was one of the many guest stars who played a set of Queen songs with Taylor and Brian May at the Taylor Hawkins tribute concert at Wembley Stadium last September.
Ryder sang 'Somebody to Love' during the show, with Foo Fighters frontman David Grohl telling the crowd that it was Roger's idea to tap up the Eurovision star.
"It might have been Roger that had this idea," Grohl said.
"Roger showed us a clip of someone singing along to this next song, and we made one phone call, and within 20 minutes, this person told us that he would come here tonight to sing it with us."