Rod Stewart facts: Songs, marriages, children and net worth of the Faces legend and solo superstar
10 January 2022, 15:19 | Updated: 26 September 2023, 12:23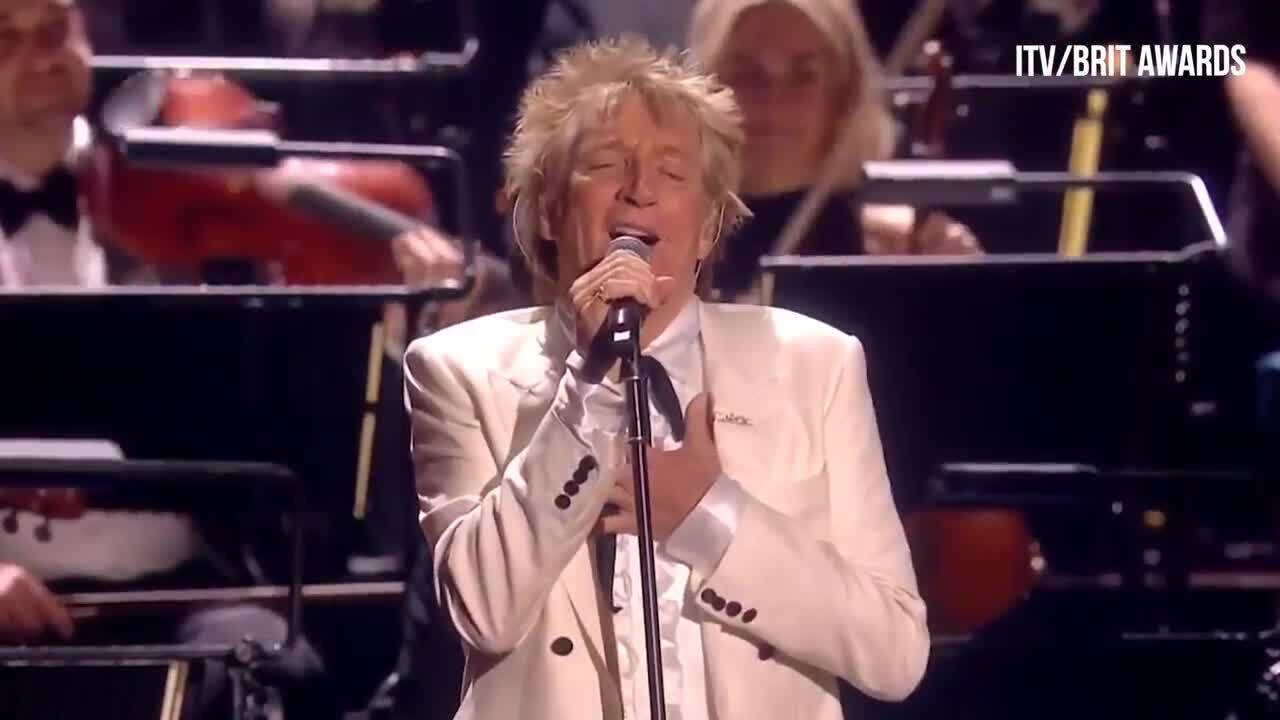 Rod Stewart closes out the 2020 Brits
From a newspaper delivery boy to one of the biggest selling artists of all time, Rod Stewart is a rock icon.
There are few singers in rock who have a voice as distinctive as Sir Rod Stewart.
Even fewer have enjoyed his longevity in the music business, starting in a smattering of '60s groups all the way through decades of solo success.
As Rod continues his stunning career, we're taking a look back at Rod's life, music and infamous sexploits.
Take a bow Rod, as you join Gold's digital Hall of Fame.
When was Rod Stewart born and where did he grow up?
Rod was born Roderick David Stewart was born at home 507 Archway Road, Highgate, North London, on 10 January 10, 1945 to Scottish master-builder dad Robert and English mum Elsie.
He was the youngest of five children and attended Highgate Primary School (he failed the 11+), later going to William Grimshaw Secondary Modern.
When his dad retired from building he bought a newsagent on Archway Road that the family lived above.
He left school when he was 15 and before his career in music worked in a number of jobs, including newspaper delivery boy for his dad's shop, silk screen printer, a labourer for Highgate Cemetery, at North Finchley funeral parlour, as a fence erector and signwriter.
Rod two loves before music were model railways and football, and he had trials at the then-Third Division Brentford Football Club, but he didn't get picked up.
How did Rod Stewart get into music?
Rod's family were fans of music, and he later spoke of his first music memory being Al Jonson.
"From when we used to have house parties around Christmas or birthdays. We had a small grand piano and I used to sneak downstairs," he said. "I think it gave me a very, very early love of music."
As with most war babies, the big change came with the advent of rock 'n' roll. He heard Little Richard, saw Bill Haley & His Comets, bought an Eddie Cochran single and was given his first guitar in January 1959.
Rod's first band of note was the Kook Kats, a skiffle group he joined with friends when he was 15 to play Lonnie Donegan and Chas McDevitt covers.
Rod Stewart Good Morning Little School Girl
Then came a number of other short-lived stints, where he earned the nickname "Rod the Mod' for his snazzy style.
He was in Jimmy Powell and the Five Dimensions, The Hoochie Coochie Men, Steampadcket, Soul Agents and Shotgun Express.
He always had half an eye on a solo career, recording his first single 'Good Morning Little Schoolgirl' backed with 'I'm Gonna Move to the Outskirts of Town' in 1964 with session musicians including future Led Zeppelin star John Paul Jones.
It flopped, as did a handful of follow-ups, and it wasn't until 1967 that fame eventually came knocking in any serious way when Stewart joined The Jeff Beck Group.
Jeff Beck Group with Rod Stewart - Studio Session For The Beck-Ola album, London 4-14-1969!
Stewart and Ronnie Wood joined Beck's post-Yardbirds group, while Stewart also tried to kickstart his solo career in the background.
After a slow start, the band started attracting a serious fanbase, and their debut album Truth hit number 15 in the US.
They repeated the feat with the follow-up Beck-Ola, which also went Top 40 in the UK, but both Stewart and Wood left the group soon after, with Rod bemoaning the "aggravation and unfriendliness" of the band.
When did Rod Stewart join Faces?
Rod Stewart Feat. Faces - You Wear It Well - TOTP2 1972
As The Jeff Beck Group was falling apart, Steve Marriott quit The Small Faces to form Humble Pie, leaving a couple of vacancies.
Stewart signed a solo deal, and at the same time joined forces with remaining Small Faces Kenney Jones (drums), Ronnie Lane (bass) and Ian McLagan (keyboards), while his old Jeff Beck Group pal Ronnie Wood joined on guitar. The revamped band called themselves Faces.
For just over half a decade, Rod ran his two jobs at the same time.
He released four albums with Faces (First Step, Long Player, A Nod Is As Good As a Wink... to a Blind Horse and Ooh La La) and SIX as a solo artist between 1969 and 1975.
What are Rod Stewart's biggest songs?
Rod Stewart - Sailing (Official Video)
Rod has released six studio albums as a member of a band, a whopping 32 as a solo artist, as well as a handful of live albums and countless compilations.
He's released more singles than we can even begin to start counting, and here are just some of his very biggest hits from over the years (and we've not included any of the covers from his massively successful American Songbook and Soulbook series)
Reason to Believe
Maggie May
Handbags and Gladrags
You Wear It Well
In a Broken Dream
What's Made Milwaukee Famous (Has Made a Loser Out of Me)
Farewell
Sailing
Tonight's the Night (Gonna Be Alright)
The Killing of Georgie (Part I and II)
I Don't Want to Talk About It
The First Cut Is the Deepest
You're in My Heart (The Final Acclaim)
Hot Legs
I Was Only Joking
Ole Ola (Mulher Brasileira)
Da Ya Think I'm Sexy?
Ain't Love a Bitch
Passion
Tonight I'm Yours (Don't Hurt Me)
Baby Jane
What Am I Gonna Do (I'm So in Love with You)
Some Guys Have All the Luck
Every Beat of My Heart"
Rhythm of My Heart
The Motown Song
All for Love (with Bryan Adams and Sting)
One More Time
When did Rod Stewart quit Faces, when did the band reform, and who has replaced him as the singer over the years?
Rod Stewart & Faces - Final Concert in 1974 at London's Kilburn State Theatre (FULL CONCERT) HQ
By the middle of the 1970s, it was proving difficult for Rod to juggle his massive solo success with being in a band.
What's more, Ronnie Wood had the small matter of the Rolling Stones, who he had joined as a replacement for Mick Taylor. By the end of 1975, the band called it a day.
Since then, Faces have reunited a number of times. In 1986, the group joined Rod at his Wembley Stadium concert.
The Small Faces / Faces Explosive "Stay With Me" Induction Performance
With Ronnie Lane in a wheelchair due to his multiple sclerosis, his bass playing duties were picked up by Bill Wyman. The same lineup without Lane joined Rod at the 1993 Brits for his Lifetime Achievement Award.
The band formally reunited in 1999 without Rod, with a number of guest vocalists taking his place for the shows, including: ex-Spice Girl Melanie C, Georgie Fame, Kiki Dee and Mick Hucknall of Simply Red.
A year later, Hucknall joined the band properly, with former Sex Pistol Glen Matlock on bass, and the Rod-less group played a full tour.
Rod Stewart - Brit awards 2020 (Full)
The original quartet of Stewart/Wood/Jones/McLagan were due to play the Rock n Roll Hall of Fame for the Faces/Small Faces induction in 2012, but when Rod fell ill, Hucknall stepped up once more.
McLagan died in 2014, but surviving the three surviving Faces, including Rod, got back together the following year, playing an acclaimed set at Hurtwood Polo Club, and again.
In 2020, they played 'Stay With Me' to close out the Brit Awards, and in 2021 it emerged that the trio had got into the studio together for the first time since the 1970s to record new material.
How many times has Rod Stewart been married and how many children does he have?
Rod has been married three times.
He was wed to Alana Collins-Hamilton from 1979 to 1984, to Rachel Hunter from 1990 to 2006 (though they separated in 1999), and to Penny Lancaster from 2007 to the present.
Rod's other significant partners include Susannah Boffey. The pair dated from 1963 to 1964, and they had a child who was put up for adoption.
Before his first marriage, Rod dated Jennie Rylance, Dee Harrington and actress Britt Ekland.
Rod Stewart – Tonight's The Night (Gonna Be Alright) (Official Video)
Between his first and second marriages, Rod had a long-term relationship with model Kelly Emberg, with the couple having one child together.
In total, Rod has eight kids with five different mums: Sarah Streeter, Kimberly Alana Stewart, Sean Roderick Stewart, Ruby Stewart, Renee Cecili Stewart, Liam McAlister Stewart, Alastair Wallace Stewart and Aiden Patrick Stewart.
Rod Stewart And Penny Lancaster Explain How They Met | Loose Women
As for how many partners Rod has had, he admits that he can't remember them all ("I'm not proud of that either"), but laughed off the idea that one-time bandmate Bill Wyman had slept with over 2,000 women.
"You can't bed two or three women a week, can you?" he told Piers Morgan.
"I was never a guy for one-night stands. I enjoyed a little bit of romance and the chase."
What football team does Rod Stewart support?
"Celtic means everything to me!" Sir Rod Stewart explains his love for the Hoops
Despite being born in England, the influence of his Scottish dad meant that Rod follows the Scotland national team, and he recorded 'Ole Ola (Mulher Brasileira)' with the squad for the 1978 World Cup (which England had incidentally failed to qualify for).
When it comes to club football, while he had his trials at Brentford he was nominally an Arsenal fan a child, having grown up in North London and being taken to Highbury by his dad, before switching to Manchester United because of their great Scottish players like Denis Law.
His real team though is Celtic (despite his dad being a Hibs fan). The club get name-checked in 'You're in My Heart' and he even presented them the League Cup in 2015 after they won the final.
What has Rod Stewart said about his battles with cancer?
Rod Stewart Shares a Message to Loose Women Viewers Following Cancer Diagnosis | Loose Women
Rod had overcome cancer twice. He underwent surgery for thyroid cancer in May 2000, sparking his charity work with The City of Hope Foundation.
"I had a touch of thyroid cancer, it was over and out within 10 minutes," he said years later.
"I don't want to pretend I fought cancer for months and months. It was really easy to get rid of, but I did lose my voice – totally gone.
"It was scary because I couldn't sing a note. You know, they chop right through your throat all the muscles are torn apart and they've all got memories so they have to remember again."
He was later successfully treated for prostate cancer in 2017.
"I'm in the clear, now, simply because I caught it early. I have so many tests," he said at a fundraising event for the Prostate Project and European Tour Foundation charity.
"Guys, you've got to really go to the doctor. Finger up the bum, no harm done."
What major awards has Rod Stewart won?
With his career spanning 60 odd years, it'd be impossible to list every single award that Rod Stewart has ever won, but here are some of the most important.
Brit Award for Outstanding Contribution to Music, 1993
Inducted into the Rock and Roll Hall of Fame – as a solo artist (1994) and member of Faces (2012)
Lifetime Achievement Award at the Ivor Novellos (199()
A star on the Hollywood Walk of Fame (2005)
UK Music Hall of Fame (2006)
Award CBE in the (2007 New Year Honours)
Appointed Knight Bachelor (2016 Birthday Honours)
How many records has Rod Stewart sold and what is his estimated net worth?
Rod Stewart - Da Ya Think I'm Sexy? (Official Video)
It gets harder to measure every year as streaming takes hold, but Rod Stewart is estimated to have sold over 250 MILLION albums around the world.
Back in 2001, he was given the first Diamond Award from the World Music Awards to recognise having sold over 100 million records, and that was 20 years ago.
Only five other artists have been given the award since then: Mariah Carey, Celine Dion, Bon Jovi, Michael Jackson and The Beatles.
As for how much those sales have earned him, the Sunday Times Rich list estimated in 2021 that Rod had a net worth of a cool £215 million, and with his ongoing Hits Tours, new albums, and Faces reunion, we can only see that increasing as time goes on.