Harrisongs! George Harrison's 22 Beatles songs, ranked
25 November 2021, 10:58 | Updated: 25 September 2023, 13:30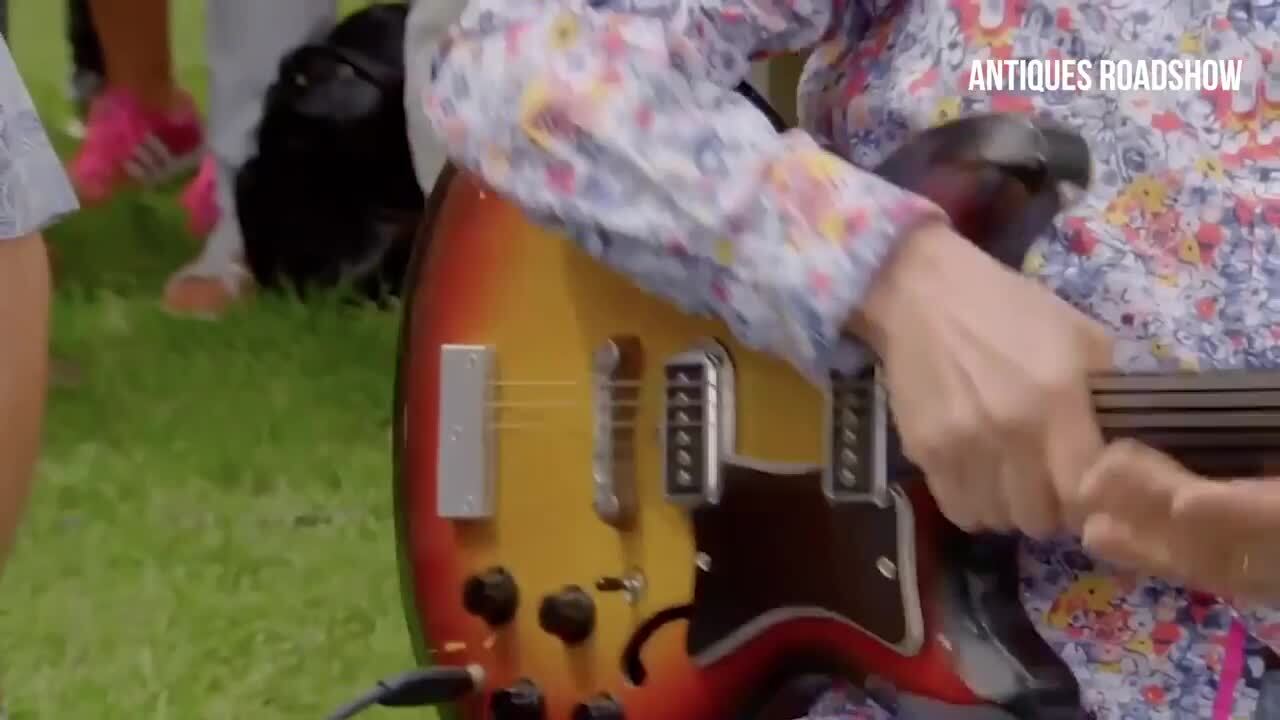 Guitar once owned by John Lennon and George Harrison appears on Antiques Roadshow
John Lennon and Paul McCartney's songs dominated The Beatles, but George Harrison's efforts were very bit as good.
It can't have been easy being George Harrison in The Beatles sometimes.
Sure, he was one of the biggest stars on the planet, with his incredible guitar playing (and singing) being heard by millions of people around the world.
But despite writing some of the best music of the 1960s, his efforts were at risk of being drowned out by the 180 odd songs by John Lennon and Paul McCartney.
That meant was that when a George Harrison song made its way onto a Beatles record, you knew it had more than earned its place there.
And on the 20th anniversary of George's passing, we've decided to celebrate every single one of his incredible 22 songs for The Beatles and rank them from worst (but still brilliant, of course), to the very best.
For You Blue

For You Blue (Remastered 2009)

The Beatles were getting back to their bluesy and rock and roll roots on Let It Be, and George's 'For You Blue' is one of the strongest examples of that,

Influenced by his stay with Bob Dylan and the Band in Woodstock a year earlier, it's a pretty straight but chirpy 12-bar blues, written for Pattie Boyd.

Think for Yourself

Think For Yourself (Remastered 2009)

Is it a mean-spirited song to an ex-lover in the vein of Bob Dylan's incredibly biting Positively 4th Street, or a countercultural call to arms?

This biting song from Rubber Soul easily works as both, and shows that George's songwriting was maturing just as fast as the Lennon-McCartney partnership.

Blue Jay Way

The Beatles - Blue Jay Way

There are always arguments about which Beatle was the more experimental, John or Paul, but George makes a pretty good case on the woozy, hazy 'Blue Jay Way, which includes his own droning Hammond organ and a load of clever-clever studio trickery.

It featured in the Magical Mystery Tour film and the EP and album versions of the soundtrack in 1967.

Old Brown Shoe

Old Brown Shoe (Remastered 2009)

A sometimes forgotten song shunted on to the other side of non-album single 'The Ballad of John and Yoko', George wrote this ska-influenced tale of duality on the piano, which was not his usual writing instrument.

The Beatles considered the song for Let It Be, but couldn't get the recording quite right, and they came back to it a little later when they needed a quick B-side.

Piggies

Piggies (Remastered 2009)

One of the most maligned George songs, 'Piggies' is maybe unfairly hated because of its "influence" on Charles Manson, whose followers left references to the song (and others) at the scenes of the Tate–LaBianca murders.

But although it's definitely one of the most bitter and mean songs in the Beatles back catalogue (up there with 'Run For Your Life') it's also... actually pretty good.

The countercultural lyrics nod to Orwell's Animal Farm and the music is pleasingly odd, Chris Thomas's harpsichord and pig noise FX and all.

You Like Me Too Much

You Like Me Too Much (Remastered 2009)

One of George's earliest Beatles songs and maybe one of his most throwaway, this cut from Help! showed that he could do the bouncy, beaty pop every bit as well as John and Paul.

It's about a bit of a wrong 'un who doesn't treat his partner quite right, but knows she'll never leave him for good because despite it all they like each other too much.


Savoy Truffle

Savoy Truffle (Remastered 2009)

So many of George's songs are deathly serious, taking in themes of life, god, countercultural politics and death.

Not 'Savoy Truffle', though, which is about Eric Clapton's love of Mackintosh's Good News chocolates and the risk of your teeth falling out

Recorded for The Beatles, it also found time for a quick reference to the same album's 'Ob-La-Di, Ob-La-Da'.

If I Needed Someone

If I Needed Someone (Remastered 2009)

From their Motown and rock 'n' roll covers on, The Beatles were never shy about wearing their influences on their sleeves, and around the time of Rubber Soul it was clear that they'd been enjoying the folk rock of Bob Dylan and The Byrds.

'If I Needed Someone' was maybe as Byrdsy as The Beatles ever got, an ambivalent love song from Rubber Soul that was immediately covered by The Hollies (from the demo recording), technically becoming George's first hit when their version reached number 20 in the charts.

The Inner Light

Released as the flipside to 'Lady Madonna' in 1968, 'The Inner Light' is maybe the purest distillation of the influence of Indian classical music and the philosophy of Transcendental Meditation on George's work.

Sanskrit scholar Juan Mascaró had translated a poem from the Taoist Tao Te Ching and urged George to set it to music. He recorded the backing in Bombay, using Indian instruments sarod, shehnai and pakhavaj before adding his vocals in London to create a beautiful and unique fusion of East and West.

I Want to Tell You

I Want To Tell You (Remastered 2009)

George Harrison's THIRD song on Revolver (he'd never had more than two on a Beatles album before), was – like much of the album – inspired by LSD, trying to capture that cascade of thoughts that you just can't get out.

Harrison had also only met Ravi Shankar the day before, but the song was already beginning to show some of the influence of Indian music that he had been picking up.

Only a Northern Song

Only A Northern Song (Remastered 2009)

A witty, sarcastic, dismissive song that's all-too often dismissed itself, The Beatles started recording 'Only A Northern Song' during the Sgt Pepper sessions and finished it when they needed four songs in a hurry for the Yellow Submarine film.

The song is a swipe at George's own lowly position in the Northern Songs publishing company, whereby its shareholders got more money from his songs than he did. But it somehow emerges out of all that with a giddy psychedelic joy ("You may think the chords are going wrong") that belies its annoyed genesis.

Love You To

Love You To (Remastered 2009)

Another of George's Revolver trilogy, 'Love You To' marked George's full embrace of Indian music, featuring the sitar and tabla, played by tabla player Anil Bhagwat and other Indian musicians from the Asian Music Circle.

As well as its musically groundbreaking fusion, its lyrics mashed up what was a love song to Pattie ("Make love all day long") with the influence of LSD ("Each day just goes so fast") and the counterculture (There's people standing 'round/ Who'll screw you in the ground")

I Me Mine

I Me Mine (Remastered 2009)

Some people ask if 'Free as a Bird' and 'Real Love' are really Beatles songs. Well, if you're going to quibble about those, what about 'I Me Mine'?

John wasn't all that into the song when George presented it to the group, and he'd actually left the band by the time they finished recording it in 1970.

With the band disintegrating, it's a suitably scathing attack on ego ("Even those tears/ I me mine, I me mine, I me mine").

Long, Long, Long

Long, Long, Long (Remastered 2009)

Another of George's songs inspired by both Bob Dylan and The Band, its odd structure gently unfolds as George gently explores the ideas of love and god that would come to dominate his later work.

"Gathering, jaystering, glimmering / Glittering, happening, hovering / Humouring, hammering, lacquering / Lecturing, labouring, lumbering/ Mirroring." Amazing.

Don't Bother Me

Don't Bother Me (Remastered 2009)

Lennon and McCartney had proved on Please Please Me that The Beatles weren't a covers band, and on the follow up With The Beatles, George Harrison got his very first song on a Beatles release.

Suitably snippy, 'Don't Bother Me' was proof enough that even if he was never going to be as prolific as his songwriting bandmates, he could definitely compete, as it's one of the best originals on the album.

"I don't think it's a particularly good song," George said modestly, years later. "It mightn't even be a song at all, but at least it showed me that all I needed to do was keep on writing, and then maybe eventually I would write something good."

Within You Without You

Within You Without You (Remastered 2009)

The only song on Sgt Pepper's Lonely Heart's Club Band that wasn't by John or Paul, George's 'Within You Without You' followed 'Love You To' as his second fully Indian-inspired work, in both instrumentation and its Hindu themes.

George came up with the song while doing his musical exercises on the sitar, having been tutored by master Ravi Shankar. None of The Beatles other than George actually play on it, with as sitar, tambura, dilruba and tabla being played by the Asian Music Circle.

Taxman

Look, we all agree that rich popstars should probably just be quiet and pay their taxes, but in George Harrison's defence, i) The Beatles weren't nearly as wealthy as their talent and hard work warranted, having been at the receiving end of some dodgy deals ii) they were subject to an eye-watering 90-95% tax rate, iii) tax money does fund the military-industrial complex, but, most importantly:

iv) 'Taxman' is a sharp, witty, musically incredible bit of folk-funk-rock songwriting, so we can forgive any quibbles.

It's All Too Much

It's All Too Much (Remastered 2009)

So much of The Beatles music, especially in their later years, feels so perfectly constructed. There are exceptions though, including the necessarily off-the-cuff feel of Let It Be, and even more so this ramshackle masterpiece.

One of the rush-recorded songs laid down after Sg Pepper for Yellow Submarine, it's maybe The Beatles most truly psychedelic moment.

Hammond organ, heavy feedback and overdubbed brass make for a wall of clattery, heady noise that captures the influence of LSD on George's mind and work at the time.

Here Comes the Sun

The Beatles - Here Comes The Sun (2019 Mix)

Lennon and McCartney wrote most of The Beatles songs, but it's George's 'Here Comes The Sun' from Abbey Road that seems to resonate most with today's audiences.

Don't believe me? It's the most-streamed Beatles song on Spotify, and it's not even slightly close. Over 730 million streams (and counting) beating its nearest competitor ('Let It Be') by well over 315 million.

George wrote this beautiful acoustic guitar-led song while bunking off Beatles duty at Eric Clapton's house. And it's got that experimental spirit, making extensive use of the then-still pretty new Moog synthesiser.

I Need You

I Need You (Remastered 2009)

While his later work with the band rightly wins applause, George's earlier Beatles songs often don't get the credit they deserve.

Top of that list is this tender love song to Pattie Boyd, written when she had temporarily left him, and taken from the Help! movie and album.

"He has got something to say as a songwriter, and I hope he keeps it up," said George Martin at the time.


Something

George Harrison's first A-side for The Beatles (well, a double-A-side with 'Come Together'), 'Something' endures as one of his most delicately beautiful and most covered songs.

At the time, Harrison was stockpiling music for a solo career he planned to run alongside his time in The Beatles, as he was stuck at just a couple of songs per album. When he brought 'Something' to the Let It Be sessions no-one seemed interested.

George taped a solo demo and he even offered 'Something' to Joe Cocker before The Beatles and George Martin came to their senses and recorded it for Abbey Road. It was John's favourite track on the album and he pushed for it to be a single.

While My Guitar Gently Weeps

The Beatles - While My Guitar Gently Weeps

George Harrison's masterpiece, and one of the many (many) highlights from The Beatles (aka The White Album), 'While My Guitar Gently Weeps' was inspired by both the I Ching and the ruffled egos in The Beatles camp after their trip to Rishikesh.

The stunningly beautiful song went through numerous changes along the way, from the original Esher demo through to a folk acoustic/harmonium take, which George and Giles Martin used as the basis for the stunning Love reworking in 2006.

The classic rock version we all know and love features an (uncredited) performance from Eric Clapton on lead guitar, after George cajoled him into joining the sessions.