Paul McCartney admits that The Beatles didn't particularly like Yoko being in the studio
16 October 2023, 12:40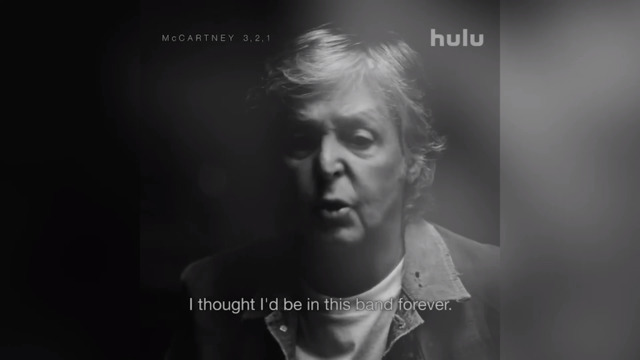 Paul McCartney reveals he thought he'd be in the Beatles forever in Hulu promo to mark release date of documentary 'McCartney 3,2,1'
Not for the first time, Paul McCartney opens up about the influence of Yoko Ono on The Beatles.
We all know that that Yoko Ono didn't "break up The Beatles".
The death of Brian Epstein, musical differences and the inevitable personal tensions between four lads who had been together since they were teenagers had much more of an impact
But that doesn't mean that John Lennon's all-encompassing relationship with Yoko Ono didn't have an impact on The Beatles all the same.
Sir Paul has previously spoken about the shock of Yoko "sitting on the amps" during recordings rather than being in the control room or out the studio like the rest of the band's partners, but added that the group eventually "handled it".
And now in an episode of his McCartney: A Life In Lyrics podcast, McCartney has again said that the band dealt with the inevitable issues caused by Yoko's presence among the tight-nit fivesome of The Fab Four and George Martin.
"John and Yoko had got together and that was bound to have an effect on the dynamics of the group," McCartney said.
"Things like Yoko being literally in the middle of the recording session [were] something you had to deal with.
"The idea was that if John wanted this to happen, then it should happen. There's no reason why not."
Listen to McCartney: A Life in Lyrics
He added: "Anything that disturbs us, is disturbing. We would allow this and not make a fuss. And yet at the same time, I don't think any of us particularly liked it.
"It was an interference in the workplace. We had a way we worked. The four of us worked with George Martin. And that was basically it.
"And we'd always done it like that. So not being very confrontational, I think we just bottled it up and just got on with it."
Years ago, Paul McCartney spoke about how he had reconciled with Yoko following John Lennon's assassination in a candid interview alongside his then-wife Linda.
Paul & Linda McCartney talking about Yoko Ono
"We didn't know her too well until quite recently, until maybe the beginning of the '80s," Paul said.
"I just thought well maybe I've misunderstood. Maybe it's my mistake, not hers. So I telephoned her and started talking to her about things generally.
"She said, 'Why are you telephoning?'. I said, 'Well, you know, I think I've misunderstood you and I think I've made a big mistake, and as you were John's wife and I was very fond of John, I feel that he would've liked me to telephone you, say hello and see what's going on'."
He added: "She said, 'Don't do me any favours, don't do it out of pity or sympathy. I don't want that. I don't want charity'. I had to say, 'No, no. She's right. She's right'.
"I thought she was a hard woman. I don't think she is now. I think she's just the opposite. I think she's a very loving, caring woman.
"I thought she was pushy which I think is wrong. I don't think she is; she's just herself. She's determined more than some other people to be herself. Some people will just give in. She won't."