Paul McCartney's 25 greatest songs, ranked
15 June 2022, 09:32 | Updated: 18 September 2023, 11:56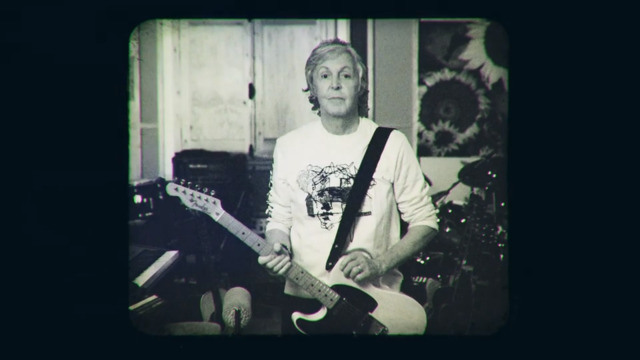 Paul McCartney - McCartney III (Official Album Trailer # 2)
Even after The Beatles, Paul McCartney knocked out more classic singles than we can count.
There are few singers or songwriters who can come close to Sir Paul McCartney.
By the end of the 1960s he'd already changed music forever in just a few short years as one quarter of The Beatles.
And in the 50 years since he's kept at it.
As a solo star, in partnership with his first wife Linda, as the leader of Wings, or in collaboration with everyone from Michael Jackson and Stevie Wonder to Rihanna and Kanye West, Macca just hasn't stopped.
So it's no easy task to pick out just 25 of his very biggest and best post-Beatles songs, but we've done just that with this ultimate Paul McCartney starter pack/best-of.
We All Stand Together

Paul McCartney - We All Stand Together (Official Music Video)

AKA 'The Frog Song' or 'The Frog Chorus', 'We All Stand Together' is maybe the most over-maligned song in the whole of Paul McCartney's back catalogue.

The song featured on the 1984 animated film Rupert and the Frog Song, and the Frog Chorus credited on the label is actually The King's Singers and the choir of St Paul's Cathedral.

People use 'The Frog Song' as a stick with which to beat McCartney but

It's a song written for a kids' movie – it's not meant to be 'Revolution #9'
It's wonderfully-produced by George Martin
It's actually a lovely, catchy tune

Ebony and Ivory

Ebony and Ivory (1982) | Paul McCartney & Stevie Wonder

Another track that often gets the Macca-bashers out in force, and yes, the clumsy ode to racial harmony ("Ebony and ivory live together in perfect harmony / Side by side on my piano keyboard, oh Lord, why don't we?") is a little cringe, but this duet between Paul McCartney and Stevie Wonder also has its heart absolutely in the right place.

It was Macca's first high-profile post-Beatles hookup (before his duets with Michael Jackson and the rest), and with the undeniable star power behind it, it topped the charts both the UK and US on its release in 1982.

Fine Line

Paul McCartney - Fine Line

Much of Paul McCartney's greatest music was recorded with George Martin, and it's fair to say that no other producer quite scaled those heights with Macca, but one who came close was Radiohead's regular studio man Nigel Godrich.

Macca actually hooked up with Godrich on Martin's recommendation, and they spent a year and a half putting together one of McCartney's many late-career highlights, 2005's Chaos and Creation in the Backyard – the first album Paul didn't produce or co-produce himself in 20 years.

A standout was the lead single and opener 'Fine Line' – a top 20 hit that sounded fresh but also recaptured some of McCartney's 70s vibe, finding him in an exceedingly fine voice.

Listen To What The Man Said

Sir Paul McCartney & Wings - Listen To What The Man Said [Remastered] [HD]

McCartney had long-stopped being a Beatle by the mid-1970s, and he made another break with the past when he left Apple for Wings' fourth studio album Venus & Mars, and signed with Capitol.

It built on the massive, band-making success of Band on the Run, with this lead single 'Listen To What The Man Said', going to number one in the US and number 6 in the UK.

Macca knew the song had potential, but struggled to get it right in the studio till he enlisted jazz star Tom Scott, whose first-take saxophone pulled the whole thing together.

New

Paul McCartney – "New" (lyrics)

After his return to guitar rock form in the 1990s and stately, classic work in the 2000s, Macca has gone full throttle in the 2010s, leaping from collaboration to collaboration, and experiment to experiment.

The decade didn't start that way, with McCartney's 2012 album Kisses on the Bottom being stuffed with trad standards, but the follow-up NEW was just that. It was executive produced by Giles 'son of George' Martin, with assists from new faces Mark Ronson, Ethan 'son of Glyns' John and Paul Epworth.

The Ronson-produced lead single and title track summed it up – catchy, classic Macca sounds given a 21st century sheen so it can rub shoulders with anyone on radio.

The World Tonight

Paul McCartney - The World Tonight (Dir: Alistair Donald)

Paul McCartney had his critical (and commercial) ups and downs after the Beatles in the 1970s and especially the 1980s. For every well-received album, there was one where some felt he was treading water, or failing to keep up with the times.

That all changed in the 1990s. As well as Paul's wildly experimental albums with Youth as The Fireman relighting his creativity, The Beatles released their Anthology TV show, albums and book, and Britpop hit the peak of its wave, with everyone namechecking the songwriting prowess of Lennon and McCartney.

At just the right time, Paul McCartney released Flaming Pie in 1997, a few years in the making, which was his biggest album for 15 years, only kept off the top spot by the Spice Girls Spice.

Its second track and second single was the bang-on-the-moment 'The World Tonight', with its twanging guitars and Macca's vocals sounding pure Britpop.

My Valentine

Paul McCartney - "My Valentine" (Official Video ft. Natalie Portman)

The vast majority of McCartney's 2012 album Kisses on the Bottom was made up of trad covers, but Paul squeezed on a couple of his own numbers to sweeten the deal.

Alongside 'Only Our Hearts' was the single 'My Valentine', written for his then-wife-to-be Nancy Shevell, when they were on holiday together in Morocco.

"So one afternoon, when it was raining, I was in that foyer, and without anyone noticing except a couple of waiters who were clearing up, I sat at the piano and started knocking around with this little tune," he revealed in the album liner notes.

Paul performed the song for Nancy before their wedding, while the version on the album featured old pal Eric Clapton on acoustic guitar.

Say Say Say

Say Say Say by Paul McCartney and Michael Jackson

Maybe the best Macca duet? 'Say Say Say' was recorded during the sessions of Tug of War, but held back for the following Pipes of Peace.

Produced by George Martin, it was actually recorded before Thriller's 'The Girl Is Mine', and we think it's the better of the two MJ and PM collaborations.

It hit number one in the US, number two over here in the UK, it had a massive impact that went beyond being a fine slice of funk-pop.

The sessions helped give Jackson a confidence boost he'd take into his future solo work, while Paul nattering to Michael about his interests in music publishing prompted MJ to get into that game... and to controversially buy ATV Music Publishing in 1985 – including the Lennon/McCartney back catalogue.

Uncle Albert/Admiral Halsey

Paul & Linda McCartney - Uncle Albert / Admiral Halsey [High Quality]

Written by Paul and Linda McCartney – and released under the Paul & Linda McCartney name – this quirky, woozy, FX-laden song is a perfect example of Macca at his very best.

Based on Paul's own uncle and stitched together from several bits of songs a la the second side of Abbey Road, it's gentle, it's beautiful, it's tender, and it's a little bit weirder than people give Paul credit for.

It was only Paul's second single after The Beatles' break-up (the first was the standalone 'Another Day'), and it went all the way to number one in the US, though it wasn't a single over here.

It featured on the Paul & Linda McCartney album Ram. before popping up on plenty of Macca best-ofs since.

Hope of Deliverance

Hope Of Deliverance - Paul McCartney - 1993 [HQ]

Paul McCartney's first album of the 1990s was Off the Ground, which came on the heels of one of his many critical returns to form, 1989's Flowers in the Dirt.

Its lead single was the optimistic 'Hope of Deliverance' ("We live in hope of deliverance/ From the darkness that surrounds us") that married a soft acoustic backing with a gorgeous Macca melody.

It flopped in the US, but went all the way to number 18 in the UK.

Find My Way

Paul McCartney - Find My Way (Official Music Video)

After 1970s McCartney and 1980s McCartney II there was a thirty-year gap till McCartney III, the third part of the trilogy that found McCartney going DIY, playing (almost) everything himself for his personal and arguably best albums.

The prompt this time was the COVID-19 pandemic. Some people spent their lockdown looking after the kids or learning how to make sourdough, but if you're Paul McCartney you make a singular solo album of real quality.

The whole album is worth a listen, and our favourite is maybe it's sort-of-single 'Find My Way'.

Paul McCartney, Beck - Find My Way

"I was thinking about people who worry more than I do. And I know one or two people which are just kind-of worried about life," McCartney told The Adam Buxton Podcast about the song.

"And it's not that I don't, it's just that I deal with those worries and think. 'No, it's ok, there's a way out of this' and I can generally find some optimistic exit from a bad situation."

The song was remixed/covered by Beck as part of the McCartney III Imagined album, with a must-see video featuring a digitally-young-ified Paul.

Get Enough

Paul McCartney's epic 2018 Egypt Station album clocked in at just under an hour and found Paul in a collaborative mood, with production by Adele and Liam Gallagher collaborator Greg Kurstin and input from OneRepublic's Ryan Tedder.

It was a great album and massive hit, being Macca's first US number one since 1982, but the very best song from the sessions didn't even make it on to the record.

The standalone 'Get Enough' popped out on New Year's Day in 2019 with minimal fanfare, and features some classic McCartney piano and some very un-McCartney Auto-Tune, squooshing up his vocals into something completely new, and mesmerising.

Every Night

Every Night (Remastered 2011)

The roots of this DIY McCartney track go way back to mid-1960s, with the song finally getting some legs while The Beatles were still together during the Let It Be sessions, immortalised in Get Back.

The Beatles jammed around with the song in January 1969, with John Lennon playing slide guitar, but like much of the music from around that time, it ended up on a post-Beatles solo project.

McCartney finished the song when he and Linda went on holiday in Greece in the spring/summer of 1969, and the lyrics play up the duality of the rock 'n' roll world ("Ev'ry night i just wanna go out /Get out of my head") and a settled-down life ("But tonight i just wanna stay in/ And be with you-oo").

It's been covered by everyone from Phoebe Snow to Odetta to Jamie Cullum.

Wonderful Christmastime

Paul McCartney - Wonderful Christmastime

Loved, then hated... now the critical pendulum seems to be (correctly) coming back to the opinion that 'Wonderful Christmastime' is a total seasonal classic.

It may not be as cool as the likes of The Waitresses or Bruce Springsteen, but it's a delightfully odd Christmas banger imbued with that wildly experimental McCartney II experimental spirit that makes it stand out a mile on any Xmas compilation.

After Wings, it was the first solo Macca single since 1971. and despite his Wings pals featuring in the video, it's Paul himself singing and playing keyboards, synthesizers, guitars, bass, drums, percussion and jingle bells.

It went to number 6 in the charts on release in 1979, and pops up on Christmas playlists everywhere to this day.

Silly Love Songs

Wings 'Silly Love Songs' [Original 1976 Music Video]

Written by Paul and Linda McCartney and recorded and released by Wings in 1976, the song was a little hit back at those critics we've mentioned (including Mr John Lennon), who dismissed Sir Paul as a writer of nothing more than silly love songs.

"The song was, in a way, to answer people who just accuse me of being soppy," McCartney told Billboard years on.

"The nice payoff now is that a lot of the people I meet who are at the age where they've just got a couple of kids and have grown up a bit, settling down, they'll say to me, 'I thought you were really soppy for years, but I get it now! I see what you were doing!'"

Plus, as he added completely truthfully, the song has a good bassline and was a live hit with fans, as well as going to number one on both sides of the Atlantic.

Nineteen Hundred and Eighty Five

Nineteen Hundred And Eighty Five (Remastered 2010)

The closing track from Wings' 1973 masterpiece Band on the Run and one of its many, many highlights, serving as a perfect finale with the band backed by the lush Beaux Arts Orchestra providing horns and strings.

"With a lot of songs I do, the first line is it," McCartney explained years later. "It's all in the first line, and then you have to go on and write the second line.

"With 'Eleanor Rigby' I had 'picks up the rice in the church where the wedding has been', that was the one big line that started me off on it.

"With this one it was 'No one ever left alive in nineteen hundred and eighty-five'. That's all I had of that song for months. 'No one ever left alive in nineteen hundred and eighty... six?' It wouldn't have worked!"

Let 'Em In

LET `EM IN PAUL McCARTNEY

A number two hit in the UK, a number three hit in the US, 'Let 'Em In' was the second and last single from Wings' massive 1976 album Wings at the Speed of Sound.

It's not as soppy as its predecessor 'Silly Love Songs', but it's still delightfully daft in that way that few other than Paul McCartney can pull off.

It's a song about a load of people knocking on Paul's door, and Paul saying, well, let 'em in – among them his aunty Gin, brother Michel, brother in law John, wife Linda (aka 'Sister Susie'), Phil and Don Everly and, er, Martin Luther.

The jaunty mix of piano, brass and flutes makes it sound a bit like something off Sgt Pepper, though Macca's vocals are a bit more understated.

Coming Up

Paul McCartney - Coming Up (Official Music Video)

Up there with 'Temporary Secretary' as one of the danciest, quirkiest, most experimental and out-and-out joyous post-Beatles Paul McCartney singles.

Paul used a vari-speed tape machine to twiddle with his and Linda's vocals to give it that quasi-robotic vibe that made it sound not just bang up to date, but ahead of its time.

The record company weren't sure, and pushed for McCartney to use a live version with "normal" vocals. Paul resisted for McCartney II, though the label got their way for the single – much to the annoyance of Paul's old pal John Lennon.

"I liked the freak version that he made in his barn [more] than that live Glasgow one, you see," John said.

"I thought that the record company had a nerve changing it round on him, and I know what they mean, they want to hear the real guy singing, but I like the freaky one."

Mull of Kintyre

Paul McCartney & Wings - Mull of Kintyre (HD 1080p)

"I certainly loved Scotland enough, so I came up with a song about where we were living: an area called Mull of Kintyre," McCartney explained in the liner notes of the Wingspan compilation.

"It was a love song really, about how I enjoyed being there and imagining I was travelling away and wanting to get back there."

Written by McCartney and his Wings bandmate Denny Laine, it's a lovely, simple story about a lovely, simple song.

Macca had it knocking about for a few years before he released it in 1977, when it became the Christmas number one, and became the FIRST EVER single to sell more than two million copies in the UK (and it's still the biggest-selling non-charity single over here).

Jet

One of the many highlights from Wings' massive Band on the Run album was 'Jet' (ooh-ooh-ooh-ooh-ooh!).

The song wasn't named after a fancy aircraft, but actually Macca's Labrador Retriever...or so he said at the time. Later on, he suggested it was named after a pony called Jet.

Later on, he returned to the dog story, and added that the song was "a little bit about the experiences I'd had in marrying Linda" – not that you can tell from the barmy lyrics ("And Jet, I thought the Major/Was a Lady Suffragette").

It went to number seven here and in the US, and has been a regular in McCartney's live shows since.

Temporary Secretary

Temporary Secretary (Remastered 2011)

For a while, McCartney had the image of the melodic, trad, almost boring Beatle, while Lennon was seen as the experimental hellraiser behind such weirdness as 'I Am The Walrus'.

But the almost-unheard and still-unreleased 'Carnival of Light' experiment was Paul's, and for his second self-titled solo album McCartney II he was back in the mood for trying new things.

The second track was the ahead-of-its-time quirky electro-pop classic 'Temporary Secretary'. Like its spiritual predecessor McCartney, Macca played almost everything on his 1980 album himself, and on 'Temporary Secretary' that included synthesiser and sequencer as well as his usual guitar, bass, keyboards and drums.

After a decade of playing it pretty safe, 'Temporary Secretary' showed that Macca could still push the frontiers of pop, and sound catchy doing it, too.

Junk

'Junk' was actually written way back in 1968, and considered (and rejected) for both The Beatles (aka The White Album) and Abbey Road, despite easily being the equal of much of both albums.

Written during the Fabs' Transcendental Meditation phase in India, and it was demoed at George Harrison's Esher home. That version was included on Anthology 3 (and the 2018 White Album reissue).

The new recording for McCartney is every bit as sparse – and disarmingly tender ("Motor cars, handlebars / Bicycles for two/ Broken-hearted jubilee") – as the demo.

Band on the Run

Paul McCartney & Wings 'Band on the Run' (Lyric Video)

Lingering doubts about the viability of Wings had been shunted away by 'Live and Let Die' and, after a slow start, obliterated by Band on the Run.

The title track and second single, 'Band on the Run' is one of the most beautifully structured songs McCartney wrote outside The Beatles.

The lyrics are a mishmash of weirdness that sort-of laid out the concept-ish album of a band on a jailbreak ("All I need is a pint a day / If I ever get outta here") but it's all about the tune.

Maybe I'm Amazed

Paul McCartney - Maybe I'm Amazed (Official Video)

Even the people that (wrongly) thought McCartney was undercooked always knew that 'Maybe I'm Amazed' was wonderful.

As on the rest of the album, McCartney played all the instruments himself, though it was a rare number recorded at Abbey Road's Studio 2, rather than at his own home.

Macca didn't release any singles from his self-titled debut, perhaps wanting listeners to take it as a whole, but there's little doubt this tender ballad would have been a massive hit had it been released by itself.

In fact, when a live version by Wings was released in 1977 – as punk and disco was everywhere – it went to number 10 in the US and top 30 in the UK.

Live and Let Die

Live And Let Die (2018 Remaster)

For some artists, a Bond Theme is a career highlight. For others, their 007 theme is an unfortunate low point in their output.

Paul McCartney is one of the few artists whose cultural impact was already easily the equal of James Bond himself – though in 1973 was having a bit of a critical and commercial wobble – so it could well have gone either way.

Written by Paul and Linda and performed by Wings, 'Live and Let Die' is a stone cold classic. It pulls off that rare trick of marrying the artists' own style with Bond vibes, and is a perfect accompaniment to the film AND a great standalone single in its own right.

After being tasked with writing the song, McCartney sped through Ian Fleming's novel for inspiration.

'That afternoon I wrote the song and went in the next week and did it," he said, "It was a job of work for me in a way because writing a song around a title like that's not the easiest thing going."

Producers had apparently considered having Bond Queen Shirley Bassey sing the theme, but McCartney insisted on Wings doing the main credits theme (BJ Arnau's version appears later in the movie).

It was rightly a massive hit, going top ten in the UK and up to number two in the US, and has remained a staple and standout in Macca's live sets ever since. Oh, and Guns N' Roses' version is pretty good too.