The Beatles' last song: Ringo Starr confirms it'll be the "final track" they'll ever release
5 July 2023, 11:39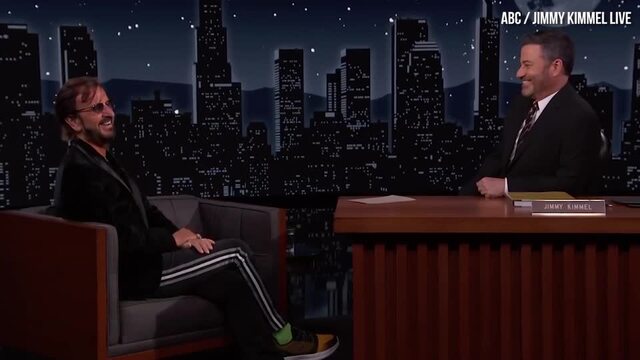 Ringo Starr praises Paul McCartney's genius
Ringo Starr also clarifies that they haven't used computers to fake John Lennon's voice.
Paul McCartney recently revealed that The Beatles were poised to release what he called their "final" song, and his sole surviving bandmate Ringo Starr has now also said it will be the last ever song they do.
The drummer has also confirmed that all four Beatles play on the track, and that they haven't used computers to fake John Lennon's voice.
"This was beautiful, and it's the final track you'll ever hear with the four lads. And that's a fact," Ringo told Rolling Stone.
Ringo refused to confirm the name of the track, but it's believed to be 'Now and Then'.
For the Anthology project in the mid-1990s, Paul McCartney, George Harrison, and Ringo Starr worked on a series of demos originally recorded by John Lennon, given to them by his widower Yoko Ono.
The Beatles - Free As A Bird
They completed and released 'Free As A Bird' and 'Real Love', both produced by the band with Jeff Lynne, but they abandoned work on 'Now and Then', in part due to the poor quality of the original demo recording.
But new AI technology has been used to extricate Lennon's original vocal lines from the piano and background noise to allow the other Beatles to add their parts.
Both John's son Sean Lennon and Paul McCartney have confirmed that computers haven't been used to generate an artificial vocal, only to disentangle John's actual voice, and now Ringo has underlined that they would "never" fake Lennon's voice.
Now and then - John Lennon
"To be clear, nothing has been artificially or synthetically created," McCartney said last month. It's all real and we all play on it.
"We cleaned up some existing recordings - a process which has gone on for years. We hope you love it as much as we do."
Sean added: "All we did was clean the noise from the vocal track.
"There have always been ways of 'de-noising' tracks but AI just does it better because it learns what the vocal is and is able to very precisely remove everything that is not the vocal."
One Beatles song that is known to exist that is still to be heard by nearly all fans is 'Carnival of Light'.
That song was commissioned by the Million Volt Light and Sound Rave, with the nearly 14-minute avant garde recording played at the Roundhouse in London on January 28 and February 4, 1967.
McCartney – who was the driving force behind the song and who owns the master tapes – was said to have wanted to include the unreleased track on Anthology 2 in 1996, but it was vetoed by his bandmates.
He has teased a release since then, but it's not yet happened.