'Free as a Bird' and 'Real Love': The story of the last "new" Beatles songs
14 June 2023, 14:19 | Updated: 24 July 2023, 14:25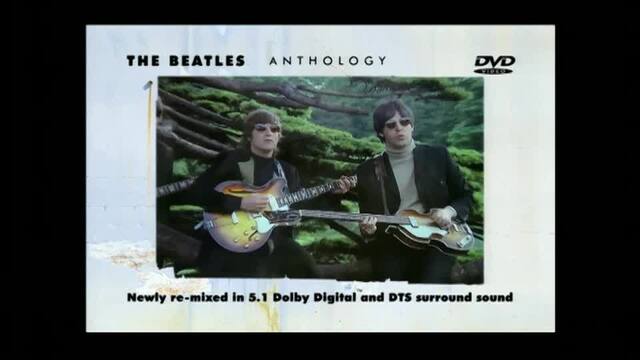 The Beatles – Anthology ABC TV trailer
Paul McCartney is talking about releasing the "final" ever Beatles song, reminding us of the two that came before.
The Beatles are rightly regarded as one of the greatest bands in the history of popular music, if not the greatest full stop.
As well as their incredible songs and undeniable cultural importance, one of the reasons the band has remained so adored is that rather than limp on for years and years, they stopped at their very peak, or certainly not far off it.
After the band split in 1970, there was never any complete reunion of the Fab Four.
John Lennon worked with Ringo Starr and George Harrison as early as the Plastic Ono Band albums in the year of the split, while George and Ringo hooked up loads in the first half of the decade.
Ringo's self-titled 1973 album featured all four of The Beatles, in fact, but not at the same time (Lennon wrote 'I'm The Greatest', which featured Ringo, John, George and Beatles associates Billy Preston and Klaus Voormann, while Paul 'n' Linda wrote and appeared on 'Six O'Clock').
In 1980, John Lennon was tragically murdered, which meant that despite a thawing of the relationship between him and Paul, all hopes of a complete Beatles reunion at any point in the future were completely dashed.
Well, not completely. In the pipeline since the split, 1995 saw the long, long-awaited release of Anthology.
A multimedia project, it included a trio of double albums, a chunky hardback book, and at its centre, a stunning eight-episode TV series that told the full story of the band from its heady beginning to the very end.
The timing was just right. There was enough water under the bridge to convince Paul, Ringo and an often reluctant George (and a consenting Yoko) to get back together, while the Britpop scene of the moment was constantly invoking The Beatles in both interviews and music.
And as well as looking back, the band even made something new (or at least, new-ish). After originally thinking they would record some instrumental music as a trio, they then decided that each of the three Anthology albums should have a "new" Beatles song – featuring all four members including Lennon.
So, Paul McCartney, Starr and Harrison reached out to Yoko to ask if she had any unreleased music of John's she could give the trio.
Yoko has said that it was Harrison and ex-Beatles road manager Neil Aspinall who asked her about the idea of adding new music to John's old tapes, while she handed them over after John Lennon's second, solo induction into the Rock and Roll Hall of Fame in 1994.
Paul went over to Yoko's house after the ceremony where he listened to a cassette tape that included five or six songs, with The Beatles deciding to focus on four: 'Free As A Bird', 'Real Love', 'Grow Old With Me' (which had appeared on 1984's posthumous Lennon/Ono album Milk & Honey) and 'Now and Then'.
"She was there with Sean," Paul later told Q magazine. "She played us a couple of tracks. There were two newies on mono cassettes which he did at home... I checked it out with Sean, because I didn't want him to have a problem with it.
"He said, 'Well, it'll be weird hearing a dead guy on lead vocal. But give it a try'. I said to them both, 'If it doesn't work out, you can veto it'."
John lennon's FREE AS A BIRD (Demo)
He added: "When I told George and Ringo I'd agreed to that they were going, 'What? What if we love it?'. It didn't come to that, luckily.
"I said to Yoko, 'Don't impose too many conditions on us, it's really difficult to do this, spiritually. We don't know, we may hate each other after two hours in the studio and just walk out. So don't put any conditions, it's tough enough'."
So the surviving Beatles got in the studio and got to work. George Martin was approached to produce the song, but declined, claiming that his hearing issues would make it impossible (though he did end up producing and directing the Anthology album series).
Instead, the band produced the songs themselves together with ex-ELO man Jeff Lynne, who had not only worked with George Harrison on his Cloud Nine album in 1987, but also was part of pop supergroup The Traveling Wilburys.
George apparently insisted that Jeff be along for the ride, while original Beatles engineer Geoff Emerick returned, joined by Jon Jacobs, who had worked with McCartney and Emerick since the late 1970s.
The Beatles - Free As A Bird
The Beatles went to Paul's home studio in Sussex in February and March 1994 to add their parts to Lennon's sparse vocal and piano demo.
"We just pretended that John had gone on holiday or out for tea and had left us the tape to play with," Ringo said. "That was the only way we could deal with it, and get over the hurdle, because it was really very emotional."
Back then in the pre-Get Back world, it wasn't possible to isolate Lennon's voice, so it's his piano you can hear on the track.
The song was cut up to give spots for Paul and George's vocals, while Harrison also added slide guitar and a ukulele coda over a backwards sample of John saying that old George Formby catchphrase "turned out nice again!".
"It was very strange and it was very magic; it was spooky and it was very wonderful," McCartney told Bass Player.
"Before the session, we were talking about it, and I was trying to help set it up, because we never even knew if we could be in a room together after all these years. So I was talking to Ringo about how we'd do it, and he said that it might even be joyous. And it was - it was really cool.
"We pulled it off, that's the thing. And I don't care what anyone says. We could work together. We did a bit of technical stuff on the tape, to make it, to make it work, and Jeff Lynne was very good."
'Free As A Bird' was released as a single on December 4, 1995, and eventually peaked at number 2 in the UK singles chart, only being kept off the top by Michael Jackson's all-conquering 'Earth Song'.
That was despite many Beatles fans already buying Anthology 1 a fortnight earlier, with the album opening with the track.
A stunning music video for 'Free As A Bird' was directed by Joe Pytka (famous for directing Space Jam and a load of Michael Jackson videos), which took a literal bird's-eye view of The Beatles story, with nods to countless Beatles songs and moments, including the likes of 'Penny Lane', 'A Day in the Life', 'Helter Skelter', 'Piggies' "Eleanor Rigby', 'Strawberry Fields Forever' and many, many more.
For their second "new" song, The Beatles worked on 'Real Love', which wasn't nearly as involved or momentous as their work on 'Free As A Bird'.
John's 'Real Love' demo was much more complete than Free As A Bird'. The finished Beatles version is even credited solely to John Lennon – the only song in The Beatles catalogue with Lennon listed as the sole songwriter.
In fact, not only had it actually circulated among fans as a demo bootleg for years, but a different October 1979 demo recording even opened the 1988 Imagine: John Lennon soundtrack album.
Apparently, it was first written to be part of an unfinished stage play called The Ballad of John and Yoko, being turned into 'Real Life', with several failed attempts to record it in the studio, including for 1980's Double Fantasy album.
Despite being more finished than 'Free As A Bird', in some ways polishing up the 'Real Love' demo – one made on a handheld tape recorder by John in July 1980 in Bermuda – was a tougher ask.
There was lots of hum and hiss on the tape, with plenty of clicks, and it took a lot of work to clean up the noise around Lennon's voice to have something workable.
Then there were timing issues, as Lennon was just jotting an idea with the recording and not working to a drumbeat or metronome.
"It took a lot of work to get it all in time so that the others could play to it," Lynne told Sound on Sound." It's quite a complex process, but for some reason, I kind of know how to do it, through messing around on other stuff for years."
John Lennon - Real Love (1979)
He added of the musical embellishments on both songs: "What we were trying to do was create a record that was timeless, so we steered away from using state-of-the-art gear. We didn't want to make it fashionable.
"It's just making the statement that they are all here playing together after all these years. So while it sounds fresh and new, it wouldn't have been out of place on The White Album."
'Real Love' was released as a single on March 4, 1996, a fortnight before Anthology 2, which it opened.
That compilation also included previously-unreleased Beatles songs '12-Bar Original', originally slated for Rubber Soul, as well as 'If You've Got Trouble' and 'That Means a Lot', which had been planned for Help! before being dropped.
Anthology 2 topped the charts, while the 'Real Love' single peaked at number 4 despite missing out on the then-all-important Radio 1 playlist. It also reached 11 in the US.
The video for 'Real Love' was a bit more trad than that for 'Free As A Bird', a fly-on-the-wall affair directed by Anthology's Geoff Wonfor and 10cc's Kevin Godley.
Both 'Free As A Bird' and 'Real Love' were significantly remixed by Lynne with Giles Martin for the 1+ deluxe edition hits album as well as the accompanying DVD and Blu-rays
As well as cleaning up John's vocals, 'Free As A Bird' switched up takes of George's vocals ("whatever happened to the life that we once knew" became "whatever happened to the love that we once knew") and bumped up Macca's lead vocal in the second verse, while the Formby catchphrase is played forwards instead of backwards.
The remade 'Real Love', faded up the harpsichord and harmonium, and even zapped some lead guitar bits and drum fills from the 1995 recording.
Grow Old With Me (Remastered 2010)
The plan was very much for a third "new" recording to open Anthology 3, but on the finished CD instead opened with George Martin's 'A Beginning' instrumental, first recorded for (but not used on) The White Album, and instead featured on Yellow Submarine instead.
So what happened? It turns out that The Beatles had in fact started work on another of those Lennon demos in February 1995 – before they even started on 'Real Love'.
While some thought it was 'Grow Old With Me' – which was first officially released a decade before Anthology – the demo in question is now believed to have been 'Now and Then' (or 'Miss You'), recorded by Lennon at the Dakota the year before he died.
"We did start work on it, but it was obviously unfinished from a writing point of view, so we thought, we'd work on 'Real Love' which had a complete set of words," Lynne said.
"It'll need to be completed as a song before everybody decides what to do with it, an it's not hard to imagine who would finish writing it."
John Lennon - Now And Then (2023 Remaster)
Paul said in 2012: "There was another one that we started working on, but George went off it... that one's still lingering around, so I'm going to nick in with Jeff and do it. Finish it, one of these days.
And in June 2023, Paul revealed that AI had been used to isolate Lennon's vocals – just like Peter Jackson did for the Get Back project and he had done for his "duet" with the late John.
"He [Jackson] was able to extricate John's voice from a ropey little bit of cassette," Sir Paul. "We had John's voice and a piano and he could separate them with AI. They tell the machine, 'That's the voice. This is a guitar. Lose the guitar'.
"So when we came to make what will be the last Beatles' record, it was a demo that John had [and] we were able to take John's voice and get it pure through this AI. Then we can mix the record, as you would normally do. So it gives you some sort of leeway."
All that means Paul can finally off the song and release what he's calling "the final Beatles record" – until they finally put out 'Carnival of Light', but that's another story for another time.