The magical moment Tom Jones sang 'I'll Be Home For Christmas' for Ella Fitzgerald
9 December 2021, 11:24 | Updated: 6 October 2023, 11:20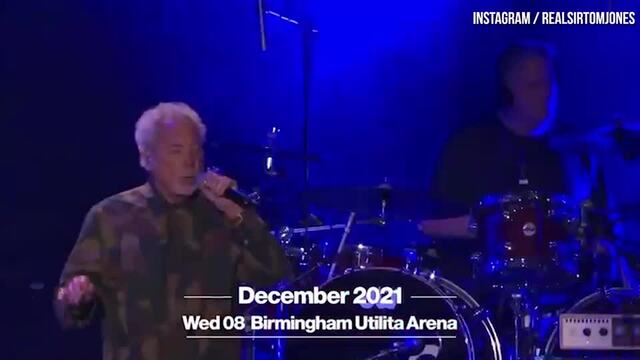 Sir Tom Jones promotes upcoming tour
Tom Jones was recording a special Christmas episode of his This Is Tom Jones show when he met a music icon.
Back in the day, rock stars didn't just grace the charts, they were expected to be all-round entertainers, too.
Some of the very biggest stars hosted variety TV shows, where they got to chat to equally-famous guests and introduce live performances – as well as stepping up to the microphone themselves.
The US had The Johnny Cash Show, and we had This is... Tom Jones, whose star turns included everyone who was anyone: Paul Anka, Glen Campbell, The Who, Jerry Lee Lewis, Aretha Franklin, Lulu, Shirley Bassey, Dusty Springfield, Joni Mitchell... the list goes on and on.
In December 1970, none other than Ella Fitzgerald was among the guests, and she was sat beside Tom resplendent in a turquoise sequined dress while he sang 'I'll Be Home For Christmas'.
"You know, it takes a heap of singing to make a house a home," he said by way of introduction.
Tom Jones - I'll Be Home For Christmas - This is Tom Jones Christmas TV Special 1970
"Going home is a nice thing to do at anytime, but the nicest time of all is to go home for Christmas.
"That's why no matter where i'm working, I try to make sure it doesn't interfere with my spending the holidays at home, with family."
It's an absolutely stunning performance from Sir Tom, which just happens to have one of the greatest ever singers in music history in the audience an even-better-than-front-row seats.
As well as Ella, the Christmas Day edition of This is... Tom Jones featured ballet legends Rudolf Nureyev and Merle Park, as well as Big Jim Sullivan and The Welsh Treorchy Male Choir
A Golden Globe-nominated show, This Is... Tom Jones ran for 65 episodes from 1969-1972.
Rights issues mean that it's pretty hard to get a copy of the DVD, so be sure to pick one up if you see it – and bookmark incredible performances like these.
While it was originally based in England, it soon flipped between London and Hollywood and Sir Tom attracted plenty of massive US talent.
As well as top musical performers, also featured the best comedy talent from both sides of the Atlantic, with the first episode featuring Peter Sellers and Richard Pryor.
The show had its own in-house comedy, too, with sketches from the Ace Trucking Company improv group featuring Patti Deutsch, Bill Saluga, Fred Willard, George Memmoli and Michael Mislove.
Sir Tom is currently on a short UK arena tour in support of his 41st studio album Surrounded by Time.
He's sharing a bill with fellow Welsh artists Stereophonics at Cardiff's Principality Stadium on Saturday, December 18.