'You Don't Own Me' by Lesley Gore: The making of the '60s feminist anthem
4 March 2022, 11:35 | Updated: 26 September 2023, 12:41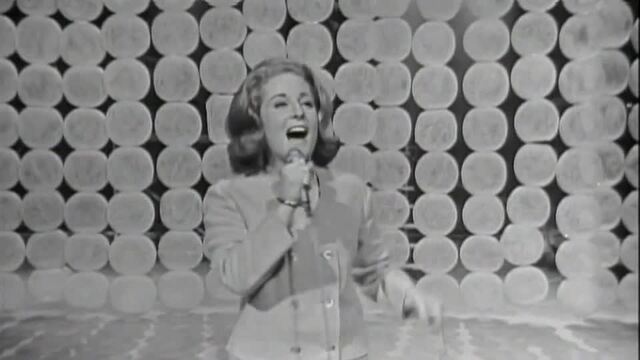 Lesley Gore in The T.A.M.I Show concert film
When she was just 17 years old, Lesley Gore recorded one of the greatest feminist anthems of all time.
This Tuesday (March 8) is International Women's Day, which naturally has us flicking through our records for the very best songs about female empowerment.
And right at the top of the pile is Lesley Gore's 'You Don't Own Me'.
But did you know that this ultimate feminist anthem was actually written by a couple of blokes? Or what happened after Les (born Lesley Sue Goldstein) released it?
To celebrate International Women's Day, we've taken a look at the story behind this absolute classic.
Who wrote 'You Don't Own Me'?
Lesley Gore - You Don't Own Me (HD)
Despite its first-person female perspective, 'You Don't Own Me' was written by two men.
Those guys were John Medora (aka Johnny Madara) and David White (aka David White Tricker).
Madara and White had previously written Danny & the Juniors chart topper 'At The Hop' with Artie Singer, and Chubby Checker's top ten hit 'The Fly'.
Johnny also wrote 'Rock and Roll Is Here To Stay' – a top 20 for Danny & the Juniors, performed by Johnny Casino and the Gamblers for the Grease movie in 1978.
'You Don't Own Me' was produced by superstar Quincy Jones, with an arrangement by Claus Ogerman.
The song was apparently first written for a singer named Maureen Gray, but once Lesley heard it at a New York hotel where she had met John and Dave she was adamant that it was hers.
"I was sitting at the pool," she explained in her Mercury Recordings box set, "and John and Dave came up to me with a guitar, took me into a cabana by the pool, and played me 'You Don't Own Me.'
"I told them they had to meet me in New York on Monday, to see Quincy and play him the song, and we were in the studio probably a week and a half later."
She added: "It is much to Quincy's credit that he could see what was really involved in that song, because his edict, as far as I know, was to keep me in 'It's My Party' territory - keep it light, keep it frothy, keep it young.
"You can't hold back a 17-year-old woman... she has got to find a way to spread her wings - and this was a song that allowed me a little bit more freedom vocally.
"The beauty of that song is that the verses start in a minor key, and then, when you go into the chorus, it goes into the major, and there's such a sense of lift and exhilaration."
What is 'You Don't Own Me' about?
'You Don't Own Me' is a clear feminist anthem, which felt pretty progressive back in 1963 when the popcharts were filled with pretty "traditional" representations of romantic relationships.
"Our original intent was to write a song with a woman telling a man off," Madara told Forgotten Hits years later.
"Though we didn't realise it at the time that it would become a woman's anthem, it definitely was our intention to have a woman make a statement."
So the song starts with Les asserting her independence and admonishing her fella for saying she can't go with other boys.
She urges her man to not tell her what to do, or what to say, not put her on display.
Lesley says she'd never stay if her boyf tries to tie her down or change her.
She rips apart society's double standards, pointing out that she doesn't tell her guy what to say or do, so he should respond in kind and let her be herself.
The clincher: "I'm young and I love to be young / I'm free and I love to be free / To live my life the way I want / To say and do whatever I please."
A pure punk rock emancipation anthem.
When did 'You Don't Own Me' get released – and where did it get in the charts?
'You Don't Own Me' was recorded on September 21, 1963 and released less than three months later on December 11, 1963, with 'Run Bobby, Run' (written by Ben Raleigh and Mark Barkan) on the B-side.
By February 1964, it got all the way to number two on the Billboard Hot 100, where it stayed for three weeks. It was only kept off the top by The Beatles' more traditional boy-girl song 'I Want to Hold Your Hand'.
It was Lesley's second-biggest ever hit. Earlier that year she'd reached the very top with 'It's My Party', Quincy Jones's first ever hit single.
In 2016, 'You Don't Own Me' was inducted into the Grammy Hall of Fame.
What happened to Lesley Gore after 'You Don't Own Me'?
Lesley Gore "It's My Party & She's A Fool" on The Ed Sullivan Show
While she continued with a critically and commercially successful career, 'You Don't Own Me' was Lesley's fourth and last top ten hit.
Her immediate follow-up was a bit of a 180, the pretty sexist single 'That's the Way Boys Are'.
It tells the story of a gal whose guy (i) looks at other pretty girls (ii) treats her rough (iii) wants to be alone and she... just does nothing because "he loves me and I know it" and "that's the way boys are".
Quite the comedown after her last single.
Still though, Lesley had a key role in the era-defining The T.A.M.I. Show concert film, with a six-song set including 'You Don't Own Me'.
Lesley continued to have hit singles and albums into the 1970s, but after 1975's Love Me By Name, she released just two new studio albums: The Canvas Can Do Miracles in 1982 and, over 20 years later, her swansong Ever Since.
After a battle with lung cancer, Lesley died on February 16, 2015. She was 68. She had been working on a memoir and Broadway show based on her work at the time of her death.
Lesley Gore "Cry Me A River & Hey Jude" Mashup Cover on The Ed Sullivan Show
Lesley had been living with her partner Lois Sasson for over 30 years, and they had been planning to get married before she died.
Gore had come out as a lesbian in a 2005 interview with After Ellen. She had previously hosted episodes of PBS's LGBTQ+ focused TV series In the Life.
She said that she had been aware of her same-sex attraction from when she was about 20 and, while she acknowledged the homophobia of the music industry, added with a 'You Don't Own Me' spirit: "I just kind of lived my life naturally and did what I wanted to do."
Who has covered 'You Don't Own Me'?
'You Don't Know Me' has been covered many times since it was first released.
Dusty Springfield was one of the very first out of the gate with her 1964 cover featuring on her debut album A Girl Called Dusty.
One of the most successful covers came in 2015, when Australian star Grace released a new version with G-Eazy a month after Lesley's death at the age of 68.
SAYGRACE - You Don't Own Me ft. G-Eazy (Official Video)
Strikingly, this version was also produced by Quincy Jones, who helmed the original, and it got all the way to number one in Grace's native Australia.
After the song was performed on The X Factor by Lauren Murray in 2015 and Matt Terry in 2016, the Grace cover all the way to number four in the UK singles chart.
After she left The Runaways, Joan Jett released a version of 'You Don't Own Me' in 1979 as her debut solo single, recorded with Sex Pistols Steve Jones and Paul Cook.
She re-recorded it a couple of years later with The Blackhearts and re-released it on the flip of another cover – her hit version of 'I Love Rock 'n' Roll', and on her Bad Reputation album.
The Ormsby Brothers have the accolade of releasing the first male-fronted cover, with their 1973 version being a top five hit in Australia.
Other artists to have performed the song include Klaus Nomi, The Blow Monkeys, Elaine Paige, Matt and Kim, Nikki Williams, Selena Gomez, Kristin Chenoweth and Ariana Grande, and in the hit 1996 movie First Wives Club, Diane Keaton, Bette Midler and Goldie Hawn.