What happened to Billy J Kramer? The story of the chart-topping Merseybeat star
23 June 2023, 09:56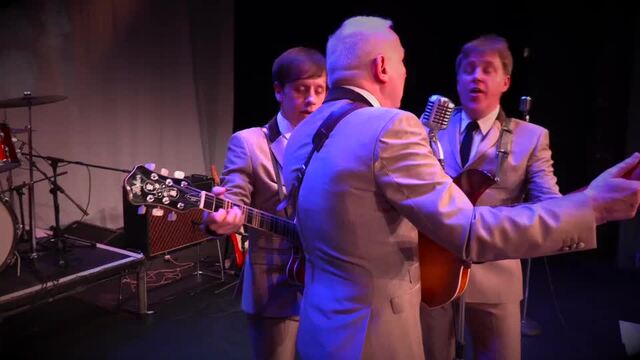 This is Merseybeat – theatre show trailer
With a little help from his friends, Billy J Kramer was one of the biggest names in Merseybeat.
It's hard to believe now, but there was a brief period of time in the early 1960s when The Beatles were just another band – albeit one at the forefront of a significant scene.
Among the other Merseybeat acts vying for attention and chart positions were the likes of Gerry & The Pacemakers, The Searchers, and Billy J Kramer with the Dakotas.
Billy J Kramer was more directly indebted to The Beatles than some of his Scouse contemporaries, and it's fair to say that once the Fab Four went supernova he fast faded into the background.
But with six top 15 singles and two number ones, Kramer was a vital part of the Merseybeat scene in his own right.
Here's the story of Billy J Kramer, and what he's getting up to now.
Where was Billy J Kramer born and what was his real name?
Billy J Kramer was born William Howard Ashton on August 19, 1943 s the youngest of seven siblings.
He grew up in Bootle in Sefton, Merseyside, and went to the St George of England Secondary School there.
He took the stage name Kramer at random from the telephone book, while it was pal John Lennon (more on him later) who suggested adding the "K", supposedly to give the name a bit more of an edge.
How did Billy J Kramer get into music?
Billy didn't come from a massively musical background. "My father was a drummer boy in the army, and he played one-string fiddle and piano," He later told Penny Black.
Kramer had an engineering apprenticeship with British Railways but as a hobby played rhythm guitar in a band, before becoming the lead singer.
Billy was playing with a band called the Coasters, who placed 19th in Mersey Beat magazine's 1962 poll for the best Merseyside group (he often claims in interviews he came third, but scans of the mag say otherwise).
Billy Kramer and the Coasters were wedged between Dee Fenton and the Silhouettes and Dale Roberts and the Jaywalkers, while the list was topped by The Beatles, with Gerry and the Pacemakers in the runners-up spot.
How did Billy J Kramer hook up with the Dakotas?
With The Beatles under his wing, young manager Brian Epstein was on the lookout for more local talent to add to his roster.
"I came in third in the Mersey Beat popularity poll [see above]," Kramer told Classic Bands. "The Beatles were first. I was the highest place, non-professional artist
"I think Brian approached [Billy's manager] Ted Knibbs and then Ted one day said to me, 'Do you want to go into Liverpool?'.
"And we went into Liverpool. We went into a restaurant and Brian was sitting there. Ted said, "'To tell you the truth, I've done all I can for you. Brian would like to take over your management'."
He signed up Kramer, but the Coasters weren't sure about the whole idea. So Brian signed up The Dakotas – actually a Manchester band who were backing Pete MacLaine at the time.
The Dakotas played hardball, insisting they have their own separate recording contract, and Brian agreed and got both acts signed to Parlophone.
As well as his management skills, Brian brought a little songwriting assistance from his main group, with a certain John Lennon and Paul McCartney being drafted to write songs for the act.
What songs did John Lennon and Paul McCartney write for Billy J Kramer with The Dakotas?
Do You Want to Know a Secret? (Mono) (1998 Remaster)
Billy J Kramer and The Dakota's first single – and first major hit – wasn't written especially for them.
'Do You Want To Know A Secret' was released on April 26, 1963 and went all the way to number 2 in the UK singles chart.
Pop fans would have already known the song though, as The Beatles had recorded it for their debut Please Please Me album which was released just over a month earlier.
It was backed by another Lennon-McCartney number 'I'll Be on My Way, a song Paul actually had knocking about from way back in 1959. As with most of their songs, both sides were produced by George Martin.
While they never laid down a proper version in the studio, The Beatles recorded a version of the song in early April 1963 for the BBC – with speculation they did so to help promote Billy's record.
For the follow-up, Brian went back to his main charges for another hit, 'Bad To Me', which did one better than '... Secret' and actually topped the UK singles chart.
Billy J. Kramer With The Dakotas "Bad To Me" on The Ed Sullivan Show
John Lennon's demo of the song date back to May 1963, with Billy J Kramer recording his version with The Dakotas the following month.
On the flipside was another Lennon number, 'I Call Your Name'. This song predated The Beatles, but the Fabs did record their own version after Kramer, considering it for the A Hard Day's Night movie but eventually including it on the Long Tall Sally EP.
Four Lennon-McCartney songs, two singles, and two massive hits meant that Epstein was of course going to try again with another track from his superstar songwriters.
Billy J. Kramer and the Dakotas Live - I'll Keep You Satisfied ( The Beatles )
McCartney's 'I'll Keep You Satisfied' was another top five hit, reaching number four.
Unbelievably, Kramer and The Dakotas decided to change things up, and turned down the offer of another Lennon-McCartney number, Paul's 'One And One Is Two'.
Lennon didn't like the song, neither did Kramer, and it seems that they both maybe had a point. It was recorded by The Strangers with Mike Shannon and unlike nearly every other Lennon/McCartney number it sunk without a trace.
Billy J Kramer and The Dakotas - I Call Your Name (Shindig - Nov 11, 1964)
Sp they looked elsewhere for a follow-up, and the title track of Kramer's 'Little Children' was written by J Leslie McFarland and Mort Shuman.
The song went all the way to number one and, perhaps more impressively, as high as number 7 in the US charts.
Then came the band's sixth and last Lennon-McCartney recording, McCartney's 'From A Window', which even features Paul harmonising right at the end.
Little Children Billy J Kramer Dakotas FULL SONG TRUE STEREO HiQ Hybrid JARichardsFilm 720p
It peaked at number ten in the charts – not too shabby, but a big dip from their previous top fives all the same.
Follow-up 'It's Gotta Last Forever' missed the charts altogether, so the band looked to the bulletproof songwriting partnership of Burt Bacharach and Hal David for a boost.
They recorded 'Trains and Boats and Planes', after Burt's own version with The Breakaways, but before Dionne Warwick's, which got them back to number 12 in the charts, but it was to be their last hit together.
Billy J. Kramer & The Dakotas - From A Window (1964) 4K
A clutch of singles failed to chart, and Billy and the Dakotas parted ways in 1966.
In part, Kramer blamed a "disastrous" performance on ITV's Tonight at the London Palladium for the band's sharp decline in fortunes.
"I really didn't want to do it," Kramer told The Guardian.
Trains And Boats And Planes - Billy J Kramer & the Dakotas
"In a very short space of time, I'd gone from being an engineer on the railroad to doing the London Palladium. I was overwhelmed.
He added: "People look at things like that, and maybe think, 'He's not that good'."
In truth though, pop moved incredibly fast in the mid-1960s, with shifting sounds and scenes meaning that many Merseybeat bands faded long before the end of the decade.
What did Billy J Kramer do after he split from The Dakotas?
Billy J Kramer didn't hang up his mic after he left The Dakotas.
He moved to Rugby, Warwickshire and had a solo career backed by various musicians from Manchester and then Bedford, getting TV and cabaret gigs and continuing to release singles (and the wittily-titled 1986 re-recordings album Kramer Versus Kramer).
While The Dakotas reformed in the late 1980s, they did so without Billy, instead being fronted by singer Eddie Mooney.
After a break from recording, Kramer returned to the studio for the first time in a decade, self-releasing the comeback album I Won The Fight in 2014
The following year he toured the UK and US as part of the British Invasion 50th Anniversary tour.
A year later he released his memoir titled, of course Do You Want to Know A Secret, which he had co-written with Alyn Shipton.