What songs were in the first ever UK singles chart?
9 February 2022, 12:51 | Updated: 20 September 2023, 14:15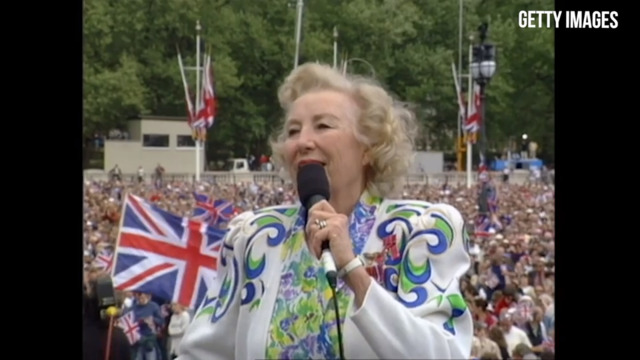 Dame Vera Lynn performs 'The White Cliffs of Dover' at Buckingham Palace VE Day celebrations
Before The Beatles or Elvis Presley... we take a look at the first ever UK singles chart.
The UK singles charts are in a strange place in 2022, with relatively few physical singles or even downloads being bought, which means that the modern hit parade is a mish-mash of album tracks, evergreen classics and viral TikTok favourites.
Back in the day, all that mattered was how many copies of a single were bought by fans in the shops.
Being the birthplace of pop, the US unsurprisingly got there first. Billboard magazine had been compiling its own charts as far back as 1940.
The UK was a little set in its ways, with printed sheet music charts still being how we judged things going into the 1950s.
That all changed on November 14, 1952 when the New Musical Express (later the NME, and now just NME.com) printed the first ever UK singles chart.
NME founder Percy Dickins compiled the chart with the not-all-that-scientific method of phoning up 20 record shops and adding up their biggest-selling singles by hand.
Unlike the modern Top 40 / Top 100, the first chart was a Top 12 (actually a Top 15, with three of the positions being deemed a tie).
While there have been competing charts over the years, it's this NME chart that is judged to be the First Ever Official UK Singles Chart by the Official Charts Company.
Have you ever wondered what songs were in the first ever UK singles charts. And more importantly, what was the first ever UK number one single?
Well, wonder no more... but first, some quick trivia:
Vera Lynn was on the first UK singles chart THREE times
Frankie Laine popped up twice - once as a solo star, and once as a duet with Doris Day.
Forget The British Invasion... of the 13 different artists in the first UK chart, a whopping TEN are from the US, with just Vera Lynn, Ray Martin and Max Bygraves repping for the Brits
13 of the 15 songs on the first chart are credited purely to solo artists. One song is credited to Ray Martin and His Orchestra, which is pretty much the same thing, and the remaining single was a duet (that Doris Day and Frankie Laine collaboration), showing the time of pop groups was a still a way off
And here's that Top 12 Top 15 in full
12. Johnnie Ray – Walkin' My Baby Back Home

Walking My Baby Back Home

With music by Fred E Ahlert and words by Roy Turk, 'Walkin' My Baby Back Home' was written all the way back 1930.

It had charting versions from the likes of Nick Lucas, Ted Weems, The Charleston Chasers and Lee Morse.

It's been performed by dozens and dozens of artists over the years, including Elvis Costello, Van Morrison, Nat King Cole (and Natalie Cole), Chas & Dave, Chubby Checker & Bobby Rydell, Bing Crosby, Judy Garland, Ella Fitzgerald and many more.

It was Johnnie Ray who first took it to the UK singles chart with the version recorded in February 1952. The song did even better in the US, charting at number 4.

11. Max Bygraves – Cowpuncher's Cantata

A rare British entry in the first ever UK singles chart, 'Cowpuncher's Cantana' was recorded at Abbey Road Studios and overseen by George Martin.

The song was released to build on the success of Bygraves's Educating Archie radio collaboration with Eric Sykes.

Backed with 'True Loves and False Lovers', the record is made up of Bygraves's comedy takes on then-current songs like 'Mule Train', 'Cry of the Wild Goose', '(Ghost) Riders in the Sky' and 'Jezebel'.

11. Mario Lanza - Because You're Mine

1952 HITS ARCHIVE: Because You're Mine - Mario Lanza

'Because You're Mine' was taken from a musical comedy film of the same name that starred Mario Lanza.

With music by Nicholas Brodszky with words by Sammy Cahn, Lanza's version sold a million copies and spent 24 weeks in the UK top 12.

It also reached number 7 in the US charts, beating a version by Nat King Cole that only reached number 16.

It got an Oscars nod for Best Original Song, but was beaten by 'The Ballad of High Noon' (which reached number 7 in this very chart).

10. Vera Lynn – Auf Wiederseh'n Sweetheart

Vera Lynn - Auf Wiederseh'n Sweetheart

Written by German composer Eberhard Storch around 1950 for his ill wife Maria, 'Auf Wiedersehen' was first sung in German by Rudi Schuricke.

Vera Lynn apparently heard drinkers singing the song in the local beer parlous when she was on holiday in Switzerland, and enlisted John Turner and Geoffrey Parsons to write some English lyrics once she got home.

Her version featured Soldiers and Airmen of HM Forces and the Johnny Johnston Singers and was the first song ever recorded by a foreign artist to top the US Billboard charts.

It was also the first of one of three songs by Vera Lynn on the first ever UK singles charts.

9. Vera Lynn – The Homing Waltz

Vera's second single in the first ever UK chart, 'The Homing Waltz' was written by Johnny Reine and Tommie Connor.

It actually topped the sheet music chart a few months earlier in August 1952 – a nine week number one that was eventually replaced by Al Martino's 'Here In My Heart'.

8. Ray Martin and his Concert Orchestra – Blue Tango

'Blue Tango' was originally written as an instrumental by Leroy Anderson, and although Mitchell Parish later added lyrics, it was an instrumental version by Ray Martin and his Orchestra that made its splash in the first ever UK singles chart.

Alma Cogan also recorded a vocal version during 1952.

8. Doris Day and Frankie Laine – Sugar Bush

Based on a traditional South-African song 'Suikerbossie' and also known as 'Sugarbush', Fred Michael wrote this song all the way back in 1930, with an English translation by Josef Marais.

Doris Day and Frankie Laine made it famous, taking it to number eight in the charts as part of an eight-week run.

7. Frankie Laine – High Noon (Do Not Forsake Me)

High Noon (Do Not Forsake Me)

Also known as 'The Ballad of High Noon' or 'Do Not Forsake Me, Oh My Darlin'', 'High Noon' won the Academy Ward for Best Original Song for the multi-Oscar winning film of the same name.

That version of the song by Dimitri Tiomkin and Ned Washington was performed by Tex Ritter, who eventually took it to number 12 in the US charts.

Frankie Laine did even better, reaching number 5 in the US and this number 7 peak in the UK.

7. Vera Lynn – Forget-Me-Not

Backed with ' When Swallows Say Goodbye', Vera Lynn's third song in the first UK singles chart was 'Forget-Me-Not', whcih debuted at number 7, and eventually rose to number 6.

6. Rosemary Clooney – Half As Much

Curley Williams wrote 'Half As Much' in 1951, and Hank Williams took it all the way to number two on the Billboard Country Singles Chart, even though he wasn't too keen on the song.

Williams released his own version a little before, but it was Rosemary Clooney who had the biggest hit with it, taking it to the top of the US chart and, after its first entry here at number 6, all the way to number 3 in the UK.

5. Guy Mitchell – Feet Up

Also known as 'Feet Up (Pat Him on the Po-Po)', this Bob Merrill song was a big hit in the US and an even bigger hit in the UK (by November 1952, it rose all the way to number 2).

It tells the story of a wrong 'un turning good to be a better inspiration for his newborn baby, who gets a pat on the bum on being born to make sure he grabs a breath.

4. Bing Crosby – The Isle of Innisfree

Written by Irish songwriter, policeman and poet Dick Farrelly on a bus from his home in Kells, County Meath to Dublin, 'The Isle of Innisfree' tells the story of an Irish expat yearning for home.

John Ford used it heavily in his 1952 movie The Quiet Man, the same year Bing Crosby took it to the charts.

3. Nat 'King' Cole – Somewhere Along The Way

Nat King Cole was the first to record this classic, written by Jimmy Van Heusen (aka Kurt Adams), with words by Sammy Gallop.

It opened his album 8 Top Pops and went on to be covered by everyone from Tony Bennett, Cliff Richard and Frank Sinatra, to Bob Dylan and even Nat's daughter Natalie.

2. Jo Stafford – You Belong To Me

Written by Chilton Price, Pee Wee King and Redd Stewart, 'You Belong To Me' was first recorded by Joni James.

After taking it to number one in the US, Jo Stafford missed out on the top spot for weeks and weeks over here with Al Martino holding on firm, but she eventually reached the summit and became the first woman to do so.

The song has also been performed by Patti Page, Ella Fitzgerald and Dean Martin.

1. Al Martino – Here In My Heart

Here in My Heart (Remastered)

Written by Pat Genaro, Lou Levinson, and Bill Borrelli, Italian-American Al Martino took 'Here In My Heart' to the top of the UK AND US charts in 1952.

It stayed on top for nine weeks, an incredible record only eight songs have beaten to this day.