The Hollies legends Allan Clarke and Graham Nash reunite for new song 'Buddy's Back'
19 April 2023, 10:11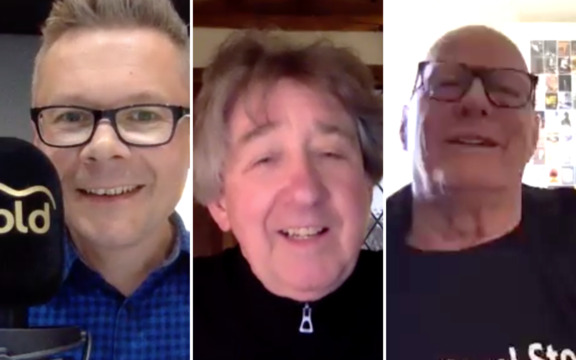 Gold Meets... The Hollies
Graham Nash and Allan Clarke are in perfect harmony for the first time in decades.
This year marks the 60th anniversary of The Hollies' debut single '(Ain't That) Just Like Me'.
So it's the perfect time for two of its founding members – Allan Clarke and Graham Nash – to reunite for a new musical collaboration.
Unveiled earlier this year, 'Buddy's Back' features on Allan Clarke's 2023 album I'll Never Forget, which has entered the Independent Albums Charts at number 6.
The song is written by Nash and reflects on his childhood relationship with Clarke and the musical influences they shared growing up.
It takes its name from Buddy Holly, who also was the inspiration behind The Hollies band name.
Allan Clarke - Buddy's Back (Official Video)
Allan said: "We've still got that sound. It's a sound nobody else has. Me and Graham being back together again, it's great.
"What I wanted to do on this record is have the two of us getting together to make that sound again. The songs Graham sings on are worthy of that.
"When we're sharing a joke, Graham's voice can go pure Salford again. When we were teens, we did music for fun. All these years later, this record has been a lot of fun too."
He added of their most recent single: "Graham said, 'I'll write something about when we were first together'.
"And 'Buddy's Back' is fantastic, it takes me back to starting with skiffle and into Buddy Holly and The Everly Brothers.
"Graham writes brilliantly about what is happening today, and I take a more personal approach.
"I play 'Peggy Sue' whenever I pick up that guitar to warm up. I write all my songs on it – it's inspiration from Buddy Holly. Maybe he's around somewhere, offering that help."
The Hollies' connections on the album go beyond just Clarke and Nash, with Allan co-producing the album with Francis Haines, who played keyboards in The Hollies lineup from 1983 to 1990.
"We have an energy between us," Clarke said. "When I want to say something with a guitar or piano part, Francis instantly seems to know what it needs. He brings my songs to magic."
Nash left The Hollies in 1968 to form Crosby, Stills and Nash (and Young) and launch his solo career, while Clarke himself left the group in 1990 for health reasons and to care for his wife.
Led by Tony Hicks and Bobby Elliott, The Hollies continue to tour to this day.
I'll Never Forget is Allan's second album since he came out of retirement, following 2019's Resurgence.