Neil Young and Stephen Stills reunite for first time in years and pay tribute to David Crosby
25 April 2023, 13:23 | Updated: 19 September 2023, 14:09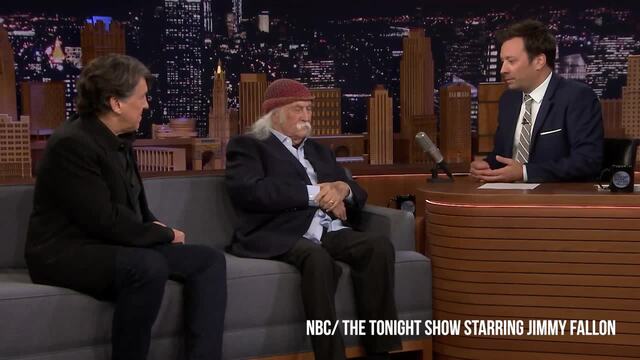 David Crosby says he would be up for reuniting Crosby, Stills, Nash and Young
Neil Young and Stephen Stills share a stage for the first time in four years.
The sad death of David Crobsy earlier this year put an end to any of hope of a Crosby, Stills and Nash (and Young) reunion.
His passing has perhaps prompted a rare collaboration between his on-and-off bandmates, with Neil Young and Stephen Stills sharing a stage in Los Angeles on Saturday (April 22), Rolling Stone reports.
Young rocked up at this year's edition of Stills's Light Up The Blues event he puts on in aid of the Autism Speaks organisation.
Young played solo versions of 'From Hank To Hendrix' and 'Comes A Time' at the Greek Theatre concert, before being joined by occasional collaborators Promise Of The Real for 'Heart Of Gold'.
Then came the two-man reunion, with Stills and Young performing not just CSNY song 'Helpless' but also a clutch of tracks from their earlier Buffalo Springfield days.
Neil Young and Stephen Stills - Helpless 22/4/23
Joe Walsh joined Stills and Young for a run through 'For What It's Worth', 'Bluebird' and 'Mr. Soul', finishing off the set with the title track from the 1976 Stills/Young album Long May You Run.
Earlier in the evening, Stills had played a version of CSNY's 1969 song 'Wooden Ships' with a band that featured his son Chris and Crosby's son James Raymond.
While he couldn't make the event in person, CSNY bandmate Graham Nash recorded a new video introduction to a 2013 performance of 'Guinnevere' by Crosby, Nash, and trumpeter Wynton Marsalis.
"Enjoy the music, and please rejoice," Nash said in the clip, paying tribute once more to the late Crosby. "I'm going to miss him every day of my life."
Neil Young hasn't performed much in recent years, but returned in February to play a surprise two-song set in February at the United For Old Growth rally.
Despite that he has released a string of both previously-unreleased records and new music, much of it long-time backing band Crazy Horse.
Neil Young makes surprise appearance at Victoria old-growth logging protest rally
The albums include Colorado (2019), Barn (2021), Toast (2022, originally recorded in 2001), and World Record (2022).
In 2020 he also released Homegrown, the previously-unavailable solo album he had recorded in 1975 and 1975.
Last year, Young and his friend and collaborator Joni Mitchell both withdrew their music from Spotify in protest at the streaming service signing controversial podcast host Joe Rogan to an estimated $100 million deal.