ABBA, show tunes and Cliff Richard: Queen Elizabeth II's favourite music
9 September 2022, 13:32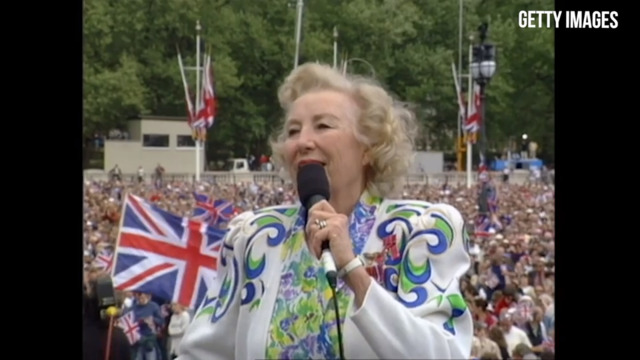 Dame Vera Lynn performs 'The White Cliffs of Dover' at Buckingham Palace VE Day celebrations
Cliff Richard, ABBA and Dame Vera Lynn... we revisit Queen Elizabeth II's favourite artists.
With her reign beginning on February 6, 1952, Queen Elizabeth II wasn't just the longest-serving monarch of the United Kingdom – she was the only monarch we had during the rock and pop age.
She came to the throne before The Beatles, before Elvis... even before Big Mama Thornton recorded the first version of 'Hound Dog'.
So Her Majesty is our Rock and Roll Queen, but what music was Elizabeth II actually a fan of herself?
Over her reign, the Queen has kept the constitutional peace by keeping her opinions to herself, but as the years have gone by, we've got more and more info about what Elizabeth plays at Buckingham Palace on her gramophone record player hi-fi walkman mp3 player iPhone.
The biggest insight we ever got about the Queen's musical taste came around her 90th birthday, which was celebrated with the radio documentary Our Queen: 90 Musical Years.
TOP HAT, Mark Sandrich, 1935 - Heaven
"The Queen loves the theatre and musicals like Showboat, Oklahoma! and Annie Get Your Gun," her cousin Lady Elizabeth Anson told the programme.
"These were the tunes that remained in one's head and were very danceable to."
According to the documentary, the Queen's all-time top 10 at the time was – in no particular order – as follows:
'Oklahoma!' – Howard Keel
'Anything You Can Do (I Can Do Better)' – Dolores Gray and Bill Johnson
'Sing' – Gary Barlow and the Commonwealth Band featuring the Military Wives
'Cheek to Cheek' – Fred Astaire
'The White Cliffs Of Dover' – Vera Lynn
'Leaning on a Lamp-post' – George Formby
'Praise, My Soul, The King Of Heaven' (hymn)
'The Lord is My Shepherd' (hymn)
'Lester Lanin Medley'
'Regimental March Milanollo'
Those two hymns on the list were sung at the wedding of the then-Princess Elizabeth and Philip Mountbatten in November 1947.
English soprano Alexandra Stevenson performed both hymns at The Queen's Chapel of the Savoy in February of this year to mark the Queen's Platinum Jubilee.
She was joined by the chapel's Master of the Music Philip Berg MVO to perform both pieces of music.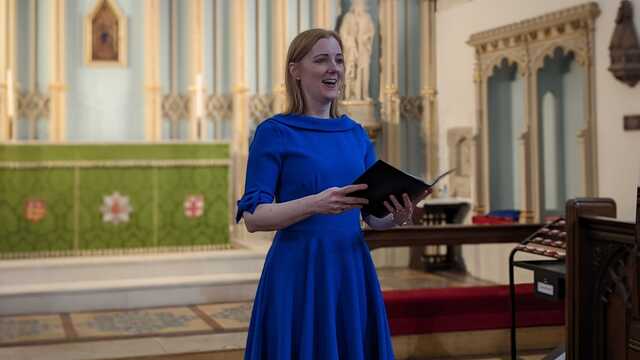 Soprano Alexandra Stevenson sings at The Queen's Chapel of the Savoy
But the Queen's taste in music obviously goes beyond a quick top 10, and there are some other big names that Her Majesty was said to be a fan of.
One perhaps surprising pick is Swedish pop icons ABBA.
The royal family of Sweden's love of 'Dancing Queen' is well known and pretty understandable.
Abba - Dancing Queen (Official Music Video Remastered)
ABBA are national heroes who sung the track at the pre-wedding gala for King Carl XVI Gustaf and Queen Silvia in 1976, and Anni-Frid reprised that performance with an a capella group in 1993 for the Queen's 50th birthday.
But our very own Queen was also said to be a big fan.
DJ Chris Evans revealed on the radio in 2008 that her Majesty got up for a dance when the hit ABBA song was played after a dinner party at Windsor Castle.
"I always try to dance when this song comes on because I am the Queen and I like to dance," she is reported to have said.
Cliff Richard - The Diamond Jubilee concert - 4/05/2012
It might sound unlikely, but that chimes with what Lady Elizabeth Anson said for the Queen's 90th: "The Queen is a fantastic dancer. She's got great rhythm."
Another pop artist the Queen was a big fan of is our very own Cliff Richard.
Back in 2012, Gary Barlow was tasked with organising that year's Diamond Jubilee concert, and she had one special request of the Take That man: book Sir Cliff.
Queen + Beatles Live (Brian May Paul McCartney Roger Taylor Eric Clapton Rod Stewart)
"I had to ask the Queen what she'd like this concert to be and the only act she asked for was Cliff Richard," Gary told The Sun.
"So I met him on that. I don't remember telling him that it was her request. He came and did it and he was so gracious – absolutely brilliant."
The Queen's Golden Jubilee in 2002 and Diamond Jubilee ten years later were celebrated with performances by a number of pop artists, though we can't be sure (other than Sir Cliff), which ones Her Majesty is a fan of, and which were booked to please her subjects.
Brian May on the roof of Buckingham Palace
A couple of days after the classical Prom at the Palace, the all-pop Party at the Palace took place on June 3, 2002.
It was memorably opened by Brian May and Roger Taylor of Queen (who else) performing the national anthem 'God Save The Queen', with Brian playing the guitar on the roof of Buckingham Palace.
Closing the concert was former Beatle Paul McCartney, who kicked off his mini-set with an impromptu version of 'Her Majesty' – the cheeky unlisted coda after 'The End' on Abbey Road.
Sir Cliff was there, and as was as performing 'Living Doll' with the house band, he sang his breakthrough 1958 hit 'Move It' with S Club 7 and Brian May.
Diamond Jubilee weekend: Concert at Buckingham Palace
Robbie Williams opened the Diamond Jubilee concert ten years later with 'Let Me Entertain You', and Cliff Richard was of course on the bill once more.
This time he played a medley of his hits: 'Dynamite', 'The Young Ones', 'Devil Woman', 'We Don't Talk Anymore', 'Wired for Sound' and "The Millennium Prayer', followed by his 1968 Eurovision runner-up 'Congratulations'.
Again closing the show was Paul McCartney, who this time played a run of 'Magical Mystery Tour', 'All My Loving', 'Let It Be', 'Live and Let Die' and 'Ob-La-Di, Ob-La-Da'.