How Eurovision made ABBA: From introducing Benny and Ani-Frid to their breakthrough with 'Waterloo'
12 May 2022, 11:48 | Updated: 18 September 2023, 12:18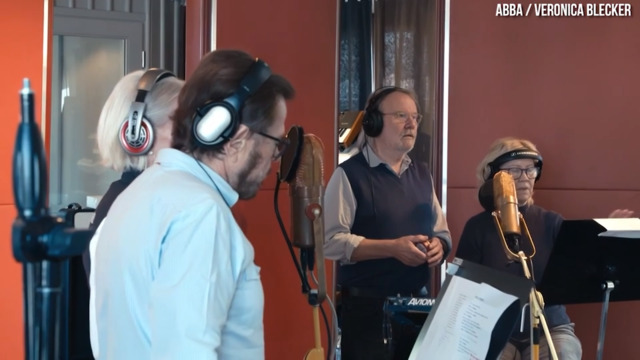 Explore new album and concert plans for ABBA as group announce 'Voyage'
The story of ABBA is completely intertwined with the Eurovision Song Contest.
There are many classic performances that come to mind when you think of the Eurovision Song Contest.
For the UK, there have been big wins for Sandie Shaw, Cliff Richard, Lulu, Brotherhood of Man, Bucks Fizz and Katrina and the Waves.
From elsewhere in the world, we've had winners like Céline Dion for Switzerland in 1988, Israel's Milk and Honey, Dana International and Netta, and last year, Italy's rock band Måneskin.
But there's one artist whose history is more connected to Eurovision than any other: 1974 winners ABBA.
In fact, you could argue that Eurovision isn't just responsible for ABBA's international success, but their entire existence. Here's the intertwining story of ABBA and Eurovision.
Melodifestivalen 1969: Benny, meet Anna-Frid
The story of ABBA and Eurovision doesn't begin in 1974, but actually in 1969.
The 1969 Eurovision Song Contest took place in Madrid after Spain's victory a year earlier with 'La, la, la' by Massiel.
Eager to enter a song that year was Sweden's Benny Andersson, who had written 'Hej clown' ('Hey Clown') for Lasse Berghagen for Sweden's national Melodifestivalen 1969.
Sung by Jan Malmsjö, the song came joint top with 31 points in the ten-strong competition, along with 'Judy, min vän' ('Judy, My Friend'), written by Roger Wallis and Britt Lindeborg and sung by Tommy Körberg.
But Sweden couldn't send both songs to Eurovision, so there was another round of voting, with 'Judy, min vän', winning the run-off by 54 to 45.
Languishing in fourth place in the original poll with eight points was 'Härlig är vår jord' ('Lovely Is Our Earth'), written by Ivan Renliden and sung by a certain Anni-Frid Lyngstad.
FRIDA - HÄRLIG ÄR VÅR JORD [LIVE AUDIO] (1969)
Benny and Anni-Frid met during that year's Melodifestivalen and clearly hit it of, as within a month they were a couple.
Coincidentally the very same month Benny was crossing paths with Anni-Frid, Björn Ulvaeus had met another singer/songwriter, Agnetha Fältskog, while filming a TV special.
Not long after, Benny's band Hep Stars began to disintegrate, while Björn started to drift from his group the Hootenanny Singers.
So Benny and Björn joined forces in 1970 to record the album Lycka (Happiness), with both Anni-Frid and Agnetha popping into the studio and adding backing vocals.
They weren't yet technically ABBA, but the collaborations continued in earnest.
All four kept working together, including on Frida's 1971 national number one single 'Min egen stad' ('My Own Town'), which was written and produced by Benny, and had all four members of the soon-to-form group on backing vocals.
They officially formed a group called Björn, Benny, Agnetha & Anni-Frid, releasing a clutch of singles and the album Ring Ring under that name, before Polar Music record label boss Stig Anderson renamed them the immortal palindromic acronym ABBA.
And without Eurovision and that chance meeting of Benny and Anni-Frid, maybe it would never have happened.
'Ring Ring' at Melodifestivalen 1973
ABBA: Ring Ring - Live at Melodifestivalen 1973 #Eurovision #Rare #Unreleased
Surely with our foursome in place, superstardom came knocking immediately?
While ABBA's rise to fame when the quartet got together was fast, it wasn't instant.
In fact, the group, still called Björn, Benny, Agnetha & Anni-Frid at this point, entered the competition to be Sweden's entry for the 1973 Eurovision Song Contest and... failed.
Way out in front as the winner with 34 points was "Sommaren som aldrig säger nej" ('The summer that never says no') by a group called Malta.
They had to change their name to avoid the obvious confusion with the country Malta, switching to Nova and the Dolls, while the song got an English translation to 'You're Summer' and eventually finishing 5th with 94 points.
ABBA - Ring, Ring (Official Music Video)
Down in third place in the national contest with just eight points were Björn and Benny, Agnetha and Anni-Frid and their song 'Ring Ring' which had been given some English lyrics courtesy of Neil Sedaka and Phil Coady.
Despite failing to make the top two in the national competition, 'Ring Ring' actually reached number one in the Swedish charts, and made the soon-to-be-christened ABBA certain that staying as a quartet was the right idea.
They dusted themselves off, and decided to give Eurovision another try.
1974. Waterloo, where the whole world surrenders to ABBA's pop charm
Abba - Waterloo (Melodifestivalen 1974)
For Melodifestivalen 1974, Benny and Björn (and manager Stig Anderson) wrote 'Waterloo', performed by all four members of the group as ABBA.
The third time was most definitely a charm for Benny, with the song storming to the top of the national leaderboard with 302 points, over 90 clear of Lasse Berghagen's self-penned 'Min kärleksång till dig' ('My Love Song To You') in second place.
ABBA Waterloo Eurovision 1974 (High Quality)
The 1974 Eurovision Song Contest was held in Brighton, England. Luxembourg had won the competition for the past two years, and passed over the honour of hosting it a second year running because of the expense.
At the competition itself, ABBA translated their song into English, and there was only going to be one winner.
'Waterloo' topped the table with 24 points, way ahead of Italy's 'Sì', performed by Gigliola Cinquetti.
Abba - Waterloo (Official Music Video)
A bit of trivia: The UK judges were among those countries (Greece, Monaco, Belgium and Italy) not to give Sweden a single point.
Winning at Eurovision was only the beginning for 'Waterloo' and for ABBA.
The song went on to top the charts all over the world, including the UK, and reached number 6 on the Billboard Hot 100.
Our Last Video Ever in 2004
In 2004, ABBA's reunion was still well over a decade away, but all four members were "reunited" on video at least.
Björn and Benny, Agnetha and Anni-Frid all featured in a video which kicks off with four small puppets trying to get a recording contract in Stockholm in 1974.
The medley vid features Rik Mayall as the record label boss, with cameos from the likes of Michael Nyqvist and Cher and is very very silly and very very wonderful, too.
ABBA and Eurovision's 50th Anniversary in 2005
Museum Monday Episode 1: The Rise of ABBA
A year after The Last Video came the 50th anniversary of Eurovision, and to mark the occasion, there was the special Congratulations: 50 Years of the Eurovision Song Contest.
At the centre of the programme was a vote to discover the very best Eurovision winner from the past half-century, with voting being done in 31 countries.
Voting took place in two rounds, but this was all really a formality.
In the first round, 'Waterloo' came out on top with 331 votes, with Italy's 1958 entry 'Nel blu, dipinto di blu' by Domenico Modugno in second place with 200 points.
Despite not broadcasting the show, the UK's 'Save Your Kisses For Me' by Brotherhood of Man scraped into the top 5 and the run-off.
ABBA stormed the second round too, even though they didn't appear at the special broadcast, this time beating Italy into second place by 329 points to 267 to win the overall prize.
Björn Ulvaeus speaks at Eurovision: Europe Shine A Light in 2021
Statement from ABBA's Björn Ulvaeus - Eurovision: Europe Shine A Light
In the years since their victory, it's a rare Eurovision where ABBA don't get at least a mention or medley. They're rightly seen as the ultimate Eurovision artists.
So when the Eurovision Song Contest was postponed in 2020 because of the COVID-19 pandemic, it was only right that one of the group should give such a message on the replacement TV special Eurovision: Europe Shine A Light.
Björn Ulvaeus did just that, with a tender, nostalgic, heartbreaking and beautiful message to fans about the "disarmingly European" Eurovision Song Contest that "allows you to escape and be happy".
Just like ABBA, in fact.