Cliff Richard reveals why he didn't perform at the Platinum Jubilee Party at the Palace
6 June 2022, 12:24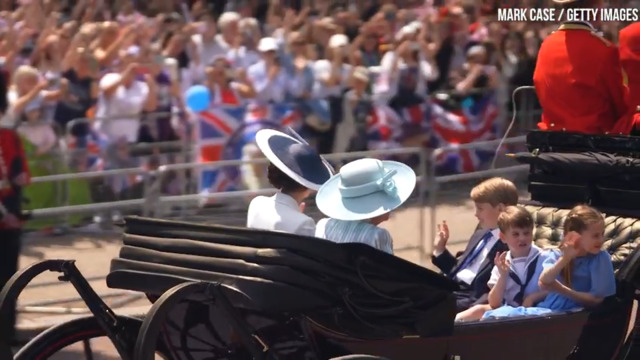 Kate Middleton rides in carriage with Prince George, Princess Charlotte and Prince Louis
Sir Cliff Richard was at the first two Jubilee concerts but wasn't an official performer this time around.
It's well known that the Queen is a big fan of decade-straddling rock 'n' roll icon Cliff Richard.
He was one of the few performers who played the 2002 Golden Jubilee Party at The Palace AND the 2012 Diamond Jubilee Concert.
At the former, Sir Cliff sang his massive 'Living Doll' before Brian May and S Club 7 joined him for a rendition of his breakthrough 1958 hit 'Move It'.
He returned to the stage to sing 'Good Vibrations' along with Brian Wilson with Emma Bunton and Atomic Kitten, and again for the all-star performance of 'All You Need Is Love'.
When Gary Barlow was booking the 2012 show, he had a natter with Her Majesty about the gig.
"I had to ask the Queen what she'd like this concert to be" Barlow said. "The only act she asked for was Cliff Richard."
Ten years ago, he played a medley of 'Dynamite', 'The Young Ones', 'Devil Woman', 'We Don't Talk Anymore', 'Wired for Sound' and 'The Millennium Prayer', followed by 'Congratulations'.
But Sir Cliff was notable by his absence on the bill for Saturday's show, which was opened by Queen + Adam Lambert and closed by Diana Ross.
As for why one of the Queen's own favourite artists didn't perform – it turns out he wasn't invited.
"I was disappointed I couldn't be on stage, but this year's production of the show was absolutely phenomenal," he later told the BBC.
"I was getting green with envy thinking I would just like to have one photograph taken against the palace. But it wasn't my turn and the young guys took over, and quite rightly so."
Cliff Richard - Platinum Jubilee Pageant (Interviews and Bus)
But Sir Cliff still got to have his Platinum Jubilee moment, even though it wasn't an official performance from the Party at the Palace stage.
Richard was one of 100 'national treasures' who took a two-mile journey around London in an open-top bus to mark the Queen's 70 years on the throne.
Wearing a Union Flag suit, he joined fellow singer Katherine Jenkins, former boxer Chris Eubank and others to play 'Move It' once more.